Features
Hellbender: The Real-Life Origin of the Shudder Horror Movie
The surprising true story that inspired Shudder's new horror film, Hellbender.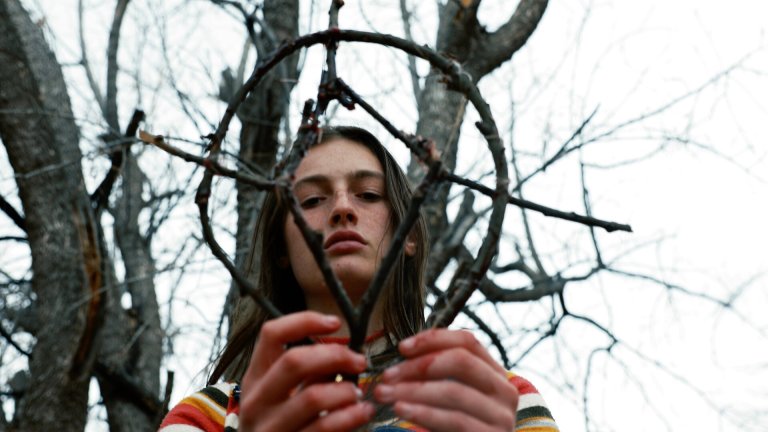 This article contains spoilers for Hellbender.
The new Shudder horror movie Hellbender introduces a new type of movie monster in the form of a witch/demon/apex predator hybrid. But the creation also comes from a surprising place of truth for The Adams, the family of filmmakers who make up Wonder Wheel Productions.
In the film, 16-year-old Izzy (played by Zelda Adams) lives in isolation with Mother (Zelda's real-life mom, Toby Poser) because she has a rare immune disorder. Or so she is told. After befriending Amber (sister Lulu Adams), Izzy questions the reality of her disease. And when she eats a live worm as part of a teenage game, she develops a hunger for living things and learns she and Mother are the latest in a line of "hellbenders," and have inherited ancient abilities.
The film is written, directed, produced, scored, and edited by Poser, Zelda Adams, and father John Adams. At its core, it is a coming-of-age mother-daughter story involving occult forces.
In a recent interview with Talking Strange, Den of Geek's paranormal pop culture video show and podcast — which is embedded below, and available on Apple Podcasts and Spotify — The Adams talked about how Hellbender is also about the secrets parents keep from their children in misguided attempts to protect them.
"She starts to discover she's not really sick," says Zelda about her character Izzy. "There is something else there that her mom has been keeping from her, and throughout the story she gets to discover her true nature."
That true nature is in the form of supernatural powers gained with the consumption of life, and the fear within their blood. Meanwhile, Poser says Mother is a good mother, but not entirely reformed from her own past. She is still a hellbender, though she doesn't cause the same carnage she once did and is trying to protect Izzy from a similar existence.
"When [Mother] looks outside at a deer, and the next time you see her, her mouth is covered with blood, I am pretty sure she is enjoying that deer," Poser says. "Her concern is if her daughter starts enjoying deer, she might start enjoying humans, too."
Powers and insatiable hunger aside, Zelda says the story is likewise different from her and Amber's upbringing because Poser and John Adams have always been open with them about their pasts.
In fact, John reveals Hellbender has its origins in a deathbed confession from Toby's mother.
"The man who raised Toby was not actually her blood father, and she was donor conceived. We were together when we found that out, and it was a bombshell," John says. "Immediately it became a story seed."
Adds Poser, "When you're 50 years-old, and you're like, 'Who is my dad?' and you make films, you can't help but take it to, 'Was he a creep? Was he a serial murderer? Who is this dude?'"
She lucked out because he ended up being "a really nice Jewish doctor," but the experience made her think about the role nature plays in identity. Poser says she has more of a similar personality with her newfound half-siblings than she does with the brother she was raised with but is not biologically related to, which likewise inspired the idea of a Hellbender, and whether Izzy should suppress her own predatory instincts.
"If you're a coyote or wolf, is it bad if you want to kill a lamb? No, it's not. Is it bad if a hellbender wants to eat a human? To a hellbender, it's not."
To hear the rest from The Adams about Hellbender, check out Talking Strange on YouTube, Apple Podcasts, and Spotify. And don't miss Hellbender, available now only on Shudder.