Features
The Walking Dead and Creepshow Showrunner Tells Real Ghost Stories
Horror mastermind Greg Nicotero tells us about some horrifying paranormal encounters he has had.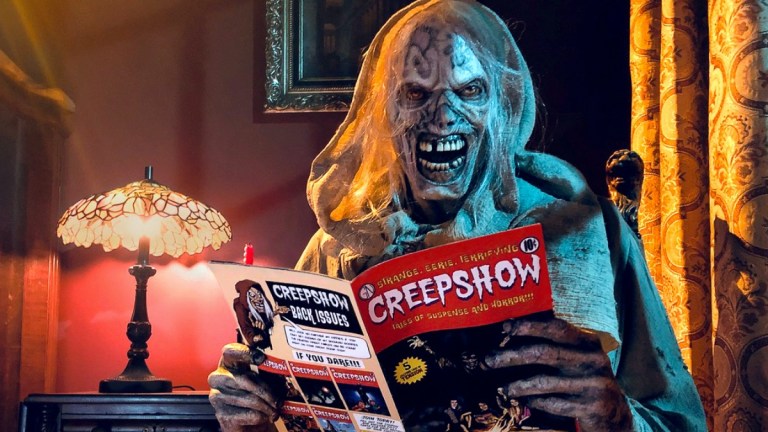 After nearly four decades making monsters, Greg Nicotero understands how to create scares. From zombies to vampires, mummies, and more, it would seem there is no type of terror the special makeup effects master, director, and producer has not worked on.
And it would seem his expertise focusing on so many fictional fears has even brought him closer to some real-world ones. During a recent interview with Den of Geek about his work as showrunner on Shudder's Creepshow, and as executive producer on The Walking Dead, Nicotero indulged us with his own belief in the paranormal, and his close encounters with the unexplained.
"Throughout my travels, I've come across things," he says. "I always thought maybe there was truth to the reality there is something more than meets the eye."
As it happens, he found himself face to spectral face with this "something" while working with director John Carpenter on the 1995 Village of the Damned remake.
For the shoot, production had rented houses for crew in Point Reyes in Northern California, where Carpenter shot The Fog. And Nicotero's rental was actually the same house used in that movie.
"They were like, 'The woman who owned the house died, so it's available for rent'."
A house available for rent where someone died is commonplace. Less so was the fact the owners had not cleaned it out.
"[They] just locked the house up and left it. There was food in the refrigerator, prescriptions in the cabinet."
Even more chilling was the scene that greeted Nicotero when he first arrived at the location where, "there was an enclosed porch area, and about 500 crosses taped to the walls, and nailed to the walls…It felt like a John Carpenter movie," he jokes.
But Nicotero had work to do on the film, and went about his business, and slept in the house.
Until one night:
"I was lying in bed with my eyes closed and felt this movement right in front of my face. For about 30 seconds, it was almost like someone was nose-to-nose with me. For about 30 seconds, I felt this disturbance in front of me. I was like, 'Do I open my eyes, or do I not open my eyes? What is the best thing to do here?' Of course, in my brain, what I imagined this thing looking like was probably much different than what it actually looked like. By the time I got up the nerve to open my eyes, it was gone. I still remember that sensation like it was yesterday."
As to why he ever ended up in such a strange rental for the shoot, Nicotero says, "I don't know what they were thinking" before saying, "I figured John thought I would probably love it."
Though the house in Village of the Damned was a potentially paranormal encounter, he likewise recalls a favorite scary experience when we were talking about his upbringing in Pittsburgh, Pennsylvania. And like so many suburban legends, this one involved a creepy house, and inquisitive neighborhood kids.
"There was an abandoned house near where we grew up that was deep in the woods," he says. "It was called Jackson's Mansion. It was sort on the way to school; if you took a little detour into the woods, you would see this house. We used to go by there all the time, and everyone was, 'ooh, it's haunted.'"
Nicotero describes the house as "just tucked off the main road where all these other houses were, so you wouldn't even know it was there," but remembers, "we used to go over there, and dare people to run into the home."
As for whether the future fear-maker ever went in, he said:
"I think my brother went in, and I think I went in once. We were like, 'Did you hear the rumor of the kid that ran into the house, fell through the floor, and broke both his legs?' Of course, the stories were so you just run in, go 'Aaaah!" and you run back out.'"
Still, the tales about the house stuck with Nicotero, and on a recent visit to Pittsburgh, he found himself thinking about it.
"I remember thinking about … this urban legend of a weird, creepy haunted house that had been abandoned and falling apart in the woods," he says. "I was talking to my mom, 'Do you remember Jackson's Mansion?'"
Curiously, but perhaps not coincidentally, Greg Nicotero is a man who has become famous for crafting memorable on-screen scares, and yet so clearly remembers his own fears from real life.