News
Is Halloween Kills Box Office Success a Good Sign for Dune?
Halloween Kills overperformed at the box office, debuting at more than $50 million despite being on Peacock. This might be a good omen for Dune.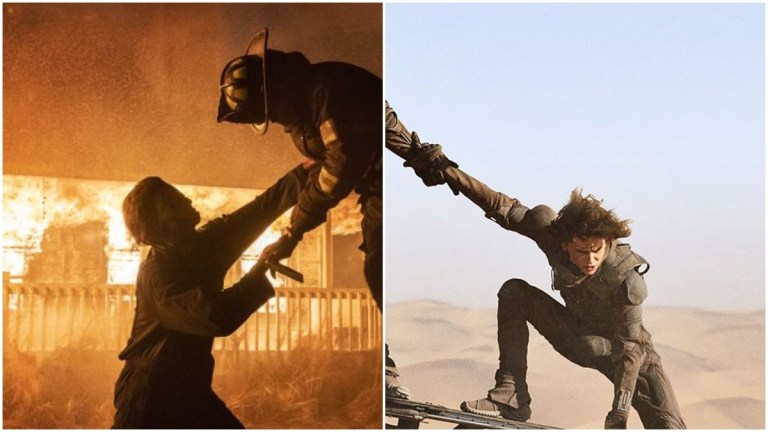 With a title like Halloween Kills, maybe we shouldn't be so surprised when the movie slays? Nevertheless, David Gordon Green's hack and slash follow-up to 2018's Halloween exceeded all expectations when it grossed an estimated $50.4 million this weekend. That number comes in ahead of even distributor Universal's projections, which pegged the Michael Myers stabathon at opening around $40 million.
This is of course good news for movie theaters and horror aficionados. Indeed, Halloween Kills is the biggest horror movie and R-rated release since the COVID-19 pandemic began, even outgrossing the PG-13 rated A Quiet Place Part II, which earned $47.6 million in its opening weekend. Yet what's striking about the debut is it earned these kind of numbers despite being a day-and-date release, with Halloween Kills beating expectations while premiering simultaneously on NBC-Universal's new streaming service, Peacock. With much of the industry (and geek audiences) waiting with bated breath over what becomes of Denis Villeneuve's Dune next week when it releases in the U.S. in theaters and on HBO Max, this is an encouraging sign.
After all, Halloween Kills is only the second day-and-date hybrid release to score over $50 million, or even $40 million in its theatrical bow. The first, however, was the highly anticipated Marvel Studios film, Black Widow, which grossed $80 million during its opening weekend despite also being behind an additional paywall of $30 on Disney+. By contrast, Halloween Kills was on the much more affordable and generally accessible "premium model" of Peacock where users who shelled out $5 got access to Jamie Lee Curtis' horror movie, plus everything else on the platform.
In other words, while Halloween Kills being available on streaming likely hurt its box office opening—the 2018 Halloween opened at $76.2 million—it still didn't prevent Halloween Kills from overperforming or breaking pandemic records. And it did so while being much more easily accessible on streaming than Disney's luxuriant "Premier Access" model. So could Dune also break the HBO Max release curse and perform beyond expectations… and even become the first WB/HBO Max hybrid release to gross more than Godzilla vs. Kong's $31.6 million way back in March?
We'll obviously know more in a week's time. But there's reason to be a bit skeptical. For starters, there is the primary reason Halloween Kills is on Peacock right now: the NBC-Universal streaming service has precious little exclusive content with built-in fanbases making their world premieres on the platform. Much like when WarnerMedia first announced that Wonder Woman 1984 would be going to HBO Max last year (and then soon their entire 2021 film slate), Peacock is starved for original content to stand out from the crowd—even more so than HBO Max. 
n Q2, Peacock saw 20 million households activate their ad-based version of the service, many in order to access viewing the Olympics in the U.S. on streaming. However, Peacock tellingly declined to release its premium user numbers on the service—the $5 subscription fee component which Halloween Kills has been siloed under.
While WarnerMedia is similarly vague about the actual activation numbers of HBO Max users, we do know that as of the end of the second quarter, 43.5 million users had access to the service, up from around 37.7 million users as of January. And in January, the number of activated accounts among those 37.7 million users had doubled in the span of a month to 17.2 million—after WarnerMedia put Wonder Woman on HBO Max and promised a whole year of major Hollywood content on the service.
In other words, HBO Max has already made headway with users willing to pay for their service (or simply activate it from their already existing HBO subscription) because of the access to major Hollywood blockbusters. Peacock has likely had no such luck, hence the surprising choice to put Halloween Kills on Peacock while Sony and MGM were doubling down on theaters with Venom: Let There Be Carnage and No Time to Die, particularly after Shang-Chi overperformed in early September in theaters. 
Halloween Kills premiering on Peacock had more to do with buttressing that service's relatively limited appeal as it did with catering to cinemagoers nervous about the Delta variant. Dune, meanwhile, is coming out on a service that has a larger paid subscription base who've come to expect major Hollywood content regularly premiering straight to their HBO Max account.
All of which may be reason to take pause about Dune's prospects. With that said, the Villeneuve science fiction epic is already doing exceedingly well in global markets where it's opened ahead of its U.S. and UK premieres. As of Friday, the Frank Herbert adaptation has already grossed over $117 million worldwide, with the movie not opening in North America or China as of yet. So the appetite is there for Dune, and if it can simply outperform the limited earnings of other WB films this year, it could be well on its way to securing Villeneuve's coveted "Part Two" film.
In the meantime, Michael Myers is doing bloody good work of his own in theaters and on Peacock.