Features
Halloween Kills Will Be Bigger and Bloodier Than the Last Film
The Shape is back in Halloween Kills and this time he's taking on the whole town.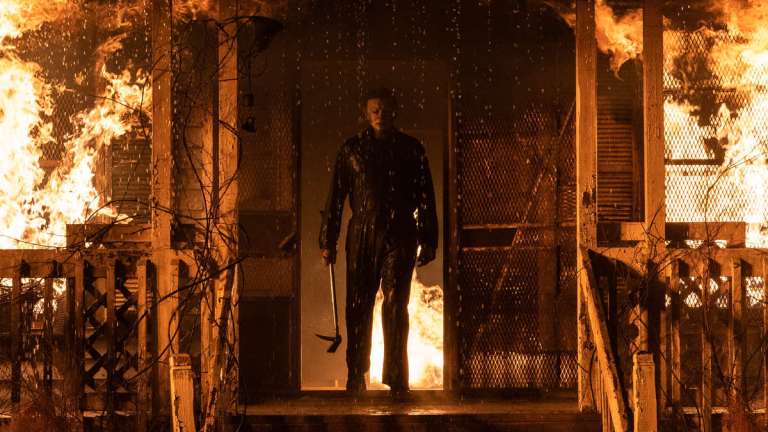 In 2018 David Gordon Green made a bold choice. By taking on a direct sequel to John Carpenter's 1978 classic, Halloween, he retconned out every other film in the franchise. Carpenter himself was on board as executive producer and composer and amazingly both fans and critics loved it. Perhaps even more extraordinary, its arrival seems to mark a resurgence in slashers across the board, with this year's Fear Street, Candyman (also a sequel to the original), and a Scream refresh on the horizon for 2022.
So now, with the second part of his Halloween trilogy on the way, any hint of skepticism has been replaced with pure excitement. Green reckons the renewed interest in the genre is a sign of the times.
"I feel like there's always these waves, culturally, right?" he says, speaking to Den of Geek almost two years since Halloween Kills began filming. "One of the things I've talked to fans of Halloween about a lot is the ways that this [franchise] moves from some of the traditional movie monsters that are a little bit more supernatural–your vampires and your werewolves–to things that are more immediately relatable and realistic within the world that we live in."
This groundedness was a key part of Halloween 2018, which asked "what would happen to an adult who experienced the worst ordeal imaginable as a teenager?" Unsurprisingly, the answer is dysfunction, trust issues, broken relationships, and severe PTSD. But that film forced Jamie Lee Curtis' now grown up Laurie Strode to stand up and fight once again when her nemesis, Michael Myers, breaks out of prison 40 years after his original attack.
Halloween Kills picks up right where the previous film left off, where Laurie, her daughter Karen (Judy Greer), and granddaughter Allyson (Andi Matichak) have left Michael for dead in Laurie's burning basement. But you can't keep a good Shape down. Michael escapes–and this time Laurie is far from alone.
"For me, it was a chance to revisit a classic movie monster and then bring in a surrounding community of characters, some of whom we know from the previous films in the franchise and some new ones that we'll meet. Instead of facing off Michael Myers with one victim at a time, let's see what happens when he faces an entire mob," Green explains.
For Halloween Kills, Green has brought back several characters from the 1978 movie, in some cases played by the original cast. Charles Cyphers returns as Sheriff Brackett; Nancy Stevens, who played Dr. Loomis' nurse, Marion Chambers, is also back, as is Kyle Richards as Linsday, one of the kids Laurie babysits in the original. Tommy Doyle, the other youngster in Laurie's charge, will also be back, played by Anthony Michael Hall.
"For Tommy and Lindsay, it was cool just to be able to reunite those characters and see what their dynamic was like," says Green. "That protective quality is not only with each other, but with Laurie. There's a moment where Tommy is talking to Laurie in the film and saying, 'when I was a kid, you were there to protect me. And now I'm here for you.' Those types of moments feed the dramatic responsibility of a movie like this. So it's not just torture porn. It's not just people getting killed for the entertainment of the audience, it's trying to find some sort of depth and substance among these characters in their emotional journeys."
Although, it is also people getting killed for the entertainment of the audience. And Halloween Kills promises to up the ante significantly in terms of gore.
"Part of the fun of writing it is sitting in a room with my co-writers and coming up with new ways that haven't been seen on film and walking around our homes and thinking, 'what if this was a weapon?'" Green laughs. "He does have his tricks of the trade and knows how to use a knife so that does come back into play as you'd expect, but there is a little bit more of a body count in this film than the last one."
Halloween Kills is the second part of Green's trilogy, with the final chapter, Halloween Ends, slated for October 2022. Green has been doing re-writes for that film on the day of our interview. And not content with rebooting Carpenter's masterpiece, for his next trick Green is taking on The Exorcist, which, like Halloween, will be a trilogy. "It's a continued adventure in facing my own childhood fears," he says. "It's intimidating if I look at it from far away, but when I'm looking at my computer and talking to my co-writer, it really is intimate." With The Exorcist, he's working again with Jason Blum who, after Halloween and The Invisible Man update, isn't afraid of a challenge. If anyone can do it, Green can.
"It's just exciting to be able to play in this world," he says. "I can take these characters and these situations from a very vulnerable part of my youth and manifest them in my own creative way. It's one thing to go to therapy and work through your problems and I've certainly done that in my life. But it's also a way I can use my art form to generate my own type of therapy."
Halloween Kills opens in cinemas on October 15.