News
New Halloween Kills Song Shows the Chilling Evolution of the Classic 1978 Theme
The theme to John Carpenter's Halloween may live forever, but the first song off the Halloween Kills soundtrack is "Unkillable."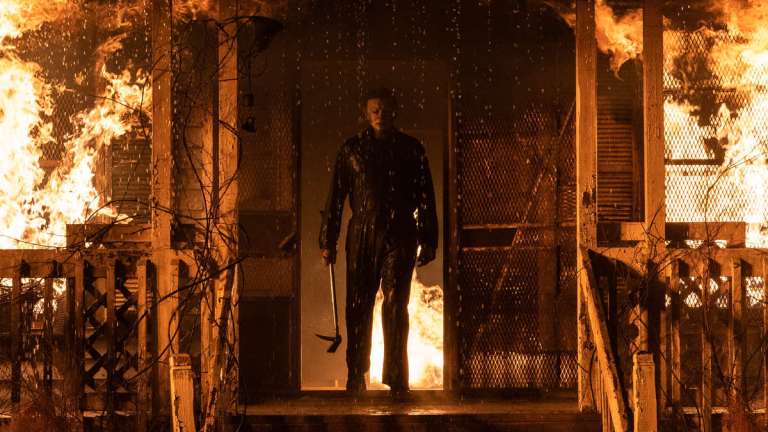 Some songs live forever. John Carpenter's new song is "Unkillable." There is even a musical moment of dead silence before the track comes back to life.
The song, which is streaming online now, will be part of the soundtrack to David Gordon Green's Halloween Kills, the second instalment in the new Halloween trilogy that opens in theaters on Oct. 15. Sacred Bones Records will release the album Halloween Kills OST, the same day.
Carpenter chilling compositions have always been a vital part of the Halloween experience. The theme to the original 1978 horror masterpiece is as much a horror classic as the film itself. "It's just five notes plucked out on a piano, so sparsely arranged that it feels like barely more than a sketch, so simple that an untrained player can easily pick it up, but it's one of cinema's greatest musical accomplishments," reads the YouTube description accompanying "Unkillable." The original 1978 theme "has embodied slasher-stalker anxiety for generations of filmgoers, and woven itself so into pop culture that it's become musical shorthand for the entire horror genre. And like the seemingly unkillable Michael Myers, it's back once again."
The 2018 reincarnation of Halloween was the highest-grossing chapter in the four-decade franchise, setting a record for the biggest opening weekend in history for a horror film starring a woman, Jamie Lee Curtis, who returns in Halloween Kills. It also buried any memory of the sequels and reboots other directors tried to trick audiences with. It was also the first time Carpenter returned to the franchise since 1982's Halloween III: Season of the Witch. He handed Gordon Green the directorial duties, but retained full direction of the horror franchise's aural identity.
Carpenter has only directed one feature, The Ward (2010), in the past 20 years, but he has never stopped making music. Since 2015, he, his son Cody, and godson, guitarist Daniel Davies, have released three albums of original music on Sacred Bones. And the trio reunited to compose the soundtrack to Halloween Kills.
Carpenter has composed and produced film scores since his 1974 debut film, Dark Star, which was recorded on an EMS VCS 3 modular synthesizer. Initially, he did it to save money, but continued scoring most of his films even after he could afford big names. Fortunately, he's got a good ear. The soundtracks to They Live and Escape from New York are as classic as the theme for Halloween. Carpenter released his first album of non-soundtrack music in five years, Lost Themes III: Alive After Death Earlier, earlier this year.
"Unkillable" keeps the spirit of the original film's theme. It's got sinister modalities, dissonant counterpoint, vintage synth tones, and a relentless beat which really brings out the menace. It's also got a full stop in sound, which captures the feel of every return of the unkillable kid in the rubber Captain Kirk mask.
You can hear it here:
Halloween Kills OST will consist of 20 tracks. It will be available from Sacred Bones on CD, cassette, and vinyl. The standard LP comes in orange as well as a "charred pumpkin" black.