News
Guillermo del Toro, James Gunn, and Edgar Wright Reveal Secrets About Their Unmade Movie Scripts
Guillermo del Toro, Edgar Wright, James Gunn, and Scott Derrickson discuss the movies that got away.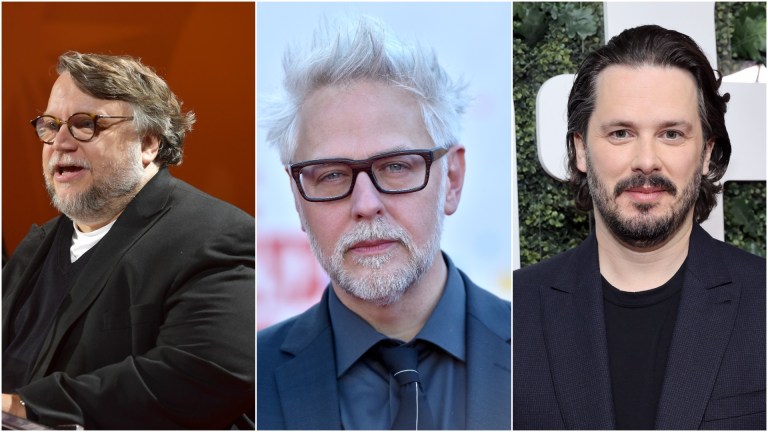 Arguably just as interesting as the movies themselves are the behind-the-scenes stories about how the films we love were made. Then there are tales about the scripts that were never produced at all, which provide their own kind of delight for cinephiles. Just have a look at Leigh Brackett's original script for a little movie called "Star Wars II" or the Roger Corman Fantastic Four movie that could have been or the George Miller-directed Justice League film that was just weeks away from shooting, but for every mythical script that makes the rounds on the internet, there are many more we've never heard about at all.
You'll be hard-pressed to find a famous director who doesn't have a few old screenplays collecting dust in a filing drawer somewhere. Even legendary director Stanley Kubrick still has a Napoleon movie waiting to be made. And let's not forget Alejandro Jodorowsky's work on Dune, which could very well be the greatest science fiction movie that never made it past the page.
If you love reading about these unseen gems, a new thread on Twitter has other fan-favorite directors chiming in with their own thoughts on the scripts they've written that have never been made.
"Just curious, how many screenplays [have] you guys written for movies that never got made?" asked Twitter user Kaleb Wilson to a whole list of writers and directors.
The Shape of Water and Pan's Labyrinth director Guillermo del Toro has perhaps the most intriguing reply, revealing that he has quite the vault of unproduced screenplays just waiting to be unlocked. "By my count I have written or co-written around 33 screenplay features. 2-3 made by others, 11 made by me (Pinocchio in progress) so- about 20 screenplays not filmed. Each takes 6-10 months of work, so, roughly 16 years gone. Just experience and skill improvement."
We can assume the "2-3 made by others" refers to The Hobbit trilogy of movies, which were initially to be directed by del Toro before he backed out and Peter Jackson returned for another stint in Middle-earth. But what of those other 20? Over the years, we've heard of many unrealized del Toro projects, including one called Meat Market, which he wrote in the '90s for frequent collaborator Ron Perlman. He described the project as "Hamlet in a meat market, by the way of Phantom of the Opera." Would pay to see this.
He also wrote an adaptation of Alexandre Dumas' The Count of Monte Cristo, but set in Mexico as a "steampunk gothic western." Del Toro also spent years working on Hellboy 3, an adaptation of H.P. Lovecraft's At the Mountains of Madness, and a Justice League Dark movie that would have explored a different kind of superhero team for the DCEU. But they were all doomed to development hell before del Toro made his exit altogether.
"The biggest hurdle as a screenwriter was trying to please the client while not displeasing myself. The first time around I just gave up & pleased them, but never again. Overall, though, it's a job I wasn't that fond of," said James Gunn (The Suicide Squad) of his own experiences. We'll assume he's not talking about his excellent Dawn of the Dead remake, which also happens to be Zack Snyder's best movie to date.
Doctor Strange and Sinister director Scott Derrickson also chimed in with his own accounting of unproduced scripts: "I had a 5 year run before The Exorcism of Emily Rose during which I was paid to write or rewrite 13 screenplays — none of them got made. I was earning a good living but all of my creativity would be read by just a handful of executives. It caused a kind of soul sickness in me."
It's interesting to hear this perspective from Derrickson, whose thoughts on writing seem to clash with the way big studio movies like those made by Marvel are made. The filmmaker behind several horror cult hits truly became a household name when he was tasked with introducing the magic realm of the MCU on the big screen in 2016. Although originally tapped to direct the sequel, Doctor Strange in the Multiverse of Madness, Derrickson stepped away due to creative differences, with Sam Raimi taking over the Marvel offering. He will make his return to horror with The Black Phone, which is based on a short story by Joe Hill.
Both Duncan Jones (Warcraft) and Edgar Wright (Last Night in Soho) offered their own wisdom about their careers as screenwriters, without going into any numbers.
"People think that writing scripts is like writing books, but it really isn't," said Jones. "It's more like drawing up architectural plans for picky clients. If they're paying for it, you are finding a way for your artistry to serve what they need, including making tweaks for their budget."
Wright replied, "Indeed, I said once about a project I was writing on, I think the better draft is buried under three coats of paint."
Which unmade movies would you like to see from this filmmakers? Let us know in the comments!