News
FrightFest 2020 Line Up Announced Including a Den Of Geek Panel
The annual horror festival will be a digital only version this year, but there's still loads to see and do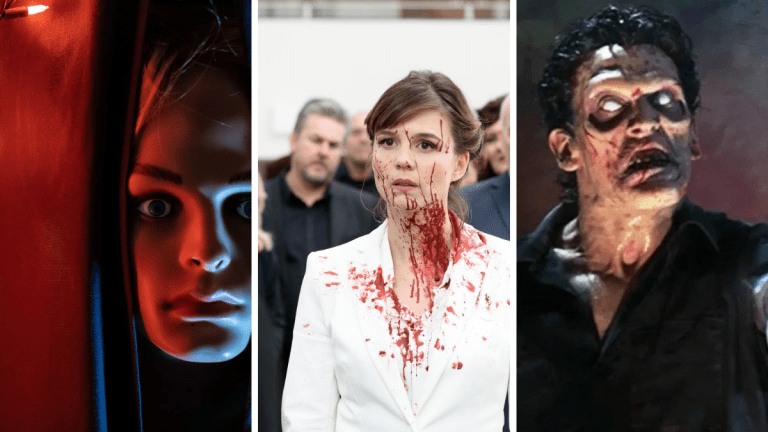 Much to no one's surprise annual horror celebration FrightFest has had to move its line up to an online only event to keep horror fans safe during this time of real life horror. But the good news is, the gang has still managed to source heaps of exciting things to watch on the August bank holiday weekend, from home.
Now the full line up has been announced and it's packed with world and UK premieres. Unfortunately for US readers, the movies are geo-locked and only able to be watched from the UK (though the quiz and Den Of Geek's panel are both free and available to watch from anywhere).
Den of Geek Presents: Horror In Lockdown Panel – Sunday 30 August, 7pm UK time.
Hosted by Rosie Fletcher, UK Editor of Den Of Geek the panel of special guests from the industry will discuss how the horror genre has been affected by the global pandemic. What does the shape of horror look like now we're all actually living in a real life horror film? How are the stories we want to hear affected by our changed world? And what might the genre look like on the other side? The panel will run live for 90 minutes, with a chance for viewers to ask questions at the end.
It's free to attend and we'll have some fascinating guests from the world of horror, come and join us!
The main festival runs from Friday the 28th – Monday 31st of August, with a preview night including a special quiz on Thursday 27th run by Mike Muncer from The Evolution of Horror podcast – the quiz starts at 8pm and will be hosted on the Evolution of Horror YouTube Channel. Following the quiz there's the UK premiere of the extremely silly sounding Sky Sharks, which features Nazi zombie piloted killer flying sharks. It's German, it's in English and it stars Tony Todd.
Passes and tickets go on sale on Saturday 1 August and details on how to access the event and choose which films to watch are on the FrightFest website. Warning – you won't be able to watch everything because some screenings will be concurrent and in different 'screens' just like at the live festival, to pack more in over the weekend, so you'll have to pick between some titles.
Friday
There's No Such Thing as Vampires – an American action-horror which sees teenagers run into vamps in a remote outpost. This one actually began filming in 2015 and had a long post production period – this is the world premiere.
12 Hour Shift – Comedy horror starring Angela Bettis and David Arquette following an drug addicted nurse and some black market organ dealers who plan a heist. It's the UK premiere, having screened at the Tribeca Film Festival in April and it comes from director Brea Grant.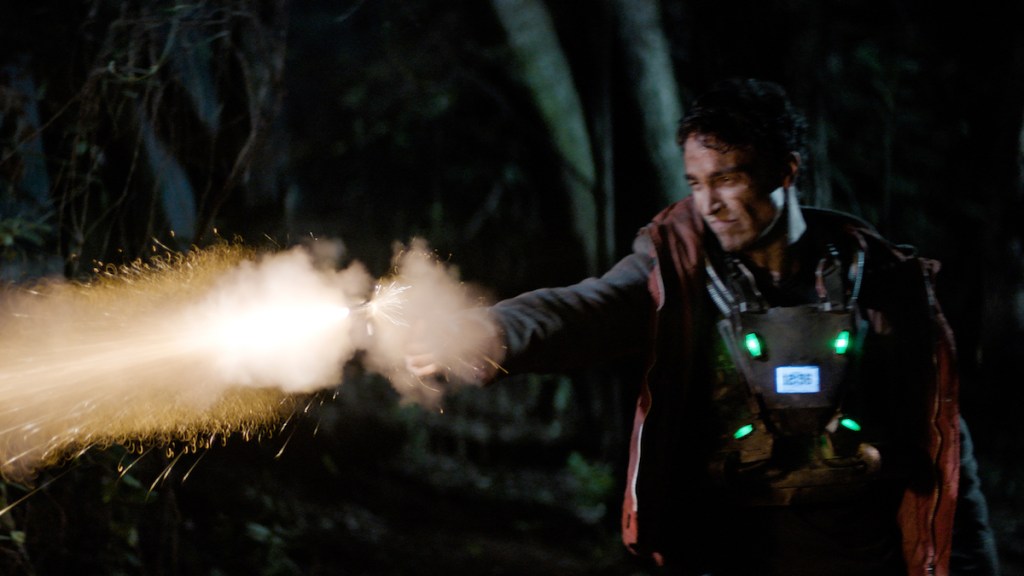 Triggered – This is the UK premiere of this high concept South African horror thriller from director Alastair Orr. It sees a bunch of friends on a woodland camping trip wake up with suicide bombs strapped to their chest set at different times. Things get messy when they learn that they can take each other's remaining time by murdering one another.
I Am Lisa – A female werewolf movie which is an homage to Richard Matheson's I Am Legend, from Patrick Rea who made 2013 horror Nailbiter. This is the world premiere.
Saturday
The Columnist – comedy horror from The Netherlands which sees a writer who's constantly trolled with abuse and death threats on social media decide to take revenge. This is the UK premiere.
The Horror Crowd – a US documentary from Ruben Pla celebrating the horror community in Hollywood with lots of genre favourite talking heads. This is the world premiere.
Blind – American horror thriller which sees a former actress blinded by surgery living in the Hollywood Hills supported by her partially sighted friend and mute personal trainer until a masked stranger invades her home. This is the UK premiere.
Dark Place – This is a Australian horror anthology focusing on five Aboriginal tales with largely indigenous casts, focusing on post-colonial Aboriginal Australian history with a breezy 75 minute runtime. This is the UK premiere.
Don't Click – Canadian internet horror which sees two friends zapped into a dank cellar by a vengeful porn website. Valter Skarsgård of the Skarsgård clan, stars. This is the world premiere.
The Honeymoon Phase – A couple short of cash checks into a testing programme that analyses relationships by monitoring couples in secluded smart homes in this US chiller with a tech bent that sounds Black Mirror-esque. This is the UK premiere.
They're Outside – Emily Booth stars in this UK feature which sees a youtube psychologist attempt to coax an agoraphobic woman outside in 10 days until a local folk legend starts to become a reality. Found footage mixes with folklore in this adult fairytale. This is the world premiere.
Playhouse – A haunted castle in Scotland is the setting for this UK horror from debut directors Toby and Fionn Watts, which sees a horror writer attempt to create a macabre play to be set there, when supernatural forces begin to interfere. This is the world premiere.
Sunday
Two Heads Creek – Cannibal comedy horror which sees a brother and sister escape post-Brexit Britain to seek their birth mother in a small town in Australia. This is the UK premiere of this Ozploitationer.
Aquaslash – Exploitation throwback to '80s slashers set in a waterpark where a murderer is messing with the water slides. This gory retro Canadian comedy is getting its UK premiere.
Skull: The Mask – This Brazilian horror sees Nazis discover an ancient artefact with supernatural powers which later pops up in Sao Paulo and possesses people to commit terrible crimes. Action horror getting its UK premiere.
Hall – Infection horror set in the hallway of a hotel where an airborne virus is causing carnage. Two women fight to survive and escape the hall in this Canadian mystery thriller that's getting its world premiere.
Den of Geek Presents: Horror In Lockdown Panel – Sunday 30 August, 7pm UK time.
Clapboard Jungle: Surviving The Independent Film Business – documentary delving into the life of an independent filmmaker featuring interviews with a whole range of industry voices. This is the European premiere.
A Ghost Waits – second go round for this melancholy black and white indie which played FrightFest Glasgow earlier in the year, which sees a man doing up a house fall in love with the ghost that's trying to drive people away from it.
Monday
AV: The Hunt – This killer thriller from Turkey sees a young woman pursued by the men in her family trying to kill her for a perceived affront to their honour in a violent actioner which has drawn comparisons to Revenge. This is the UK premiere.
The Swerve – This slow burn psychological thriller sees a woman battling depression struggle to cope after a fatal car accident. It's the feature debut from Dean Kapsalis and comes from the US to make its UK premiere.
Dark Stories – Another five part anthology, which is also a snappy 75 minutes, this time from France. These stories are packed with zombies, Djinn, evil dolls and more in old-school supernatural style. This is a UK premiere.
Blinders – modern social media era chiller from the USA about a guy who relocates to LA after a breakup and befriends a rideshare driver who starts to behave strangely. A psychological thriller getting its UK premiere.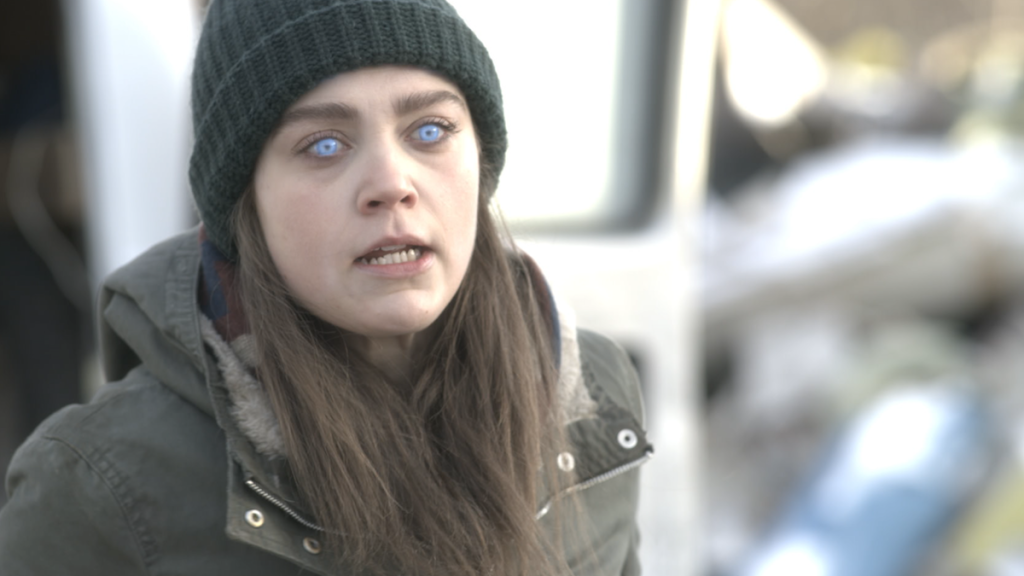 Enhanced – Mutant sci-fi in the vein of X-Men which sees a former mutant hunter join forces with a mutant he's captured to stop an uber mutant from taking over the world. A UK premiere.
There's also a shorts programme available on demand and Arrow Video will be presenting one of their podcasts with filmmaker and journalist Sam Ashurst and SFX guru Dan Martin