News
The Chris Hemsworth Action Movie You Missed Becomes a Netflix Hit
Chris Hemsworth is in the zeitgeist again thanks to his groovy Space Viking, and folks are discovering one of his less well-known action films.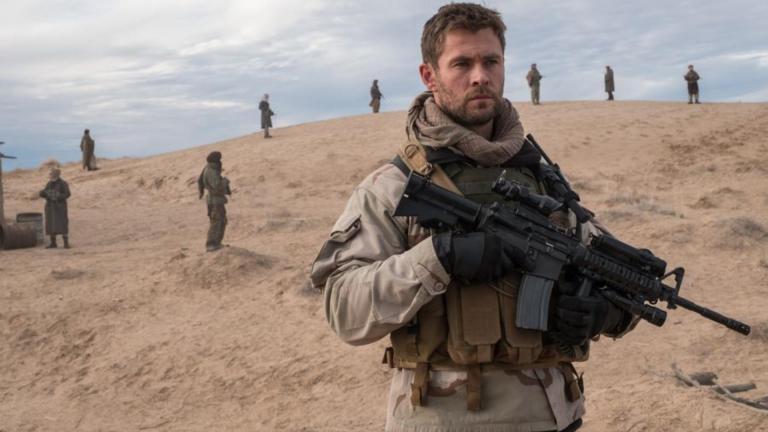 It's getting easier to predict which movies will become seemingly out-of-nowhere successes on Netflix. While on the television side of the spectrum, flashy new series or returning hits routinely become the top streaming shows, the calculus doesn't always add up the same way for the streamer's film library. For instance, this week one of the top films on Netflix was 2018's 12 Strong, a Chris Hemsworth-led war film set in Afghanistan in the immediate aftermath of 9/11.
When the film was released, it received middling reviews from critics and an unspectacular $70 million at the box office, about half of what Hemsworth's latest film, Thor: Love and Thunder, made in one weekend. So why is this recent, but mostly forgotten film getting heavy play on the streaming giant? Because of its star.
It seems that whenever a new film is cleaning up at the box office, Netflix users are hungry to keep consuming content from that film's lead actor(s). The same thing happened recently when Top Gun: Maverick soared to number one at the box office; film lovers at home were hungry to keep consuming Tom Cruise movies, sending Mission: Impossible – Ghost Protocol to the top of Netflix's most-watched list. If your name is in the zeitgeist, your films will get more play on Netflix.
That's not the most difficult thing to figure out. Logically, it tracks, but why exactly is 12 Strong doing numbers when Hemsworth has a new Netflix original film, Spiderhead, available as well as films like Extraction, Michael Mann's Blackhat, and Ron Howard's F1 biopic Rush? That's a little more difficult to parse.
12 Strong centers on Hemworth's Mitch Nelson, a U.S. Army captain with Green Berets Operational Detachment Alpha (ODA) 595 who volunteers to lead 595 into Afghanistan immediately after the terrorist attacks on Sept. 11, 2001. Accompanied by veteran soldier CW5 Hal Spencer (Michael Shannon), Nelson and the 595 fight alongside Northern Alliance leader Abdul Rashid Dostum (Legion's Navid Negahban) in their battle against the Taliban and their leader Mullah Razzan.
Critics, including our own, were right with their generally less than favorable reviews for 12 Strong. For the most part, it's a by the numbers war film. There are some great performances by Michael Peña, Shannon, and Negahban, but Hemsworth's standard action lead doesn't leave an impression, inviting comparisons to Chris Pratt's more lifeless action performances. Rob Riggle, who has some real-life experience in the armed services, brings some aggro-authenticity to early scenes in the film, and Taylor Sheridan, who is more known these days as a writer, director, and mastermind behind Paramount's hit series Yellowstone, appears in a brief, but memorable role.
Still, the film takes a formulaic approach to Nelson and Dostum clashing, then learning to work together, and though there's plenty of explosions and fire fights to keep the pace of the film up, there's nothing special about the way any of the action scenes are shot or framed. Worst of all, the film takes an uncritical approach to the United States' presence in Afghanistan, failing to use hindsight to deliver a deeper message about war and military occupation. One would be led to believe by the film's storytelling that the war in Afghanistan concluded shortly after the 595's triumph.
It really seems like Hemsworth's cultural moment, being the star of one of the highest grossing films of the summer, is the only thing driving this film's belated success on Netflix. Collaborators of other MCU mainstays must be hoping that their old projects will be the next to see this bump on Netflix. If you worked with a cash cow in the past, then your movie just may get a second wind too.