News
Thor: Love and Thunder Box Office Gives Marvel Vindication (Again)
Beating online grumblings, Marvel's Thor: Love and Thunder opens to an impressive $143 million this weekend.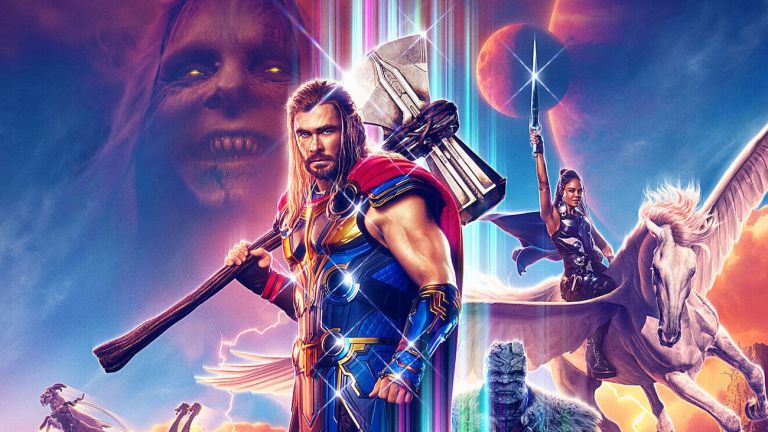 If one looked at box office numbers alone, it'd be easy to recognize that Marvel Studios remains the surest bet in Hollywood—and one exhibitors remain reliant on in the fight to drive up foot traffic throughout the year. However, there have been some grumblings as of late about the direction (or perceived lack thereof) that the Disney production company has been headed in during "Phase 4." Even so, Thor: Love and Thunder appears likely to moot that conversation, at least for a time. While the new fourthquel's reception during its opening weekend may not silence those criticisms forever, its healthy debut gives Disney and Marvel Studios President Kevin Feige yet another unambiguous win and bragging rights 14 years on since the Marvel Cinematic Universe began.
According to studio estimates, the Taika Waititi-directed Thor: Love and Thunder is poised to total about $143 million at the domestic box office this weekend. This is just within the broader projections (if on the lower end), which had pegged the movie's opening anywhere between $140 million to $160 million. The number is also demonstrably bigger than the last MCU movie released in summer months during relatively "normal" times for the box office—beating out 2019's Spider-Man: Far From Home, which opened to $92.6 million in the same post-Fourth of July weekend frame.
Love and Thunder is also slightly up from the debut of the last solo Thor movie, Thor: Ragnarok, which opened in November 2017 to $122.7 million. Finally, Thor's numbers are in line with most of the biggest movies of 2022, grossing more than Top Gun: Maverick earned during its three-day weekend with $126.7 million (although when the fourth day is accounted for, as Top Gun opened over a holiday, it squeaks out with $160.5 million). It is also above The Batman's $134 million debut. The only movies with higher premieres in their first weekends thus far have been Marvel stablemate Doctor Strange in the Multiverse of Madness ($187.4 million) and Jurassic World Dominion ($145 million).
In other words, Thor is a hit in the post-pandemic world and might suggest the movie is playing better for audiences than critics, who welcomed Chris Hemsworth's fourth solo outing as Thor with a fairly mixed reception (the film currently sits at 68 percent "positive" reviews on Rotten Tomatoes). Those reviews clearly did little to dampen enthusiasm for the movie amongst fans. With that said, one thing Disney and Marvel will likely be mindful of is that industry pollsters CinemaScore surveyed moviegoers on Love and Thunder's opening night, and for nearly the third time in a row, polled audiences awarded the MCU with a less than glowing score. The film's "B+" CinemaScore mirrors the same muted grade Doctor Strange 2 received two months ago when it also earned a "B+." Both ratings are a scant improvement on the truly anemic "B" given to Eternals last November.
It should be noted that between Eternals and Doctor Strange, Spider-Man: No Way Home received the coveted "A+" CinemaScore which turned out to be a good omen for the movie's wildly enthusiastic word-of-mouth, carrying that film to $1.9 billion globally. However, that film was distributed by Sony Pictures and relied heavily on nostalgia for Spider-Man movies released decades ago. Conversely, the past three Disney-distributed MCU movies have received a seemingly more divisive reaction among fans, a perception underlined by CinemaScore grades below "A-." (Anything below "A-" is considered a harbinger for poor word of mouth.)
And, indeed, Eternals opened small with $71.2 million last November and played worse as the movie tumbled precipitously from weekend-to-weekend despite beginning from a relatively low perch for a blockbuster. Doctor Strange 2 also faded with relative rapidity from week-to-week, dropping 67 percent in its second weekend. It was ultimately not able to cross $1 billion globally despite opening at nearly $200 million. But it should be stressed, Multiverse of Madness did gross over $950 million globally, and it's fair to wonder if its truncated theatrical window of 45 days contributed as much as a supposedly mixed word of mouth to it not crossing an arbitrary milestone. Nevertheless, that movie made a lot of money for Disney.
Meanwhile Thor: Love and Thunder seems to beat the importance the industry places on CinemaScore grades or social media chatter by falling within Disney and the industry's expectations and setting a franchise-best record for the Thor movies. It's too early to judge how favorable word of mouth will be for Thor: Love and Thunder in the long run, but its robust start indicates it will also do very well by the Mouse House. Is the studio potentially over-saturating the marketplace with too many Marvel movies and TV shows? It's possible. But for the moment, when looking at the hard bottom line that is a media company's guiding star, it's hard to argue with the commercial results of the current strategy.