Features
Fantastic Beasts 2 Filmmakers On How They Brought Back Dumbledore and Hogwarts
David Heyman and David Yates talk about bringing fan favorites like Dumbledore and Hogwarts back to the Wizarding World franchise...
This story originally appeared on Den of Geek UK.
Not many filmmakers besides perhaps Peter Jackson with the Lord Of The Rings and The Hobbit movies could say that they have shepherded a franchise through multiple films across two separate franchises. Director David Yates and producer David Heyman, however, are now working on their seventh and eleventh Wizarding World movie, respectively, and spoke to Den of Geek about the current release The Crimes Of Grindelwald.
The first Fantastic Beasts film in retrospect could be seen as a kind of soft-reboot, easing in old and new fans alike to a new time period and world outside of the UK, this second film takes no prisoners layering in mythology, hidden family connections, creatures from the Potter films, and details until now only explored in J.K. Rowling's books.
"Those big sequences are always fun to put together, because you bring everyone in from visual effects to makeup and storyboard artists," Yates said of the film's escalated action. "It's just a wonderful collective that we bring around that. Bringing in Thestrals and going back to Hogwarts, it has this special resonance in many ways."
The film follows Newt as he and Jacob travel to Paris in search of Queenie and Tina, who herself is searching for a missing Credence following the events in New York. Meanwhile, Grindelwald escapes from prison and continues to gather followers for his cause. At Hogwarts, Dumbledore contemplates his role in Grindelwald's mission, and the ways in which he can help stop him.
On the danger of information overload, especially for casual viewers, he continued: "We knew very early on that people who knew the world really, really well got it very quickly, but people on the periphery did not necessarily understand it and struggled a wee bit. There is a balancing act that we have to strike that is to please the fans who are so up to speed, but then make sure we don't alienate those who aren't so knowledgeable about the world."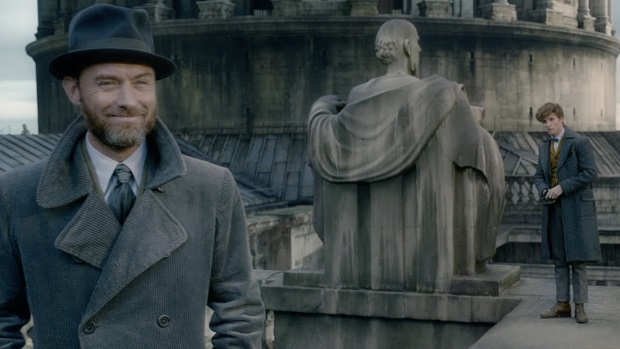 "Sometimes we get it right and sometimes we get it wrong, and it's always a juggling act… We don't want people to have to have a degree in Harry Potter to be able to enjoy the film."
Heyman added: "For me this feels quite separate from Potter, in the sense that we're following such a multitude of characters. All of the Potter films were so clearly told through Harry, and here it's more of an ensemble, It feels a little darker in some ways, but of course there are the touchstones like Dumbledore and Hogwarts and Nagini and the Philosopher's Stone which take you back."
One big draw for this film is the return of Dumbledore, now played by Jude Law. On his performance, Yates and Heyman said that he had "made it his own" rather than copy anything Richard Harris or Michael Gambon had done in previous films, but his meetings with Rowling have afforded him information about the character that nobody else besides the author has ever been told.
"There's this new part that we haven't really dug into before, which is this tragic, troubled, burnt side of Dumbledore coming out of the relationship with Grindelwald and having to deal with family tragedy," said Yates. "There's something quite broken about him as a human being. That's something that Jude reaches for and will reach for as the stories go forward."
On the controversial subject of Dumbledore's sexuality, for which Yates caused a stir when he said in an interview that it would not be "explicitly" explored in the film, the director is eager to clarify his intentions.
He said: "It just seems to be a part of the world in which we operate, that people want to weigh in early before they've seen the movie… I was asked whether we were dealing with the gay relationship and I didn't say they're not gay or anything like that, I just said that it's not the focus of this particular story. But we created this very tender, beautiful scene between the two of them and I think it's so clear that this is a very passionate, emotional, sensual relationship."
fuurther reading: Crimes of Grindelwald Ending Explained
"Jo talks about how Dumbledore and Grindelwald had a sexual relationship and an emotional relationship, and she's more interested in the emotional relationship," added Heyman. "It has more complexity and more depth, more room to explore. What do you need to see to satisfy those viewers? People tend to look at things in very broad strokes, such is the nature of the news cycle. They're either having sex or they're not. But actually David and Jo have shown a tender, intimate, emotional and ideologically complex, layered, rich relationship. That's much more interesting than seeing two people, heterosexual or homosexual, shagging."
But it wasn't all troubled times, with filming in the old Defense Against the Dark Arts classroom involving children of parents who had grown up with the Potter books and films.
Heyman said: "Seeing people walk into the Dark Arts classroom for the first time, shooting with Jude, it was so precious. You realise that this world has such an interesting effect on so many people, and it's quite magical… Some of the children who were so in love with the books and films are now parents themselves. It's an amazing, timeless thing."
Fantastic Beasts: The Crimes of Grindelwald is out in cinemas today. You can read our review here.