Den of Geek Presents Horror in Lockdown Panel at FrightFest
Come and watch our horror in lockdown panel for free, with some very special guests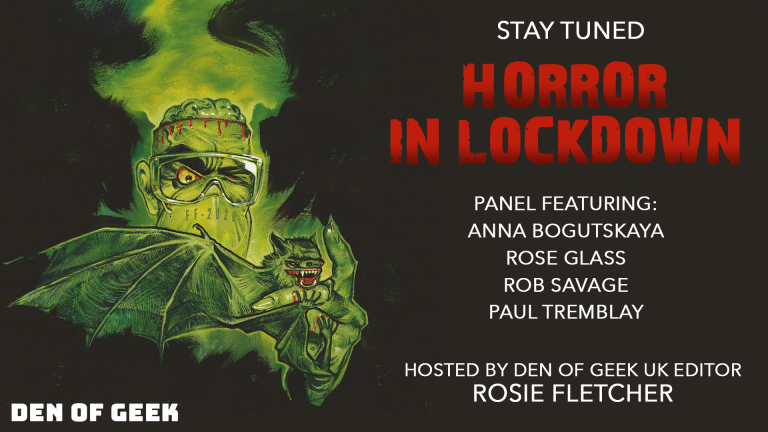 FrightFest 2020 is upon us, and this year, of course, it's all digital. So while it's a shame not to be crowding into a sweaty cinema for four days of intensive horror, there are silver linings! Namely that the FrightFest experience can be streamed into your living room….
Part of that experience is the live events and this year Den Of Geek is hosting a very special panel. The panel is LIVE and FREE and available to ANYONE – you don't need a FrightFest ticket to attend.
The panel is called Horror In Lockdown and takes place on Sunday 30 August at 7pm GMT (3pm EST, 12pm PST), it will run for 90 mins and the audience will be invited to ask questions at the end via comments on the Den of Geek Youtube channel. The panel will be simulcast from the FrightFest Eventive page and the Den of Geek Youtube channel.
Full details are below, hope you can join us!
PANEL: HORROR IN LOCKDOWN – Sunday 30 August 7pm GMT
FREE EVENT – Hosted by Rosie Fletcher, UK Editor of Den Of Geek our panel of special guests from the industry will discuss how the horror genre has been affected by the global pandemic. What does the shape of horror look like now we're all actually living in a real life horror film? What do filmmakers do when productions have to be shut down? How are horror writers coping with lockdown? How are the stories we want to hear affected by our changed world? And what might the genre look like on the other side? The panel will run live, for 90 minutes in total with a chance for viewers to ask questions at the end.
Host Rosie Fletcher.
Panelists – Paul Tremblay – award winning horror author of novels including A Head Full Of Ghosts, Cabin At The End Of The World as well as his most recent novel, Survivor Song, published in July.
Rose Glass – director of critically acclaimed horror Saint Maud which lit up the festival circuit and was due to be released last Spring, undoubtedly as one of the most exciting films of the year – Saint Maud now opens in theatres this October
Rob Savage – director of Host the lockdown horror phenomenon made in just 12 weeks and released on Shudder which has won wide praise and captures perfectly the moment we are living in
Anna Bogutskaya – horror expert and freelance film programmer, podcaster, writer and creative producer. She's Festival Director of 'Underwire Festival' as well as co-founder of 'The Final Girls'. Anna has continued to create regular horror podcasts during lockdown.