Features
Living with the Cult Legacy of Evil Dead
We chat with Ellen Sandweiss, who played Ash Williams' damned sister in The Evil Dead, about a horror legacy nearly 40 years on.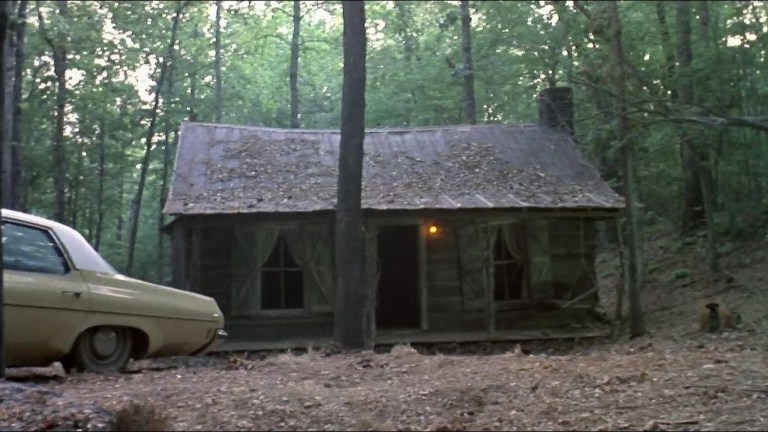 Sam Raimi's The Evil Dead franchise seems to have had at least nine bloody lives. First was the original 1981 movie that propelled lead actor Bruce Campbell and director Sam Raimi to cult cinema stardom, and then there were the sequels (The Evil Dead II and Army of Darkness), the 2013 remake, and even a cable TV show via Ash vs Evil Dead. These low budget efforts, originally labeled as "video nasties" in the UK, became a refuge for film aficionados to revel in macabre humor, bad puns, and practical disembowelment effects that rivaled Tom Savini's best work.
Less lauded though is the coven of women in the original feature that Campbell's Ash battles to the death and beyond. In The Evil Dead, Ash drives to the remote cabin in the woods with his girlfriend Linda (Betsy Baker), a few friends, and his sister Cheryl (Ellen Sandweiss) for their spring break. Cheryl's character is the first to notice something awry upon their arrival, the first to suffer at the hands of the demonic entity in the now (in)famous tree rape scene, and the first to be seized by the demonic entity's possession.
It is really Cheryl's character on which so much of the narrative's propulsive force hinges. As a result, she exercises her acting chomps adroitly. Whether frantically attempting to convince her brother and friends that "it was the woods themselves! They're alive!" or cautiously traversing the dark forest with the whites of her bulging eyes, Sandweiss showcases both Cheryl's humanity and her intense fear. When she embraces her possession, pus-filled and pawing at hapless Ash, she recalls the witch from Anne Sexton's poem "Her Kind," which details a lonely, twelve-fingered evil. "A woman like that is not a woman, quite."
Sandweiss also was the first non-Campbell actor to reprise a role in the series when she appeared in Ash vs Evil Dead Season 2. Den of Geek spoke with Sandweiss about her acting career, her work with Campbell and Raimi, TimesUp, and if the tree scene would be shot the same way in 2019 as it was almost 40 years ago in the backwoods of Tennessee.
What got you interested in acting? What led to your getting the part of Cheryl in The Evil Dead?
I acted in school plays and local theatre starting in middle school. I come from a very artsy family and was involved in music and dance as well. Then I went to high school in suburban Detroit with Sam Raimi and Bruce Campbell and was in plays with them. They had been making super 8 movies since they were in their early teens, so I was often in those movies as a teenager. I then went to college at the University of Michigan where I majored in theatre, and during one summer, we made "Within the Woods," a short film that Bruce and Sam made to garner interest and money from investors in order to make their first feature film, Book of the Dead, which then became The Evil Dead. Once they had raised the funds, I took a semester off college in '79 to 80 and we shot the film in Tennessee.
What was your experience like on the set of The Evil Dead? Do you have a favorite memory of shooting the original?
My experience making The Evil Dead was mixed. Of course it was exhilarating at age 20 to be off making a feature film, and the "boys" [Raimi, Campbell, and producer Rob Tapert] were a lot of fun. But the budget was tiny, and it wasn't a union film, so the conditions were harsh and everyone on the set was very inexperienced. We were all in our early 20s and for many it was our first experience making a feature film. At the Tennessee cabin where we shot most of the film, we had no electricity, no plumbing and no running water—need I say more?
Could you have anticipated, at that time, the kind of cult following that film would have especially with both the remake and TV show?
I could never have anticipated the eventual cult status of the film. When we made The Evil Dead, there was no video rental, no streaming, etc. So films, if they were distributed at all, would end up either at a first-run theater or at a B-movie theater or drive-in, which was where our film landed. Honestly, when we were shooting the film, I thought (and hoped) it would never actually be seen. Then, after a few years, it was released and then it disappeared. I forgot about it and went on with school, then graduate school in arts administration, followed by management jobs in non-profits.
It was when video rentals were born, a few years later, that people started becoming interested in Evil Dead, followed by multiple releases on VHS, then DVD, laser disc, Blu-ray, etc. I didn't actually realize it had a cult following until around 2001 when my teenaged daughter's geeky friends started talking about it and ED t-shirts were appearing at local film and comic memorabilia shops. Then we had a 20-year reunion screening, and it was after that that the other two actresses and I started making convention appearances as "Ladies of the Evil Dead."
read more: Evil Dead – The Most Soul Sucking Moments
What was it like revisiting Cheryl as a character when you did two episodes of Ash vs. Evil Dead?
Revisiting Cheryl in Ash vs the Evil Dead was a hoot! At that point they had a big budget, union rules and lots of experience under their belts, so it was a lot more comfortable. It was fun acting again with Bruce, whom I've remained friends with all these years, and of course it was wonderful getting to see New Zealand, where we shot the episodes.
Do you think the tree scene from Evil Dead would be filmed in the same way today as it was done then?
Yes, I'm sure that the tree scene would be done differently if it was filmed today. First, I'm not sure that it would be characterized as a "tree rape," as Sam has since said he regrets that it ended up that way. I think it would have gone back to what was originally intentioned in the script: trees coming to life and attacking Cheryl, which would also satisfy today's more feminist audiences (and actresses!). And I'm sure that CGI would be used instead of the reverse-filming, or whatever it's called, to show vines wrapping around me.
What is it like coming back 35 years later on the show and actually exploring a sibling dynamic?
It was great fun to do Ash vs Evil Dead all these years later and visit the earlier lives of Cheryl and Ash in their family home. In the original film, I believe there was only one line referring to their relationship ("it's your sister Cheryl!"), and if you missed that you were probably wondering what this weird morose girl was doing on a party weekend with these two college couples! In Ash vs. ED, fighting with Bruce took sibling rivalry to a new level—I loved taunting him and I always enjoy filming a good fight scene. Of course he was the star, so he had to win in the end, but I did enjoy my final words, emanating from my decapitated head on the ground: "Not again…." We actually played around with some other final words—I thought, "Mom always liked you best" would be funny, but nobody seemed to agree with me!
Many people are saying that the horror genre is having a renaissance with hits like Us and Hereditary. What do you think it is about horror that has audiences continually returning to it?
I admittedly am not a horror expert by any stretch of the imagination. I normally don't watch horror films, but I did watch Us because I love everything Jordan Peele does. I liked it because for the most part it didn't focus only on blood and guts—there were actually well-formed characters and a message. I think that certain people will always want to explore their dark side, and horror films allow them to do that in a safe space. I also think some people simply like the adrenalin rush they get from being scared.
In the past few years, there's been a lot of discussion around the representation of women on screen. A lot of this conversation seems to be fueled by #MeToo and #TimesUp movement. What's been your impression of the shifts being made in Hollywood?
I love the shifts being made and hope that they continue to shift even more. Everything about the women's movement, MeToo, TimesUp, etc. can only make our choices in entertainment better. My daughter is an actress, and I like the improvement of the roles that are available to her. Of course we need more female producers, writers, and directors, and I wish that was happening a little more quickly.
What films have been most exciting to you as an audience member in the past few years?
I'm such a film enthusiast that I really can't name specific films. But in general, I'm drawn mostly to indie films that make me think, laugh, and cry, and films that cast women in interesting roles.
read more: Army of Darkness – The Weirdness of Sam Raimi's Medieval Dead
Do you have any new roles or projects coming up that you can speak about?
No, I'm pretty much retired at this point, although sometimes I will come out of the closet and do a play. Mostly I'm having fun watching the acting careers of my daughter Jessy Hodges and her husband Beck Bennett blossom!