News
Eurovision Song Contest: Trailer and Release Date for Will Ferrell Netflix Comedy
The former SNL star lends his pipes for a Netflix feature based on the international singing competition, The Eurovision Song Contest.
Will Ferrell's singing voice is like a combination of Fergie and Jesus, which makes him the perfect choice to get involved in an international singing competition, which his character does in the upcoming Netflix film, fully titled Eurovision Song Contest: The Story of Fire Saga.
Ferrell was heavily involved with Eurovision, having co-written the script with frequent collaborator Andrew Steele, and also served as co-star and producer. The feature was directed by David Dobkin (Wedding Crashers, The Judge).
The premise is based on the long running international TV music competition, The Eurovision Song Contest. The contest, created in 1956, pits each participating nation from the European Broadcasting Union against one another, challenging them to write and perform an original song for a live TV and radio performance. Notable past winners include Sweden's ABBA in 1974 and Switzerland's Celine Dion in 1988.
Eurovision Song Contest Trailer
The trailer for Netflix's Eurovision Song Contest has arrived, showcasing the singing exploits of Lars (Will Ferrell) and Sigrit (Rachel McAdams), together known as Fire Saga. While the (overtly) Icelandic duo are reviled amongst their European peers, an opportunity for recognition arises in the form of the ostentatious titular tournament. Thus, if you're in the mood for abundantly-over-the-top Will Ferrell-type tomfoolery, then this film may end up being salve for your soul.
Eurovision Song Contest Release Date
Eurovision Song Contest: The Story of Fire Saga hits the Netflix stage on June 26.
Eurovision Song Contest Cast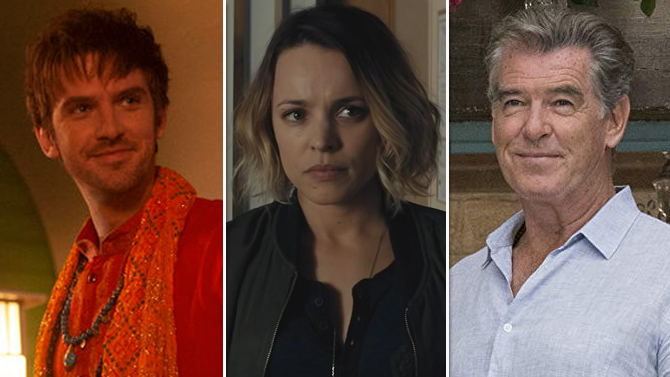 Dan Stevens (Legion, Beauty and the Beast) plays Alexander Lemtov, a Russian contestant in the Eurovision song contest who appears to be the film's primary antagonist.
Will Ferrell (Daddy's Home 2, Holmes & Watson) plays Lars Erickssong and Rachel McAdams (Game Night, Doctor Strange) plays Sigrit Ericksdottir, with both characters manifesting as aspiring Icelandic musicians.
Pierce Brosnan (The Son, Mamma Mia! Here We Go Again) plays Erick Erickssong, "Lars' father and the most handsome man in Iceland."
Demi Lovato (Zoolander 2, From Dusk Till Dawn: The Series) is in this cast. The singer/actress plays as Katiana, "one of the best and most angelic singers in all of Iceland."
Eurovision Song Contest Details
As Netflix's official logline for Eurovision Song Contest reads:
When aspiring musicians Lars and Sigrit are given the opportunity of a lifetime to represent their country at the world's biggest song competition, they finally have a chance to prove that any dream worth having is a dream worth fighting for.
David Dobkin directed the film off Will Ferrell and Andrew Steele's script, bringing comedy gravitas from the 2005 hit, Wedding Crashers, which recently had a sequel in the pipeline (status currently unknown), to which he was also attached. He also directed films such as The Judge, The Change-Up, Fred Claus, Clay Pigeons and Shanghai Knights, as well as TV episodes of Iron Fist and Into the Badlands.
Ferrell is yet another comedy star producing a feature film for streaming giant Netflix, as mainstream studio comedies struggle to find funding, pushing comedians to the small screen. Free from the perils and budget disputes of international box office results (a sword on which he fell with 2018's anemic Holmes & Watson), Ferrell's production company Gary Sanchez released the raunchy girl trip comedy Ibiza, starring Gillian Jacobs, last year, and now the Anchorman star will step in front of the camera for Eurovision.
He produced alongside Gary Sanchez's Jessica Elbaum, with Adam McKay serving as executive producer.