Eternals: How Salma Hayek's Ajak Energy Aided Director Chloé Zhao
Salma Hayek's role as Ajak, spiritual leader of Marvel's Eternals, took a real-life turn for director Chloé Zhao.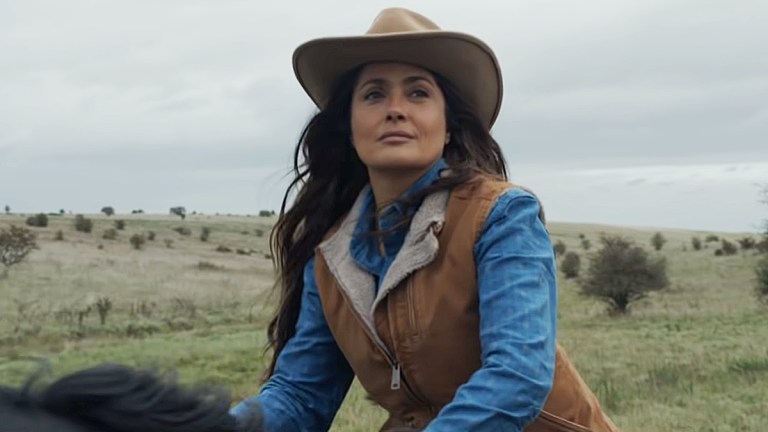 Marvel's Eternals achieved a depth of diversity in its ensemble, as exemplified by the casting of Salma Hayek, who plays the role of Ajak, a key member of the film's titular group of gods on Earth. Yet, while a role in the Marvel Cinematic Universe may be a notable coup for the veteran 54-year-old Mexican actress, her presence ended up providing inspiration for the film's director, Chloé Zhao, now a Best Picture/Director Oscar winner for Nomadland.
Zhao dove into the deep end of the MCU pool with an adaptation of Jack Kirby's idiosyncratic team title. After all, the film represents a tremendous threshold for the MCU, since it's tethered to source material that, while beloved by comic connoisseurs, is nevertheless unknown to average audiences. It's the kind of crossroads at which Marvel Studios found itself with 2014's Guardians of the Galaxy, which managed to thrive due to a serendipitous cast dynamic and the irreverence of director James Gunn. However, Eternals arguably has more weight on its proverbial shoulders as the MCU continues its early Phase Four efforts, which understandably puts pressure on a franchise newcomer like director Zhao. Fortunately, an Ajak-evocative moment from Hayek put the task into perspective.
Zhao reveals a moment that could be considered an epiphany about the film in a Variety cover story, in which she is joined by Hayek. She recounts a particularly difficult day during the film's production—specifically a fall 2019 on-location shoot in England during a cold, drizzly evening—that was delayed due to technical issues, which led her to send the cast of A-listers back to their trailers until it was resolved. The event left Zhao unsure when production would resume, creating the anxiety-imbued idea that she'd bitten off more than she can chew with this monumental Marvel task. However, Hayek happened to stay on set, sitting on an apple box, calmly losing herself to the rain while wearing earphones, listening to the atmospheric Nils Frahm song "Says" (which was famously used in 2019 film Ad Astra). As it turned out, the actress's equanimity—akin to Ajak's ability to heal and communicate with Celestials—was transferable via osmosis.
"I think she saw that I was overwhelmed, so she asked me to take a moment with her," recalls Zhao. "She got me to sit by her and rest my head on her lap, and she put her earphones over my ears. It was some kind of calming musical soundscape. We just sat there quietly while the hectic scene went on around us. It was the five minutes I really needed in that moment. I remember thinking, this is what Ajak would do with her healing power if she sees one of her Eternals in trouble."
Naturally, the task of adapting a property with the enormity (and $200 million of Disney's money) of Eternals had to be overwhelming. Yet, Zhao's timely moment with Hayek was not only an emotional salve but it may have served as ongoing inspiration for her adaptation of Ajak, the visually-loud Jack Kirby-created (notably male) Marvel Comics character, a task she juggled while conducting cast members such as Angelina Jolie, Kumail Nanjiani, Brian Tyree Henry, Barry Keoghan, Gemma Chan and reunited Game of Thrones Starks Richard Madden and Kit Harington.
For those who don't know Ajak, Hayek is tackling a character who debuted in the Aug. 1976-stamped Eternals #2, a member of a sub-group of virtual immortals called the Polar Eternals, who possess superhuman abilities of flight, strength, stamina, durability, and the manipulation of molecules. Moreover, he has walked the Earth for many millennia, having fought in the Trojan Wars, in which he was recognized as the legendary Ajax, and notably spent time in ancient Central America, where he was known as Quetzalcoatl to the Aztecs and Tecumotzin to the Inca.    
So, where would one start in attempting to adapt all of that? Well, it seems that the healing energy that Hayek herself offered Zhao during that fateful moment of ambivalence was a terrific template for Ajak's onscreen manifestation. It was a surprising role for Hayek, who states, "I knew the name of my character. But don't look for it in the comics. When I did look at the comics, I was a man."
Hayek's Ajak is described in the story as the "spiritual leader" of the Eternals, although, if the dynamic of the comic remains in place here, then leadership in the field will fall to Madden's Ikaris. Yet, while Ajak is poised to serve as the sagely fulcrum on which the group wayward immortals hinges, Marvel has been playing coy with the extent of her role, as exemplified by the recently-dropped early footage of the film, which briefly shows her on horseback, living a cowgirl's life, Stetson and all. However, don't expect her to spend the film lassoing calves, since allegedly leaked photos of the character's Hasbro Marvel Legends action figure show her in a more regally-themed dress and a gold helmet that matches the motif of her male comic counterpart.
Hayek is proud of the proverbial handprint she's setting in the MCU, and sees her casting as a positive sign for diversity, explaining how it was the realization of what "people in power" wanted to happen, notably Marvel vice president of film production Victoria Alonso. "I cannot love this woman more. She is extraordinary," says Hayek of Alonso. "She was very supportive to all the cast. And when you talk to her, you can see that this was something meaningful to her for a long time. Even [Marvel chief] Kevin Feige was very proud of it. But I was terrified. They tell you you're going to be in this movie, but they can't give you a script, and you have to sign the contract. You have to negotiate and sign the contract, and you cannot tell anyone."
Exactly how Marvel's still-mysterious Eternals entry ultimately turns out is certainly one of the biggest nail-biters for fans who fear that the 13-year-running MCU might have already peaked. The film is scheduled to hit theaters on Friday, Nov. 5. In the meantime, you'll be able to catch Salma Hayek—alongside Ryan Reynolds and Samuel L. Jackson—in action sequel The Hitman's Wife's Bodyguard, which bows on June 16.