News
Enola Holmes Teaser Trailer Sets Netflix Release Date for Millie Bobby Brown Movie
Stranger Things' Millie Bobby Brown is joined by Henry Cavill and Sam Claflin in the trailer for Netflix's Enola Holmes.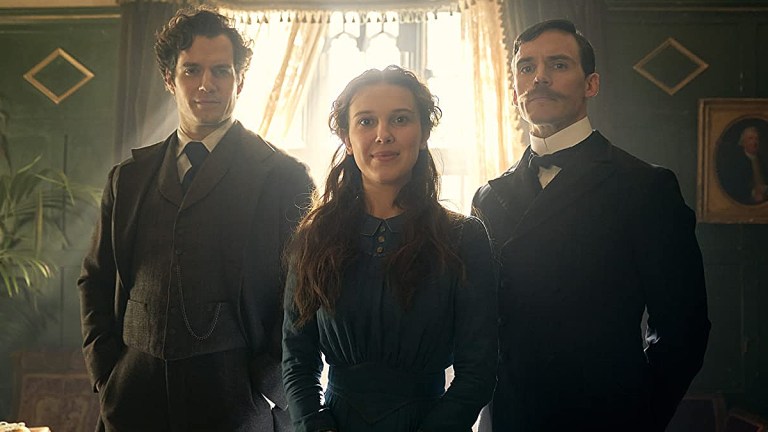 Enola Holmes is set to showcase Millie Bobby Brown as the teenage sister of a certain famous inductively-inclined deerstalker-donning detective. In a bit of content synergy, the streaming-set movie will keep the Stranger Things star on that show's Netflix home platform, as it will for co-star Henry Cavill, who temporarily put aside The Witcher to play her brother Sherlock, joined by The Hunger Games's Sam Claflin as other brother Mycroft.
The film, an adaptation of the first book in a novel series by Nancy Springer, was picked up by Netflix back in April, and was the center of a lawsuit from the estate of Sir Arthur Conan Doyle over changes to the Sherlock Holmes character that allegedly go beyond the franchise's public domain conditions. Yet, that seems to have done nothing to deter momentum for the film, which has just released its first teaser trailer and—with Holmesian flair—set a release date.
Without further ado, check out the (admittedly-brief) teaser trailer for Netlifx's Enola Holmes just below.
Indeed, the name "Enola" is on everyone's tongues in the clip, which showcases the film's supporting cast such as Cavill's Sherlock, Claflin's Mycroft, also previewing the presence of notables such as Helena Bonham Carter, Fiona Shaw, Adeel Akhtar and Susan Wokoma. However, the clip builds to a crescendo by (quite literally) unveiling Brown's Enola, accompanied by fanfare that sounds like an orchestral version of the opening chord's to Hole's 1998 hit, "Celebrity Skin," in a bit of intriguing century-displaced "riot grrrl" thematic evocation.
In keeping with the film's detective motif, the Enola Holmes teaser also challenges the audience to do a bit of gumshoeing to discover the film's release date, leaving the cryptic message of "alone loshme reeebtpms wnettyrhitd." While it's not an exceptionally difficult anagram, we'll just save you the time and trouble to reveal that it unscrambles to read "Enola Holmes September Twenty Third." Thus, it seems that film's Netflix arrival is slightly over a month away from the announcement.
Enola Holmes was directed by Harry Bradbeer, who crosses over from the world of television episodic work, notably on Phoebe Waller-Bridge shows Fleabag and Killing Eve, the latter of which co-stars Fiona Shaw, who is in the cast of this film. Bradbeer worked off a script by Jack Thorne (His Dark Materials), which adapts the first book in author Nancy Springer's The Enola Holmes Mysteries series, "The Case of the Missing Marquess" (2006). The literary franchise totals six volumes (yielding at least five prospective sequels), last represented by "The Case of the Gypsy Goodbye" (2010). Moreover, the film's gaggle of producers also includes star Millie Bobby Brown, who, at the age of 16, served as a producer representing her PCMA Productions.
Enola Holmes Release Date
Enola Holmes will use her sharp-as-a-tack mind to pop mysteries in Victorian England on Netflix on Wednesday, September 23.