News
Dune Headlines the New Issue of Den of Geek Magazine
The brand new edition of Den of Geek Magazine features an exclusive look behind the scenes of Dune and much more!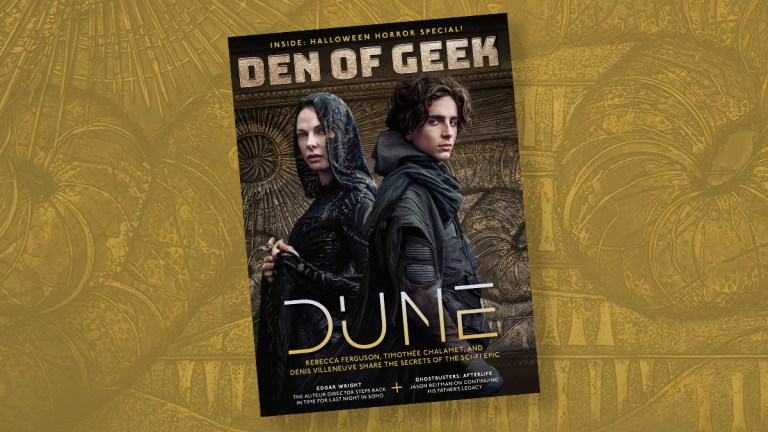 The latest issue of Den of Geek magazine is here, and it is HUGE. We know we say this every time, but this is the biggest issue we've ever done, so crammed with interviews and exclusives that we actually had to increase the number of pages to fit it all in. So it's only fitting that our cover features a movie that is equally massive. Denis Villeneuve's reimagining of Frank Herbert's classic novel, Dune, is a vast, sweeping sci-fi epic in every sense of the word. We sat down with Villeneuve and our cover stars Rebecca Ferguson and Timothée Chalamet to delve into this visionary cinematic event. Read it here.
And that's just the tip of the iceberg. Elsewhere in the issue Jason Reitman talks about carrying on his father's legacy with Ghostbusters: Afterlife, comic book writer Kieron Gillen talks us through the complexities of Marvel's Eternals, we speak with Michelle Gomez aka Doctor Who's Missy about her new role in Doom Patrol, while the cast and crew behind the Star Trek: Enterprise pilot revisit the show in an oral history. 
We also have an in-depth interview with auteur director Edgar Wright about his fascinating career to date including his upcoming movie Last Night in Soho, we explore Marvel's Guardians of the Galaxy video game, and bring you exclusive first looks at Star Trek: Prodigy and The Wheel of Time. All this plus a look inside the cockpit of Top Gun: Maverick and a sneak peek at Cowboy Bebop!
As if that wasn't enough, we also have a great big horror special to get your spooky season off to the right start, including previews of Halloween Kills, Resident Evil: Welcome to Raccoon City, and the new Chucky TV show, an American Horror Story retrospective ten years after the first episode aired and our round up of the best horror comedies of the 21st century.
So how can you get your hands on a physical copy? If you're not already one of our thousands of lucky readers with free subscriptions, you can still get the latest issue of Den of Geek absolutely free of charge from one of these fine independently owned and operated comic shops and retailers. We're in all 50 US states (as well as places that should be states like Washington, DC and Puerto Rico), and these folks are giving our magazines away to customers for free, so stop in, pick one up, and support your local store.
We're also going to be at New York Comic Con (from Oct. 7 – 10) and MCM London Comic Con (Oct. 22 – 24). So if you're thinking of popping along to either con come and see us! Each of those editions will have EVEN MORE bespoke content put together especially for each of the comic cons including floor plans, panel highlights, specials guests, event recommendations, and more.
We hope you enjoy the issue as much as we enjoyed making it!