Features
Inside the Top Gun: Maverick Cockpit
Tom Cruise returns as the all-star pilot at the heart of Top Gun: Maverick. Director Joseph Kosinski explains how he lured him back, and how these daring flight sequences were captured.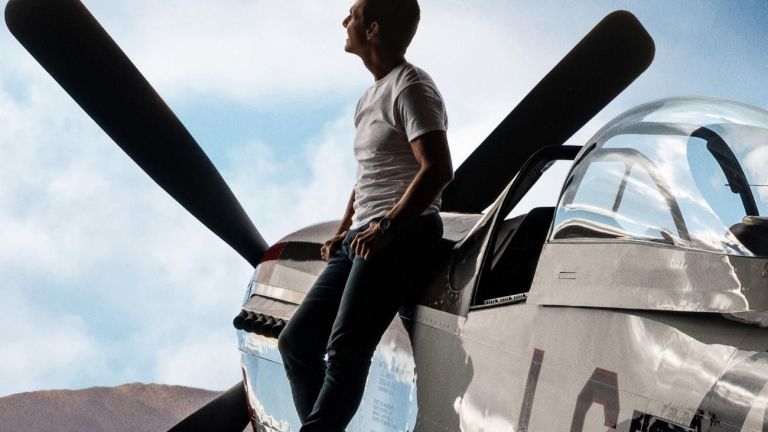 Tom Cruise is once again entering the danger zone. The highly-anticipated sequel, Top Gun: Maverick, picks up decades after the 1986 blockbuster, with the action star reprising his role as hotshot pilot Pete "Maverick" Mitchell. For many fans, the original has evolved into a timeless feel-good film.
"Top Gun is the movie that took Tom from a promising young actor onto the road to superstar," director Joseph Kosinski [Tron: Legacy, Oblivion] tells Den of Geek. "It's just a great story and a great friendship between Maverick and Goose [Anthony Edwards]. The notion of the wingman was created with Top Gun and has entered the vernacular now. It's a combination of all those things."
Finally taking flight in May 2022, Top Gun: Maverick finds the titular character returning home to train Top Gun graduates for a covert mission. The talented cast includes Miles Teller, Jennifer Connelly, Jon Hamm, Ed Harris, Jay Ellis, Danny Ramirez, Monica Barbaro, Lewis Pullman, Greg Tarzan Davis and Glen Powell. Val Kilmer also returns as Iceman. Kosinski notes "cracking the right story was key to getting Tom on board."
"I wanted it to be a rite of passage story like the first film," Kosinski says. "Obviously, Maverick in that film was in his early twenties and now he's in his fifties. It had to be a different journey, but it was important it was a journey for a man at a different part of his life. We think of Top Gun as an action film, but I think of it as a drama. It has some incredible action scenes in it, but there is a drama at the center of it."
Beyond Top Gun: Maverick's obvious wow factor, what mattered most to Kosinski was the emotional core–the strength, heart, and conflict–instilled into the characters.
"For me, the way into that was through this story of Rooster [the son of Goose], who is played by Miles Teller," Kosinski says. "That was the thing that felt like the storyline that we would be able to sink our hooks into emotionally and the thing that would get Tom excited about getting into this character again."
It's been 35 years since Maverick donned his Ray Ban sunglasses and indulged his need for speed. So, where's he been? What's he been up to all this time?
Kosinski spent plenty of time pondering those very questions. No spoilers here, but he does propose that, "Maverick is still Maverick." That means a passionate guy known for pushing the boundaries and, yes, sometimes people's buttons. But Maverick is at a different stage in life now, and the trainees often echo his glory days… for better or for worse.
"For Maverick, to see these pilots at the age he was in the first film, and the way they interact with each other and the excitement and love of aviation, but also the willingness to put themselves in danger's way, certainly reminds him of the way he was," Kosinski explains. "He has a lot of experience and loss along the way, to give him some context on that. When he sees Rooster, the son of his old wingman, that brings back a flood of memories and emotions that he hasn't thought about in a while."
Top Gun revolutionized how aerial sequences were shot, and inspired by GoPro videos from Navy pilots, the sequel promises even more extreme F/A-18 Super Hornet acrobatics. And given Cruise's panache for performing his own stunts, he and the cast strapped in.
Cruise developed a progressive training program so that the actors could prepare for the plane's incredible dynamic forces, forces capable of making pilots pass out from lack of blood flow. Thankfully, modern technology provided Kosinski the tools to capture all those rip-roaring, death-defying maneuvers.
"We spent a year working with the Navy to get approvals to put six of these IMAX-quality cameras inside the cockpit," Kosinski explains. "Four of them were facing toward the actors and two of them were facing forward, in addition to cameras mounted all over the exteriors of the aircraft."
The result? A film filled with visually-stunning dogfights, crazy stunts and wild shenanigans… one Kosinski insists must be viewed on the big screen. In the end, he believes Top Gun: Maverick will not only meet audiences' expectations, but shoot them into the clouds.
"You can feel the authenticity," Kosinski concludes. "You can feel the strain, the G-forces, the speed, something you could never capture on a soundstage, no matter how much money or visual effects you threw at it. It was a tremendous amount of effort and work, but you just can't fake the results. I can't wait for people to see it."
Top Gun: Maverick opens in cinemas on May 27, 2022.