News
Doctor Strange Director Scott Derrickson Will Helm Bermuda for Skydance
Scott Derrickson may team up with Chris Evans to explore the Devil's Triangle for Skydance's upcoming thriller Bermuda.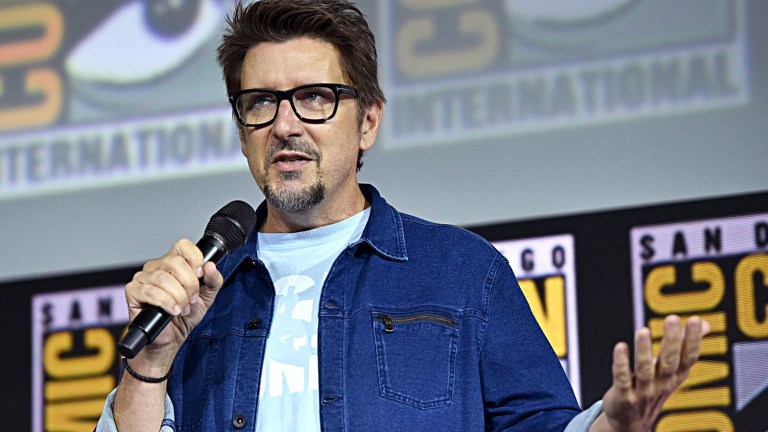 Scott Derrickson has signed on to direct the upcoming thriller Bermuda for Skydance with Captain America actor Chris Evans in talks to star, according to Variety.
The film has been in development at Skydance since 2013. No other studio is currently attached, though Skydance has a distribution and finance deal with Paramount. Derrickson will rewrite the script with C. Robert Cargill, his collaborator on the first Doctor Strange film, which came out in 2016. The film earned $677.7 million worldwide and brought Benedict Cumberbatch into the Marvel Cinematic Universe. The most recent draft of the Bermuda screenplay was written by Doug Miro and Carlo Bernard. Damian Shannon and Mark Swift are also writing a draft of the script.
The project marks Derrickson's first film since he walked away from the sequel to 2016 Marvel film Doctor Strange in January over creative differences. Sam Raimi, who directed the Spider-Man trilogy of the 2000s, is in negotiations with Marvel Studios to take over directorial duties for Doctor Strange and the Multiverse of Madness. Raimi was slated to direct Bermuda at one point. Derrickson will still executive produce Doctor Strange and the Multiverse of Madness.
Derrickson first broke through with the horror film Exorcism of Emily Rose in 2005. He also directed The Day the Earth Stood Still, and Sinister. He most recently produced an episode of Hulu's Into the Dark: My Valentine.
Evans took off his captain's bars in 2019 after Avengers: Endgame marked the last time he would play Captain America. He most recently starred in Rian Johnson's Oscar-nominated whodunit Knives Out, which grossed $300 million worldwide. Evans is in talks to star alongside Billy Porter in Warner Bros.' remake of Little Shop of Horrors. He will next appear in the series Defending Jacob, which will air on Apple starting in April.
Bermuda plot details are being kept submerged, except that the film is set in the Bermuda Triangle, a 500,000-square-mile area in the Atlantic Ocean bordered by Miami, Bermuda and Puerto Rico. Dozens of ships and airplanes mysteriously disappeared in the mythical travel zone since the 20th Century but stories go back through history. The U.S. Navy and U.S. Coast Guard have always maintained there are no supernatural explanations for missing vessels. The area is one of the busiest shipping lanes on earth. It is regularly traversed by cruise ships, pleasure craft, and commercial and private aircraft. The disappearances have been blamed on everything from UFOs to magnetic anomalies to leftover technology from the lost continent of Atlantis, which may have been located off the island of Bimini in the Bahamas.
The area became internationally notorious after Flight 19, a group of five Grumman TBM Avenger torpedo bombers, disappeared there on Dec. 5, 1945. A Martin PBM Mariner flying boat which was dispatched to search for Flight 19 also vanished.
There is no release date yet set for Bermuda.