Features
The Big Doctor Strange 2 Villain May Be Hiding in Plain Sight
Who is the mysterious villain at the dark heart of Marvel's Doctor Strange in the Multiverse of Madness?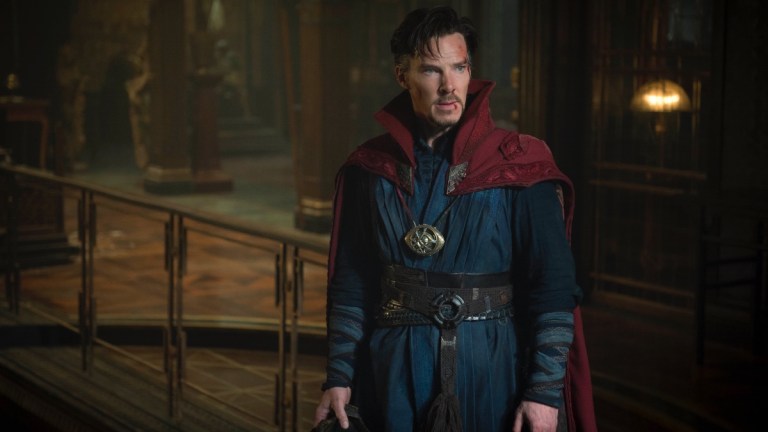 This article may contain spoilers for Doctor Strange in the Multiverse of Madness
This week we got a big first trailer, a TV spot, and a new poster for Sam Raimi's Doctor Strange in the Multiverse of Madness, and they were packed full of so many interesting tidbits! Marvel Zombies! Wanda back in Westview! Strange Supreme! Defender Strange! Professor X! The Illuminati! Captain Carter! Rintrah! Gargantos! America Chavez! The Savage Land?! But one thing the trailer didn't show us was who might be the puppet master of this terrifying multiversal breakdown of reality, despite Mordo pointing his finger straight at Strange.
Marvel's official synopsis for the highly anticipated movie reveals a little more, however. It confirms that in Doctor Strange in the Multiverse of Madness, Stephen will traverse "the mind-bending and dangerous alternate realities of the Multiverse" (of course, yes) to confront "a mysterious new adversary." That does seem to suggest there is someone to unmask or encounter at the end of the journey.
Theoretically, Marvel hasn't done too much to hide who the movie's ultimate villain might be, as a collection of Doctor Strange in the Multiverse of Madness Legends figures have been available to pre-order for quite a while now, and they feature the powerful demon D'Spayre among them. Some Marvel TV fans might remember seeing a version of D'Spayre in the Freeform TV series Cloak and Dagger, but the Doctor Strange 2 Legends figure suits D'Spayre back up in his classic black and white costume from Marvel Comics.
D'Spayre is certainly a random villain for Marvel to pick here, but he does make narrative sense as part of a horror story in which Stephen is losing control over his Variants' multiverse antics and stumbling onto other grim manifestations of the multiverse that all seem to end in doom.
The character first appeared back in 1978's Marvel Team-Up #68 as created by writer Chris Claremont and penciller John Byrne, and has been a thorn in the side of various Marvel superheroes (and villains tbh) ever since. D'Spayre can easily travel through dimensions and he feeds off your fear. He can unpick your psychological vulnerabilities, and make you see things that simply aren't there. Another interesting aspect of D'Spayre is that he has been known to pose as people you trust, letting him get even closer to you as you fall apart and thus providing him with a delicious three course meal of terror and despair. It's fine dining!
So, could D'Spayre actually be posing as someone close to Strange throughout Doctor Strange in the Multiverse of Madness? It might be tough for him to replicate all the various powers wielded by the likes of Scarlet Witch or America Chavez (though it would be easier using hallucinations and illusions) but wouldn't it be quite creepy to have D'Spayre unveiled at the end of the movie as someone who was there on the ride all along?
This possibility has fans theorizing that Wong may have never come back from his vacation in Spider-Man: No Way Home after all, and it would very unsettling to see Marvel's new Sorcerer Supreme turn on Strange with a maniacal laugh, but what if it's Rachel McAdams' Dr Christine Palmer, Stephen's remaining tie to the regular humans of Earth, who is not all that she seems?
It's long been a bone of contention for MCU fans that McAdams has been criminally underused as the character of Christine Palmer, and for a while many suspected she might be transformed into Doctor Strange's Marvel Comics wife, Clea. That could very well still happen, but it would be a wild twist to see her unmasked as the big villain in this sequel instead.
To be fair, the inclusion of D'Spayre in the Legends line-up might also just be a big ol' red herring that has us looking for a villain the movie has no intention of using. We're in the (speculation) endgame, now!
We'll find out for sure if D'Spayre is lurking in Doctor Strange in the Multiverse of Madness when the film is finally released on May 6.