News
Doctor Strange 2: New Multiverse Easter Eggs Revealed
Doctor Strange and America Chavez may have been just passing through, but the film's digital effects team worked hard to create more alternate worlds.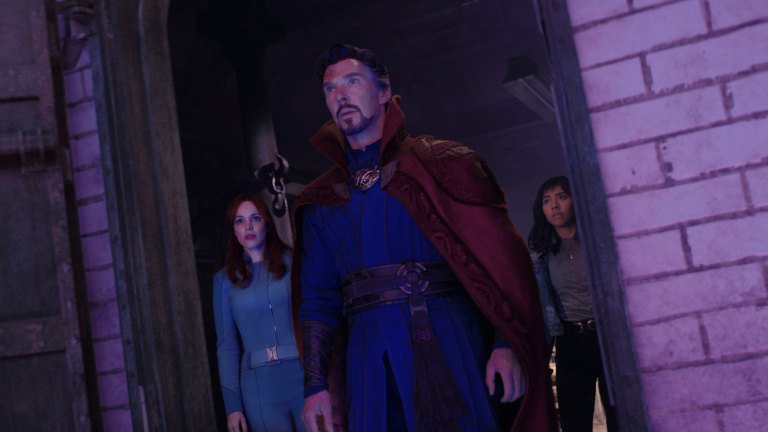 This post contains spoilers for DOCTOR STRANGE IN THE MULTIVERSE OF MADNESS.
Despite what its title promised, Doctor Strange in the Multiverse of Madness delivered a relatively limited view of alternate universes. Most of the action took place either in the main MCU reality (dubbed Earth-616, much to the chagrin of some comic book fans) or on Earth-818, home to the Illuminati, Billy and Tommy Maximoff, and, of course, Pizza Poppa. We did get a brief glimpse of several different realities as Strange and America Chavez blasted through the multiverse, but most flashed by so quickly that we couldn't make sense of what they were.
In an interview with Cinematography World, digital effects team Framestore sheds some light on these other worlds. Visual effects supervisor Alexis Wajsbrot compared the portal sequence to "being given a blank sheet of paper to work with." With so much open space, Wajsbrot and the team could spit-ball crazy ideas: "okay, why don't we add some dinosaurs here? A Hydra Easter egg there? A nod to Escher there? Some giant bees?"
To be sure, those ideas sound great, but not too many of them were visible to even the most eagle-eyed moviegoer. In fact, the effects team created 20 different worlds for Strange and Chavez to fall through in the span of 40 seconds. As the duo travels through realities, Wajsbrot points out, "the city environment morphing from bricks and glass to pipes, to bones, to jungle."
Of particular interest to some fans might be the "pipe world" that Wajsbrot described, to which the team added "some Stark Industries drones." A glimpse at the world filled with Stark drones – last seen as weapons wielded by Mysterio in Spider-Man: No Way Home – has led some to believe that Strange and Chavez visited a reality dominated by an evil version of Tony Stark.
There are several comic book precedents in which Stark conquers the Earth (or, in some cases, Doctor Doom with Stark tech). But the silver imagery in that scene recalls Superior Iron Man, a comic series in which Tony magically becomes an evil tyrant. This version of Iron Man exists until the Marvel Universe is destroyed in an incursion, a reality-destroying event hinted at in Multiverse of Madness.
For the Framestore team, the best of the alternate worlds was what they call "comic book world," the animated reality that finds Strange and Chavez turned into cartoons, not unlike Spider-Man: Into the Spider-Verse. But for environment supervisor Matthew Chandler, it was also the most challenging. "We had to come up with a way of projecting cartoon drawn lines and reflections into our CG cartoon world environments, sketching moving shadows and drawing in building details and on moving vehicles window reflections," Chandler explained.
For some, the hard work that Wajsbrot, Chandler, and others put into the film came all to naught, as most people didn't actually get to enjoy the visuals. But these worlds are only a starting point, gesturing to the vastness of the MCU multiverse. Plus, fans will get a chance to slow things down and really examine the alternate worlds when Doctor Strange in the Multiverse of Madness comes to Disney+ on June 22.