News
Deathstroke Animated Movie Trailer and Release Date
The surprise next entry in the DC Animated Movie series shows us Deathstroke's beginnings and his fight against H.I.V.E.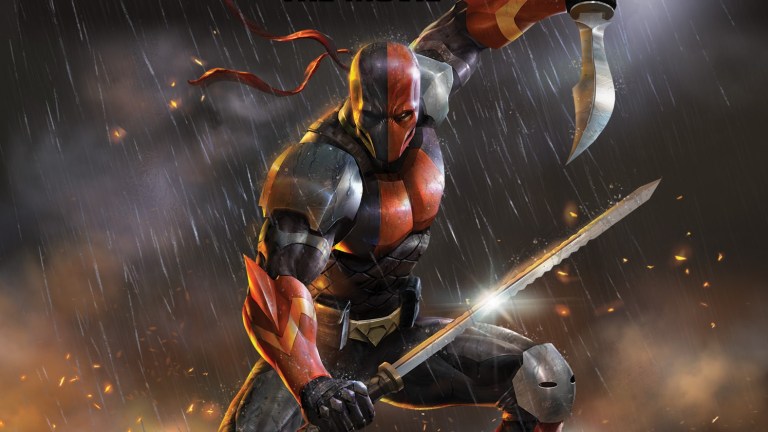 Slade Wilson is coming off of the best run of comic stories in the character's history, and now he's getting some space in the DC Animated Movie line to shine. Deathstroke: Knights & Dragons was announced as the latest entry in the feature series, with a release date of August 4th, 2020.
Deathstroke was created by Marv Wolfman and George Perez in 1980 as a major antagonist for the Teen Titans, and he eventually evolved into the top assassin in the DC universe. He touches a variety of spheres of characters – the sidekicks, through his Teen Titans connections (and his children); the broad DCU through his supervillain connections; the martial artists, through his mercenary connections; and the Batman family, through both is personal antagonism for various Robins and through Ra's al Ghul's assassins.
The story looks like it starts with Slade's origin as an enhanced human, and then works through his family life. This includes his wife, Adeline Kane; and his sons, Grant and Joseph. We'll see how far along their respective stories this movie takes them – Grant eventually becomes Ravager, and follows in his father's footsteps before dying on the job from heart failure due to the enhancements given to him causing his heart to give out. Joseph can't speak, and he becomes the Teen Titan Jericho, who can possess people's bodies with his spirit. Both are explored heavily in Christopher Priest's recent seminal run on Deathstroke. 
Watch the trailer here…
Also seen in the trailer are Bronze Tiger and Lady Shiva, two fan favorite characters who are among the best martial artists in the DC Universe. Hopefully they'll get a chance to show off their fighting abilities. The cast includes some big names – Michael Chiklis (Fantastic Four) as Slade Wilson; Sasha Alexander (NCIS) as Adeline; and Colin Salmon (Krypton) as Wintergreen.
Typically these DC animated movies are announced several at a time, three or four times a year. However, Justice League Dark: Apokalips War brought an end to the shared continuity, and apparently with it, the regularity of new project announcements. This movie is also R rated, so we'll see what the final product looks like. 
Deathstroke: Knights & Dragons is out on digital on August 4th, 2020, and in Blu-ray and DVD combo packs on August 18th. For more on Deathstroke, his family, or his new movie career, stick with Den of Geek!