News
Deathstroke: Knights and Dragons Shows off Lady Shiva and Ravager Fight
In this exclusive clip from the new DC Animated Feature, Deathstroke's daughter and the deadliest woman in the DC Universe face off for HIVE supremacy.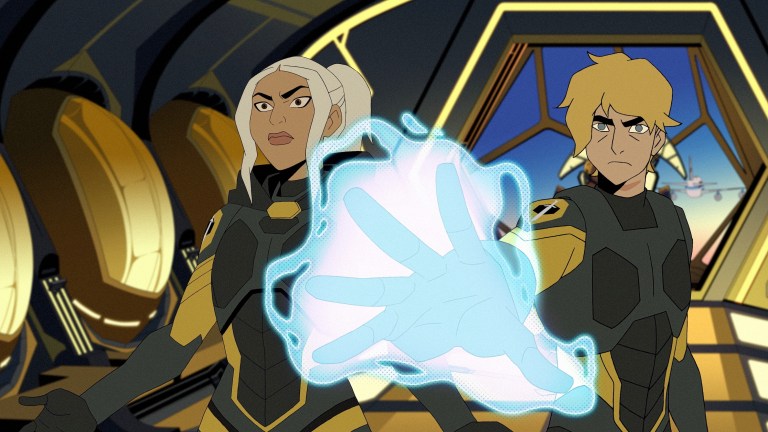 Slade Wilson has a complicated family life. He's the premier assassin in the DC Universe, with super powers and a big beefy sword and a butler with wit sharper than Slade's sword. He's would seem to be the ideal Batman foil, but instead he's the primary villain of the Teen Titans, and especially Robins in all their varying incarnations. And most of that rivalry comes from Slade's dysfunctional family, which you can get a glimpse of in this exclusive clip from the upcoming DC animated feature, Deathstroke: Knights and Dragons.
The movie looks to be a little bit about Deathstroke's origin story, and a lot about his messed up relationship with Adeline, his ex-wife; and his kids, Grant, Rose and Joseph. By their superhero names, the kids are Ravager, Ravager, and Jericho.
This clip pits Rose, in full H.I.V.E. armor and in the H.I.V.E. throne room, against Lady Shiva. Shiva is the deadliest martial artist in the DC Universe. She has trained the Question and Jason Todd, and is the mother of widely beloved ex-Batgirl Cassandra Cain. Take a look.
Deathstroke: Knights and Dragons is part of the first wave of post-Justice League Dark: Apokalips War animated features freed from a shared continuity. This movie looks steeped in Christopher Priest's recent comics run of unbelievably good stories. In addition to Lady Shiva (created in 1975 as a co-star of Richard Dragon, Kung Fu Fighter by Dennis O'Neill and Ric Estrada) and Rose Wilson (created by Deathstroke mastermind Marv Wolfman and artist Art Nichols in the pages of Slade's 1992 solo book), the movie will also feature super badass martial artist and Suicide Squad mainstay Bronze Tiger, and all of Slade's extended family.
Here's what WB has to say about the new movie.
Deathstroke: Knights & Dragons offers a new take on the Deathstroke legacy. Mercenary and master assassin Slade Wilson leads two lives: one as the relentless killer known as Deathstroke, and the other as a dedicated family man. When these worlds collide, forced together by the vicious terror group known as H.I.V.E., it is the killer in Slade who must fight to save his loved ones, as well as what remains of himself. With his soul torn apart and his young son held captive, Deathstroke will have to atone for the sins of his past to fuel the battles of his future!
The cast includes Michael Chiklis (The Shield) as Slade; Sasha Alexander (NCIS) as Adeline; and Colin Salmon (Krypton) as Wintergreen. Deathstroke: Knights and Dragons is out now on digital, and releases on Blu Ray on August 18th.