Features
Dead End Changed the Gangster Movie Forever
Humphrey Bogart and the Dead End kids still break all the rules in Dead End, a pioneer among mob movies with a message!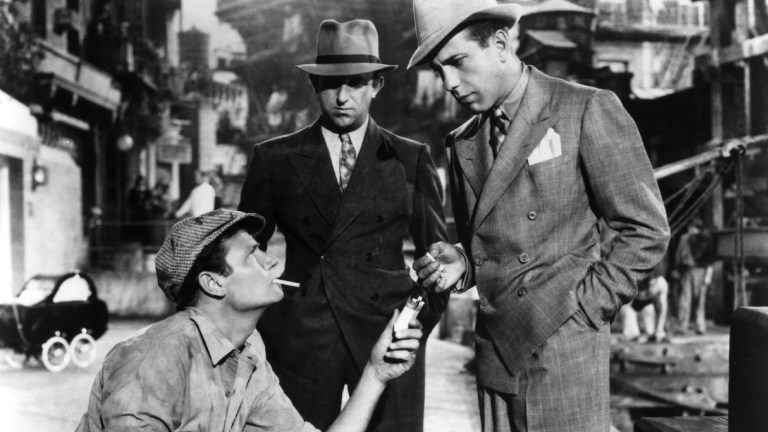 William Wyler's Dead End made its screen debut on Aug. 27, 1937. The film adaptation of Sidney Kingsley's Broadway play starred Sylvia Sidney and Joel McCrea, and featured Humphrey Bogart in third billing. But the movie was stolen from them all by a gang of upstart juvenile delinquents, who nicked audience attention like a fancy watch mugged off a clueless rich brat. 
Billy Halop, Huntz Hall, Gabe Dell, Bobby Jordan, Bernard Punsly, and Leo Gorcey were the original teen menaces who terrorized theatergoers when the play opened on Oct. 28, 1935. Directed by the playwright, Dead End ran for 684 performances, and is still the longest-running play in the Belasco Theater's history. First Lady Eleanor Roosevelt saw it three times.
Nominated for the Academy Award for Best Picture, Dead End isn't the greatest gangster movie of all time. It followed the classic era of the genre; it was produced by Samuel Goldwyn for MGM studios, not Warner Brothers; and it was not ripped from the day's headlines. Nonetheless, the 1937 slice of celluloid street survival is an influential film which captures the time's New York City gang life in ways that reverberate on stage and screens 85 years later.
The Gangster
Traces of Bogart's Joe "Baby Face" Martin can be found in Robert De Niro's Jimmy Conway in Goodfellas, Dustin Hoffman's Dutch Schultz in Billy Bathgate, and Wesley Snipes' Nino Brown in New Jack City. Mobsters know they can't live forever, so they teach budding felons "all the tricks of the trade." Whether it's how to flick a blade in a knife fight, which the enthusiastic actor Bogart practiced to perfection to deliver an unedited single shot from stoop to target, or match a tailor-made suit to the perfect fedora, Baby Face gives lessons generously.
Now known as a cinematic icon, Bogart was then primarily a theater veteran by the time he was cast in the Dead End adaptation. He appeared in 18 productions on Broadway, including 197 performances as the gang-leading killer Duke Mantee in The Petrified Forest, which he recreated for the screen. Joseph Downing played Martin in the original cast.
From a gangster film perspective Dead End is about a public enemy-listed gangster. Baby Face Martin is charismatic but doomed. "He was a born leader," his childhood friend remembers. "He even had a sense of fair play. Then he was sent to reform school. Well, they reformed him all right."
Recognizable from nationwide manhunt photographs, Martin is on the run with eight murders on his rap sheet and a new face, the latter thanks to plastic surgery. The feds think he's out west in Colorado, but Martin has come home to his old neighborhood. Rebuked by his mother, played by Marjorie Main recreating her Broadway role, and dismayed by his first love, Francey (Claire Trevor), Martin is betrayed by his childhood friend, the struggling architect Dave Connell (McCrea). But Baby Face sees the new generation of street hoodlums who will end up just like him: Pushed into the East River like the rest of the sewage.
Hail, Hail, the Gang's All Here
The play Dead End was produced and designed by Norman Bel Geddes and featured a set so realistic audiences reportedly gasped when the curtain opened. The Dead End Kids dove into the orchestra pit, which doubled as the East River. As the film preamble explains, new high-rise terraces of the rich greedily look down on the fire escapes of the slum. The view from beneath the Queensboro Bridge is an iconic image of riverfront-view gentrification.
Goldwyn passed on shooting Dead End in New York, according to the book Bogart by Ann M. Sperber and Eric Lax, but the film painstakingly recreates the location. Graffiti seen chalked on walls in the film visibly reads "E. 54th Place Gang Member Only."
Unchanged from the original run for the film, the unknown cast was young, hungry, and a mix of jobless enthusiasm, professional training, and sheer adolescent curiosity. Bernard Punsly was 13 when he was cast as Milty, the new kid on the block with the quarter and the pocket knife. He auditioned because he thought it would be fun. The youngest trouper had the most experience: Bobby Jordan was 12 when cast as Angel. He acted in short films and radio programs, and made his Broadway debut in 1929 in Street Scene.
Halop was 15 and studying at the Professional Children's School when cast as Tommy Gordon. Henry "Huntz" Hall was 16 when he won the role of Dippy with machine-gun mimicry and a gift for patter. He'd been performing on the radio since he was five. He was a good singer until he wrecked his voice hawking hot dogs at Madison Square Garden, according to the book From Broadway to the Bowery: A History and Filmography of the Dead End Kids, Little Tough Guys, East Side Kids and Bowery Boys Films, with Cast Biographies by Leonard Getz.
The rest of the cast were new to theater, and eager for cash. Leo Gorcey, who was thrust onstage as Spit on opening night, was an 18-year-old, recently fired plumber's assistant on his way to becoming a real-life dead-end kid when he auditioned with his brother, David, for parts as "Second Avenue boys," according to Gorcey's autobiography, Dead End Yells, Wedding Bells, Cockle Shells and Dizzy Spells.
Gabe Dell was 16 when he was cast as T.B., the reform school graduate with the persistent cough. With one radio show under his belt, it seemed like a good job for him, his younger sister and mother, who dragged the kids to the Belasco casting call and came back with a combined take-home pay of $72 a week. "During the Depression, $72 would buy a lot of apples," Dell said in a 1972 interview with The New York Times.
The original cast of the play also featured Blossom MacDonald (later Blossom Rock), who would go on to play Grandmama on the 1960s TV sitcom The Addams Family, as well as future directing legend Sidney Lumet, cast as one of the Second Avenue Gang at 10 years old.
Stage audience members thought the troupe were real slum kids culled from bona fide street gangs. After the young New York stage actors laid waste to Los Angeles lots, MGM studio heads agreed, bouncing them to Warner Bros. who ultimately shipped them off to military school. After morphing into the East Side Kids, they reformed into The Bowery Boys, a grossly underrated comedy troupe, and churned out almost a picture a month for Monogram Pictures on Hollywood's "poverty row."
The Troublemaker
In their first encounter, Baby Face playfully tussles with the only person on the block who has the power to scare him. The sister of the Dead End Kid most likely to follow Martin's path. The only character with the courage to stand up to someone like the powerful Judge Griswold, whose vindictive and entitled brother was stabbed on the hand by a good kid from a bad block.
Drina is the troublemaker, factory-fitted to the role rather than born for it. The obvious protagonist, Dave, is a remnant of Martin's past, causing problems in the dim backgrounds of the present. Drina's brother Tommy is the troublemaking Baby Face of the future, becoming leader of the gang by beating the pants off each member individually. But Martin's bookend is the juvenile delinquent's only capable defender, who will take on the whole gang, including her brother, in a street fight to protect a weaker boy.
Sylvia Sidney's Drina Gordon is a prototype for strong, independent women in American cinema. Even when she accepts Dave's reward money at the end of the film, she lets him know she doesn't need him. There is a reason Sidney gets top billing: She earns it just as much as the character Drina earned the money she is striking for. Sidney was 16 when she made her theatrical debut and quickly became a sought-after Broadway lead. In film, Sidney found herself increasingly typecast. When she asked for a wider choice of roles, Sidney was labeled "difficult," and returned to the versatility of stage and television parts.
Drina is vulnerable, imaginative, determined, and tired. Forced to raise her wild younger brother, she is barely an adult herself. Drina defends youthful ideals but is no idealist. Her feet hurt because she has to stick newspaper in the shoes to keep them from wearing out on the picket line. Her head hurts from the nightstick a union-busting cop aimed at it.
Hollywood avoided sympathetic portrayal of strikers in spite of the National Labor Relations Act in 1935, Sidney's character knocked some sense into them too. Drina is the concrete conscience who never backs down and never squeals. She lies to cops, hides a fugitive, and plots escapes with the same intuitive ease she "works and cooks and cleans and goes to bed to get enough sleep to get up the next day and work."
Drina is the first person to stand up to Martin, who dies at the end of the second act, and the last line of defense against the criminal cycle. She does it without ever breaking the street code, or its promise in the original work.
Bending the Code
Dead End was the first command performance of a play at the White House for a head of state, inspiring President Franklin D. Roosevelt to establish a slum clearance commission. Kingsley won a Pulitzer Prize in 1934 for the play Men in White, which dealt with illegal abortions and established him as a "message" playwright. Dead End is a "message picture," the kind most producers preferred to be sent via Western Union.
There were bucks to be had in juvenile and adult delinquency, but box offices weren't post offices. Warner Bros. found success in the socially conscious exploration of a failed judicial system in Mervyn LeRoy's I Was a Fugitive from a Chain Gang (1932), and Goldwyn saw the play Dead End's potential as a delivery system for a weapon against poverty. The Production Code Administration saw questionable language, immorality, and child abuse.
In the film, Angel talks about having to pull a kitchen knife on his old man, Spit laughs at the part where the mom gets beaten. In another scene, Milty is looking the other way when an old woman steals a cookie from his baby sister, and eats it as if it's the first solid food she's had in a long time. The play uses frank language and derisive ethnic epithets, which troubled censors. Screenwriter Lillian Hellman was a renowned, perennially controversial playwright committed to bringing the play's message to the masses. She worked hard to translate, rather than tone down, the street talk, heavy New York accents, and glibly off-color slang, much of which is captured phonetically in the play, to properly provide local color.
One of the most colorful things to go was the word "fongoola," an Italian profanity, though the film does show Gabe Dell, whose name was Americanized from Dell Vecchio, thrust his crotch in an equally suggestive gesture, which makes the point nonverbally. Angel no longer smokes "hawse-balls," and a hazing ritual called "cockalize" was stricken. Hellman also had to delete direct references to communism and "marywanna," which T.B. says is "like dope. It gives you dreams."
Film watchdogs were also concerned with the cavalier acceptance of premarital sex and prostitution. This barely diminishes the film's back alley scene between Baby Face and his former, but still flickering, flame, Francey. It is one of the most sexually charged moments on celluloid. It turns horrifying as Martin's final disappointment, Francey's true profession, visibly descends into his psyche.
Drina isn't the only character with dreams, including a wealthy stranger in the subway, who owns a country house and smells clean. Martin idealized Francey, who abandoned the dream, and Claire Trevor, who was nominated for a Best Supporting Actress Oscar for the role, shows the last shreds of the illusion ripped from her grasp with nightmarish clarity. She captures every turn of emotion with the tilt of a neck, a curl of a lip, a hooded eye, and rasps of pleasure and self-disgust.
In the play, Francey calls herself a "cheap hoor (sic)," and even though the film couldn't say it, or reference syphilis, Bogart's reaction to Trevor's sun-drenched carnal admission erases the need for words like rubber on the end of a pencil. "I'm sick, can't you see it," Francey asks. "Look at me good. You've been looking at me like I used to be." Their exchange, all done through the eyes, is heartrending."Well, what did ya expect?"
The tune from the player-piano as Francey walks back to the streets has the same melody as "Girl of My Dreams," the song Johnny Favorite sings in Alan Parker's demonic Angel Heart. Martin got knocked down two times in one day but sells his soul for a third shot. Kidnapping judges' nephews are out of his line, but Martin is intent on coming out of his trip down memory lane with something, even if it's only money.
Cops and Robbers
"Oh yeah, I'd tell you anything," Drina sarcastically sneers at a beat cop looking for her brother. The PCA worried about how law enforcement was depicted in film, and Dead End does not present a kind picture. The first action we see is a cop rousting a sleeping homeless man from a public bench. The very next shot focuses on the cop looking at the rich luxury apartments. The police do not draw a thin blue line against crime; they protect the wealthy from the vermin.
In the play, a policeman accuses Drina of being a "Red" after getting walloped for going on strike. In the film, Drina pulls up her hat to show an invasive patrolman the lump she got from a "dirty cop" on the picket line. The welt on Drina's forehead is still visible in a late scene where a cop struts through her apartment like he owns the place.
Martin's violent death at the end of Act 2 breaks the PCA rule that characters who are shot cannot be shown to suffer. In the play, when the G-Men shoot Martin, he "groans, wheels, and falls, his face in the gutter, his fingers clawing the sidewalk," according to the stage directions.
The screen version keeps Martin's body out of frame during the overkill of the response. However, the dead gangster is a bloody mess in a torn silk shirt when turned over by the Medical Examiner, who says, "They didn't leave enough of him for a good p.m. [post mortem]." This confirms the police continued to shoot Martin after it was necessary. It is pure vengeance.
"The easiest way to get killed is to kill a cop," Officer Mulligan (James Burke) had mused. In the play and film, the cop tries to take credit for catching Tommy, wanted for a street stabbing, even though everyone on the block saw the kid turn himself in.
"I'm going out:" Bogart's Death Scene
Some critics found the film stagebound, but Dead End is groundbreaking in its cinematography, lighting, and camera placement. Wyler explored deep focus camerawork before Orson Welles, working with cinematographer Norbert Brodine for The Good Fairy in 1935. For Dead End, which expands the process for multiple effect, Wyler used Gregg Toland, the cinematographer who would go on to frame Welles' Citizen Kane.
Martin's death sequence is a marvel of motion picture artistry. It is subtle and symbolic, played against stark shadows and encroaching light. We hear the police whistles as the back alleys and fire escapes become claustrophobic cages. We see the dirt of the East River's sewage dripping off Dave's face as he climbs up from an assumed death. The stab wound is visible in his back as he battles Martin's henchman Hunk (Allen Jenkins), whose head truly looks pistol-whipped at the end of their melee, and whose face is filled with subdued anguish after seeing a butchered pal who couldn't get a warm meal from his own mom.
George Raft turned down the gangster role in Dead End, feeling Martin wasn't sympathetic enough, and upset by the scene where the character is slapped by his own mother. Bogart was on the receiving end of many of Raft's castoffs, but the scene where Martin is on the receiving end of his mom's heavy hand is powerful. The slap is an emotional highlight for both players, destroying a worldview, and slamming a door.
Martin's fall is a devastating end to a perilous battle. When he announces he's going out, he is hammered into the pavement by the barrage of policemen's bullets. The film adds complexity to the relationship through a reaction shot from Mrs. Martin moments after Martin's face is uncovered following his death scene. Her screams are audible, the assembled gawkers point out whose window it is coming from.
Reluctant Hero or Judas the Squealer
The biggest change in the adaptation is Dave, a less offensive screen credit, to be sure, but also a mainstreaming of the character. Gimpty, played by Theodore Newton at the Belasco, is a central protagonist in an ensemble piece. In the play, his leg was twisted by rickets, caused by the malnutrition rampant in the neighborhood during his childhood, and Gimpty is resentful. Turning Baby Face in to the G-Men makes Gimpty a "squealer." He does it out of fear. In the film, Dave is a working man, strong from physical labor, who confronts Martin. When the cop reminds Dave to collect the $4,800-reward, he says, "They pay you for it, huh?" This turns Dave into a traditional Hollywood hero, a man who had no choice but to do the right thing.
The money Dave gets for shooting his childhood friend will never be enough to defend Tommy. He stabbed Judge Griswold's brother, that's all. The ambiguous ending makes it more realistic—and effective. Martin Scorsese's Mean Streets also ends ambiguously. Did those low-level hoodlums go through all that just to go back to the same streets they were trying to get away from? The message is clear. Dead End is an unapologetically radical film, artistically and politically, as well as a gangster classic.