Features
Will Shadow and Bone Season 2 Adapt Six of Crows?
Shadow and Bone Season 2 is perfectly poised to dive into the Six of Crows plot.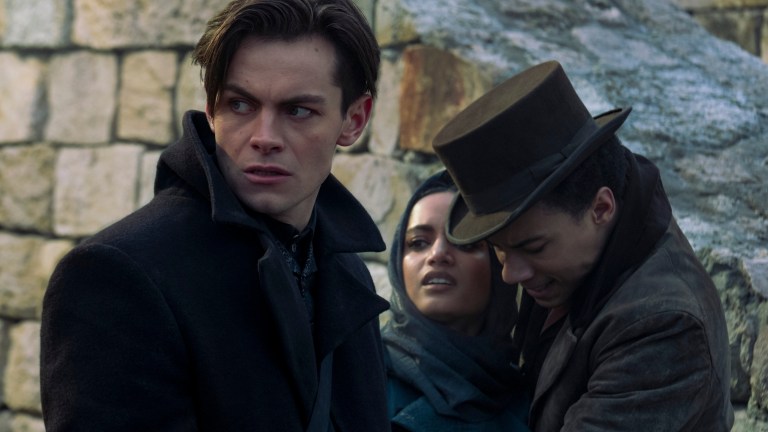 This Shadow and Bone article contains spoilers for Season 1.
While Shadow and Bone has yet to get an official Season 2 order from Netflix, a continuation of the epic fantasy series based on the Grishaverse book series by Leigh Bardugo seems inevitable. The first season of the fantasy drama dropped on Netflix on Friday and, as much as it tells a satisfying story, it is very obviously setting up a seasons-long saga that will take us through the three books of the Shadow and Bone book series and the the two books of the Six of Crows series. While the season ends with Alina, Mal, and the Darkling all in place to follow the Siege and Storm plot, the characters that hail from Six of Crows—Inej, Jesper, Kaz, Nina, and Matthias—appear to be on their way back to Kerch… and to the events of their first book. While Season 1 of Shadow and Bone incorporated new writing to give the Crows a role in this story set before the events of their own, Season 2 seems poised to dive right into the events of Six of Crows, effectively bringing that story up a few years to coincide with Siege and Storm and Ruin and Rising.
What is Six of Crows About?
This includes some spoilers for Six of Crows.
For those who haven't read the books, Six of Crows takes place after the events of Ruin and Rising, and is primarily set in Kerch, the island nation located west of Ravka, and Fjerda, the kingdom to the north of Ravka, where Matthias is from. It follows six young criminals—Kaz, Inej, Jesper, Matthias, Nina, and Wylan (show-watchers haven't met him yet)—who are hired to break a well-known scientist named Bo Yul-Bayur out of a nearly impenetrable Fjerdan prison. To do so, they must first break Matthias out of Hellgate, a prison on a tiny island outside of Kerch, where he has been imprisoned on suspicious of being a slave trader.
If that last plot detail sounds familiar, it's because, when we last left Matthias and Nina, Matthias was locked in the hull of a ship bound for Ketterdam after being publicly accused by Nina of being a slave trader. She did it in order to save his life from her former Grisha co-workers, but the result is the same: Matthias is bound for Hellgate. While on the ship, Nina overhears Inej, Kaz, and Jesper talking about how they're going to get out of trouble for failing to bring back the Sun Summoner. Kaz says he has a plan, and that it involves finding a Heartrender. Six of Crows begins with Kaz on the hunt for a Heartrender to help him pull of the heist of a lifetime. Could Kaz already be formulating a plan to take on the Bo Yul-Bayur job? Definitely. There's no reason why the Six of Crows plot couldn't start in Season 2 of Shadow and Bone.
The Six of Crows crew is definitely eager to begin. Den of Geek spoke to Kit Young (aka Jesper) in the lead up to Shadow and Bone's release about which parts of the duology he is excited to explore. His answer? "All of it." Young continued: "We're in that slightly bizarre position where I think quite uniquely out of all of the characters, we're the only ones that don't do anything that's in our books yet. So we absorbed all the source material and loved it and became huge nerds immediately and started theorizing as we were making it together, all of us. So we're like, 'Oh, one day. Maybe, hopefully, fingers crossed will do some, if not all of the stuff that is in the book.' So we're absolutely gassed to try and do any of it, really."
Shadow and Bone Season 1 is now available to watch in its entirety on Netflix.