Features
Cruella Meme Reactions Reveal Problem with Streaming Blockbusters
Social media had fun at Cruella's expense over the holiday weekend. This should give studios pause about streaming their tentpole releases.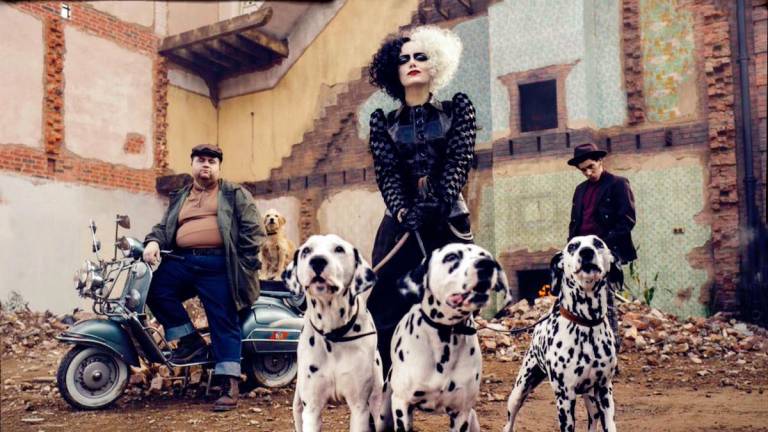 The following contains Cruella spoilers (but only what you already know from Twitter and Instagram).
Cruella de Vil's mother was killed by a vicious pack of Dalmatians. It sounds goofy to read that in print, but for many social media users who didn't go to the theater opening weekend or shell out a steep $30 for Cruella on Disney+, this is likely all they've heard. And it's true, early on in the Emma Stone-led film, a pack of Dalmatians really push mama off a cliff.
However, there is a lot more to the movie than this questionable plot point, not that you would know it from looking at Twitter or Instagram. And to be fair, many of the memes created in response to this scene are a howl.
"Bambi's mother caused the car to swerve, killing the hunter's daughter," one Twitter user has Don Draper pitching Disney. "Inclusivity win!" snarked another, "dog that pushed Cruella's mother off cliff was nonbinary." Then there were those with gifs and graphics like those below.
Other folks, meanwhile, were simply outraged on a moral level by the scene, suggesting this vilified a wonderful dog breed. Said Windows98 Tech Support, "Cruella's mother is killed by Dalmatians despite Dalmatians being friendly, sociable dogs, so Disney just fucked this up from every conceivable angle."
The irony is of course that most of the folks discussing this—from the meme makers to those claiming moral outrage—have not seen the movie. But they have seen 15 seconds of the scene in question. Throughout the weekend in other social media posts (most of which have been taken down), fans who compressed the inciting moment of puppy-inflicted murder off their Disney+ accounts shared the scene out of context. It spread like wildfire, particularly because the clip wasn't hidden behind a $30 surcharge or paywall.
Which is exactly what should give Disney and other studios pause as they continue to dabble in day-and-date release strategies with major properties, particularly pricy star-studded summer blockbusters. Because unlike Paramount's theatrical-only A Quiet Place Part II, Disney can no longer control how this 15-second clip is disseminated going forward (no matter how many times they have tech companies take it down), just as this social media reception—which will only continue to influence how folks talk about the studio's expensive movie—is now also outside of Mickey's control.
To be clear, the scene in question is pretty ridiculous, and a moment we also personally found unnecessarily glib and on-the-nose. However, the sequence is not the sum total of the movie or even what the film is really about. Even the filmmakers didn't take it seriously.
Cruella is directed by Craig Gillespie, whose previous credits include the dark tragi-comedy I, Tonya and the movie about Ryan Gosling being in love with a sex doll (Lars and the Real Girl). Meanwhile one of its most prominent writers is Tony McNamara, who penned the scathingly sardonic The Favourite and The Great. Unlike most Disney films, acerbic whimsy is the goalpost for Cruella. Even with the dubious scene in question, Gillespie previously told us about how the moment was intended to evoke dark chuckles.
"It was candidly something that, on the page for Disney, sometimes felt a little flip or aloof," Gillespie told Den of Geek about the studio's initial reservations for the movie's tone. "They weren't sure, like when you were talking about a mother's death, that you could have any humor in that scene. I knew that with these actors that they could do that nuance so beautifully that it would just elevate all of it."
Indeed, within seconds of the moment young Cruella's mother goes flying, the film immediately starts nudging the audience into knowing that it's aware of how absurd this is via Emma Stone's voiceover. As the anti-heroine intones, "[It's the same] sad story: genius girl gets her mother killed and ends up alone." The tongue is firmly planted in the cheek, especially since this bizarre—and admittedly a little extra—plot point isn't what the movie's largely concerned with.
It's a gag, which sets the story in motion. And that story isn't so concerned with Cruella's Dalmatian fixation. Rather it's keyed into her obsession for their owner, Emma Thompson's supremely evil Baroness. Eventually, Stone's Cruella goes to work for Thompson in the London fashion world, and the picture winds up being mostly focused on a murderous rivalry that's better in-keeping with McNamara's The Favourite (or The Devil Wears Prada) than 101 Dalmatians.
Of course that context is entirely absent in the online discourse, which in social media is often reduced to a vapid monoculture where adults critique family movies and committee-approved corporate product, and then wonder why they aren't watching high art with a singular voice. But in the case of Cruella, that usual pessimism is amplified because the film isn't being discussed by those who saw the movie (or fans who don't care about devouring every spoiler)… Instead it's being discussed by the same individuals who think they saw the movie in a 15-second clip and are never going to pay for a ticket price, much less $30, to watch the rest.
Which is a new phenomenon that comes with high-profile, and highly marketed blockbusters heading increasingly toward day-and-date streaming releases. Disney should be particularly concerned since they're continuing to experiment with releasing major blockbusters via Disney+'s paywall. The studio prides itself on its theatrical releases being "events" instead of movies.
But unlike all the previous pre-pandemic Disney "events," Cruella is one where folks don't have to pay a full ticket price to be part of the conversation, and therefore at least see the studio and filmmakers' entire vision. It even stands apart from WarnerMedia's HBO Max strategy (or Netflix), as audiences also don't have to just click play from the comfort of their own couch and watch it on a service they're already subscribed to. Instead folks can glimpse just one moment, taken out of context, for free on that phone, and the whole thing becomes skewed. And Disney's ability to sell more tickets and "Premier Access" surcharges just became that much harder.
Disney will continue exploring the benefits of Premier Access this summer with Black Widow and Jungle Cruise in July. However, judging strictly by the box office and social media chatter, A Quiet Place Part II's old school approach of just putting it in theaters suddenly appears like the more forward-thinking strategy.