News
A Quiet Place Part II Box Office (Plus Cruella) Roars That Movie Theaters Are Back
A robust holiday weekend at the box office, spearheaded by A Quiet Place Part II, suggests summer movie season really has returned to movie theaters.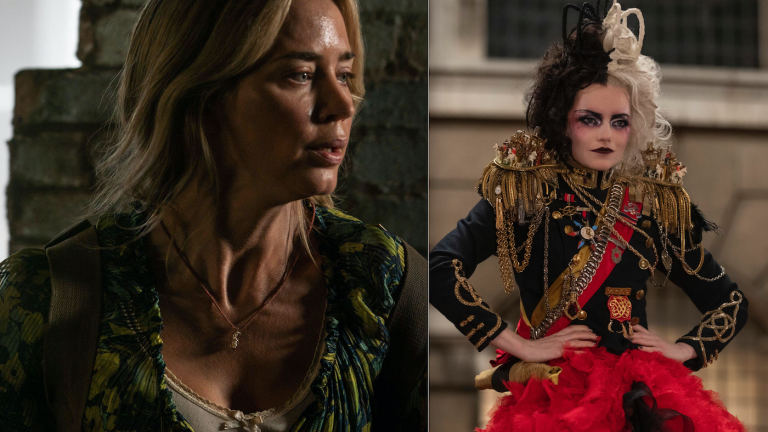 It appears reports of movie theaters' demise were greatly exaggerated. Thank the boffo gods.
After more than a year of bad headlines and even worse forecasts for cinema exhibitors, Memorial Day weekend has been a defiant roar for movie theaters across the United States, led chiefly by the stunning success of A Quiet Place Part II and the more complicated (probable) success of Cruella. Both films were prized assets for their studios—Paramount Pictures and Disney, respectively—and both were delayed from their original 2020 start dates. Indeed, A Quiet Place Part II was the first major studio tentpole displaced in March 2020. So it's rather fitting that it's become an unqualified success in 2021 as the COVID-19 pandemic shows signs of slowing down in the U.S.
A Quiet Place Part II dominated the four-day weekend in the States, earning a projected $57 million over the whole holiday frame (and $47.4 million over the three-day opening window). There have been previous healthy signs of life at the box office in recent months, particularly when Godzilla vs. Kong earned $48.5 million over five days. But those always came with the caveat of diminished expectations due to closed cinemas, social distancing, and often with the ambiguity of being released day-and-date alongside a streaming debut (GvK premiered simultaneously in theaters and on HBO Max).
Yet there's nothing ambiguous about A Quiet Place Part II's opening haul. Unlike GvK, the film is premiering at a time when major U.S. theatrical markets like New York City are again open for business, and it does so without appearing on a parent company's new hungry streaming service (AQPII debuts on Paramount+ 45 days after its May 28 debut). And even with social distancing mandates still in place in moviegoing's biggest markets, the John Krasinski-directed film still grossed over $57 million—up more than $7 million from the first A Quiet Place's $50.2 million bow in 2018.
This is an unequivocal win for Paramount Pictures and Krasinski, the latter of whom reportedly pushed for the studio to hold firm and wait to release his sci-fi thriller sequel at a time when it was safe to return to movie theaters. Undoubtedly, the writer-director of the film has some new lifelong friends among movie theater owners everywhere.
The box office success is so welcome for the Memorial Day leader that it overshadows Cruella's more muted but seemingly positive bow. As the latest of Disney's live-action redos of animated classics, the film stars Emma Stone as a devilish fashion designer and dognapper extraordinaire. The film is on track to gross $27 million million over four days and $22 million over the traditional three-day frame. It's a considerably smaller splash than those made by Disney's most successful reimaginings—perhaps most comparably Maleficent, which grossed $69.4 million during Memorial Day weekend in 2014—but the film also has the added burden of simultaneously premiering on Disney+ this weekend… behind the service's luxuriant $30 paywall which is dubbed "Premier Access."
As full streaming numbers remain frustratingly hidden by their services, we have little notion of how those receipts might augment Cruella's box office opening. However, it has placed Disney in an awkward position where, unlike WarnerMedia's day-and-date model for new WB films, Cruella remains out of reach for both families and fans unwilling to pay $30 for a movie and who aren't ready to go back in a cinema. In fact, recent social media reaction to certain scenes being taken out of context by those who haven't seen the movie should probably give studios pause before putting more intended blockbusters on a streaming service with an added paywall that prices out most subscribers.
Nonetheless, the healthy grosses of both films—far up from the anemic box office days of Tenet grossing possibly as low as $10 million in its opening North American weekend—suggests a large segment of the moviegoing public is anxious to return to cinemas as soon as possible. And with the summer's heaviest hitters like F9 and Black Widow still on the horizon, the future of movie theaters is suddenly looking a lot brighter. How's that for a Hollywood ending?