News
Charlize Theron Recalls Sexist Double Standards in The Italian Job and 2000s Hollywood
Looking back at her action movie career, Charlize Theron recalled facing double standards in early 2000s Hollywood while making The Italian Job and Aeon Flux.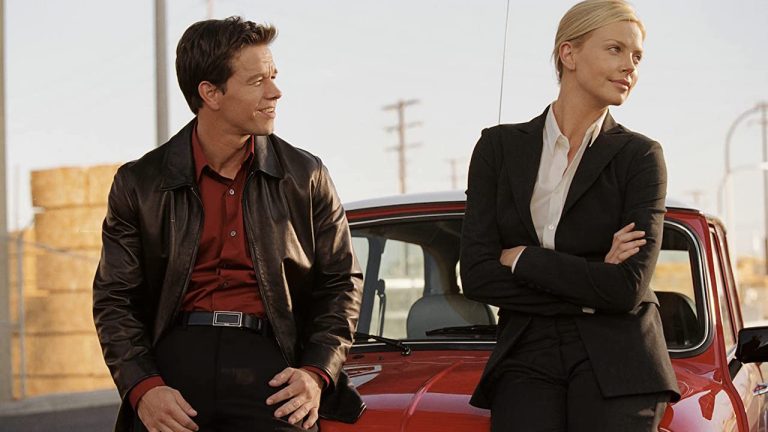 There are few bigger names in the action genre right now than Charlize Theron. An Oscar winner with an eclectic career that's spanned genres and multiple decades, Theron is the rare dramatic actor who can slip into a role of action hero (or anti-hero) so well that when she originates a character, it often becomes iconic. Just consider how folks still talk about Furiosa in Mad Max: Fury Road five years later, and why The Old Guard is Netflix's biggest movie of the summer.
However, this was not always the case. As Theron was quick to point out during her Comic-Con@Home Q&A panel Friday, she wasn't even able to seize the opportunity of Atomic Blonde (2017)—an action movie she produced and starred solo in—until she was 40. But then her early brush with the genre in the 2000s came during a very different time. Indeed, while remembering the disappointment she experienced on Aeon Flux (2005), her first attempt at starring in an action movie, Theron also opened up about other sexist double standards she faced early in her career, including the action-adjacent heist movie, The Italian Job (2003).
Despite being a small hit for Theron and all involved at the time, grossing $176 million worldwide and generating generally positive reviews with a Rotten Tomatoes score of 73 percent, The Italian Job and its emphasis on Mini Cooper car chases bring back mixed memories for Theron.


"The Italian Job was a great experience in the sense that I realized there was so much misconception around women in the genre," Theron said. "The only good thing that came out of that experience is that there was a real pressure to pull off the stunts with the actors, and that was the first time I experienced anything like that. But there was a very unfair process that went with that; I was the only woman with a bunch of guys, and I remember vividly getting the schedule in our preproduction, and they had scheduled me for six weeks more car training than any of the guys. It was just so insulting, but it was also the thing that put a real fire under my ass. I was like, 'Alright, you want to play this game? Let's go.'"
Theron went on to mention fond memories of being able to master 360-degree spins and drifts with British speedster, and one particular instance where her co-star Mark Wahlberg lost his proverbial lunch.
Said Theron, "I made it a point to outdrive all of those guys. I vividly remember Mark Wahlberg halfway through one of our training sessions pulling over and throwing up because he was so nauseous from doing 360s. But I was very proud of the stunt work we did in that. I mean I did a stunt where I do a reverse 360, or maybe a 180, in a warehouse with props everywhere, and people, and I did that stunt completely on my own. It was a huge moment of feeling like, 'Yeah, we can do all of this stuff.'"
And yet, as Theron pointed out, it wasn't being the best wheel person behind a Mini that got her Aeon Flux the next year. It was winning an award that made her viable—until she wasn't according to the double standards of corporate Hollywood logic.
"You know 30 years ago, there unfortunately just wasn't the opportunity for women to do movies like this," Theron said in relation to The Old Guard. "And the first time that opportunity kind of showed itself was after I won my Academy Award in 2004. And it was really hard making that movie, Aeon Flux… there were all these boxes everybody wanted to squeeze you into. It's a character who today I think would be celebrated cinematically way more than it was in 2004." Unfortunately, the movie, as designed to appeal to the tropes and fads of action movies of its era, didn't work as well as it could. As a result, Theron was denied the opportunity to even try to lead an action movie for the rest of the decade and half of the next.
"I remember that film didn't play as well as everybody thought," Theron said. "And it was just this moment in my career that I remember really clearly. Because that movie didn't perform, I wasn't necessarily going to be given another opportunity, and it was really harsh. It was like 'No, women can't make these movies successful.' It was harsh. And it wasn't until Mad Max: Fury Road that that experience, and what happened with that film, really changed the trajectory for me."
Of course that perception changed and changed again for Theron. After Mad Max, she was able to produce Atomic Blonde and then The Old Guard, and has even become a fan favorite baddie in the Fast and the Furious movies. She similarly notes that in the 2000s, it was about trying to prove to movie audiences (and perhaps male producers and studio executives) that women could fight men on screen, now with movies like The Old Guard, she can instead focus on the character's use of fighting technique and the personality, and not trying to appear as tough or impervious as possible. Yet there is a part of her that is aware it could all go away. She even said part of her jumped at the opportunity to do Atomic Blonde because given the dry spell between Aeon Flux and Mad Max, she feared the chance wouldn't come again.
Said Theron, "I wanted to get [Atomic Blonde] right, because there's a part of me that still—I still sometimes feel that if you get it wrong that one time, it's kind of like what we were talking about with Aeon Flux, that you just will not be given that opportunity again."
Still, she is pushing as a producer, filmmaker, and star to make sure more opportunities are given to women. She also mentioned during the conversation she counts Patty Jenkins as an inspiration for adding new texture to the superhero genre with Wonder Woman—Theron herself tellingly says she isn't personally interested in playing characters who self-identify as heroes—and helping make a world her daughters can grow up in where female-led blockbusters are normalized.
"I'm really proud of that character," Theron said about Imperator Furiosa in Mad Max: Fury Road. "Furiosa is definitely one of the most important characters that I've ever played. And I saw the potential, I knew how special it was right from the beginning and I chased it really hard because of that." She went on to compare the possibility she saw in Furiosa to the rare type of protagonist who personally inspired her growing up.
"The closest moment in my own life that I can look back [to is] the first time I saw Sigourney Weaver play Ripley," said Theron. "It just changed everything for me. It was like the world opened up and the possibilities were endless. The amount of intelligence she brought to that role, she was just completely in demand of it, she owned that world, but it wasn't forced and it wasn't written, and it wasn't acted. It was just lived… If [Furiosa] can in a small part do what Ripley did for me as an actress, as a woman, that's something I'm incredibly proud of. That's something that doesn't happen in everybody's career, and I feel really lucky I was given that opportunity and I was prepared for that opportunity, and that I was willing to lay it all out there. To give it my all."
It's given audiences a lot too.