News
Captain America 4 Set Pics and Footage Reveal Sam Wilson's New Suit
Photos from Captain America: New World Order shooting in Atlanta reveal Cap's new suit and a first appearance by the baddie played by WWE star Seth Rollins.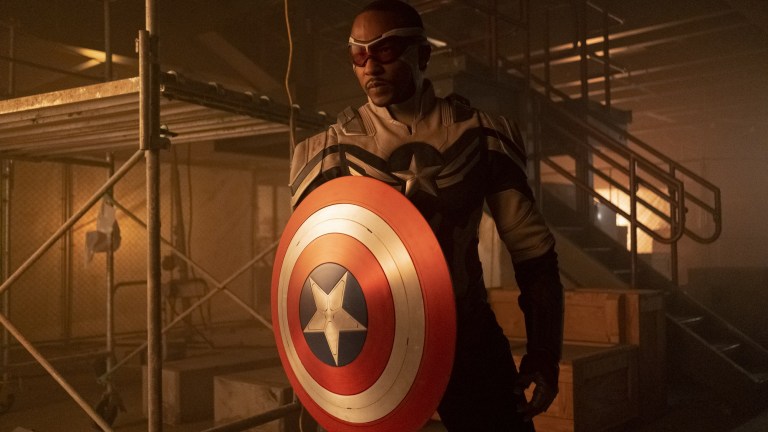 Legacy has been part of superhero storytelling, almost from the beginning. When one character can no longer maintain their super-moniker, they pass it on to another, creating a chain of heroes with different takes on the same identity. Traditionally, legacy heroes have been more of a DC Comics thing than a Marvel thing, resulting in more Flashes than Thors. But with its ever-expanding live-action universe, the MCU is embracing the legacy concept as new actors take on established names.
We've already seen glimpses of this with Jane Foster becoming Thor in Thor: Love and Thunder and Shuri stepping in as Black Panther after the death of her brother T'Challa, as well as potential legacy characters with Kate Bishop's Hawkeye and Yelena Belova's White Widow.
But Sam Wilson's path to becoming Captain America has been underway for some time, ever since the elderly Steve Rogers handed him the shield at the end of Avengers: Endgame. Where Love and Thunder clearly intended Jane's Mighty Thor to be a limited role and it took most of Black Panther: Wakanda Forever for Shuri to take the mantle, The Falcon and the Winter Solider already explored Sam's journey, allowing Captain America: New World Order to begin with him in the suit.
If new set photos are to be believed, that suit will be slightly different than the one that debuted in the final episode of The Falcon and the Winter Soldier. Photographer Christopher Oquendo was able to snap some pictures of the movie filming in Atlanta, including a bit of Anthony Mackie in his new Cap costume. Gone is the white trimming of his previous suit, including the head sock that drew unfavorable comparisons to 90s comics. In its place is a largely blue costume with red and white trimmings, and a gold star insignia replacing the white one from before.
A second photo shows a bystander holding the iconic shield, which means that Captain America will still have his primary tool. However, from the one available shot, it's unclear if Sam will still be using his Falcon wings, as he did in The Falcon and the Winter Soldier and in the comics, or if he'll be following Steve's more sleek look.
Oquendo also managed to capture a first look at another anticipated part of the movie, WWE wrestler Seth Rollins, in an undisclosed villain role. Rollins stands in a green and yellow outfit — the traditional color scheme of evil, thanks to Hydra and Loki — consisting of a duster over matching shirt and pants, topped by Rollins's flowing, bleach-blond hair. The get-up suggests he may be playing a member of the snake-themed villain group the Serpent Society, potential antagonists for the fourth film.
Rollins will be joined by Tim Blake Nelson as Samuel Sterns aka The Leader, back from The Incredible Hulk, and Harrison Ford as General Thaddeus "Thunderbolt" Ross, replacing the recently passed William Hurt. The Falcon and the Winter Soldier showrunner Malcolm Spellman is writing the film, with The Cloverfield Pardox's Julius Onah directing.
Captain America: New World Order is slated to be released on May 4, 2024.