Features
How Bullet Train Pulled Off a Brad Pitt and David Leitch Reunion Years in the Making
Director David Leitch began as Brad Pitt's stuntman. Now they're taking the Bullet Train to the end of the line.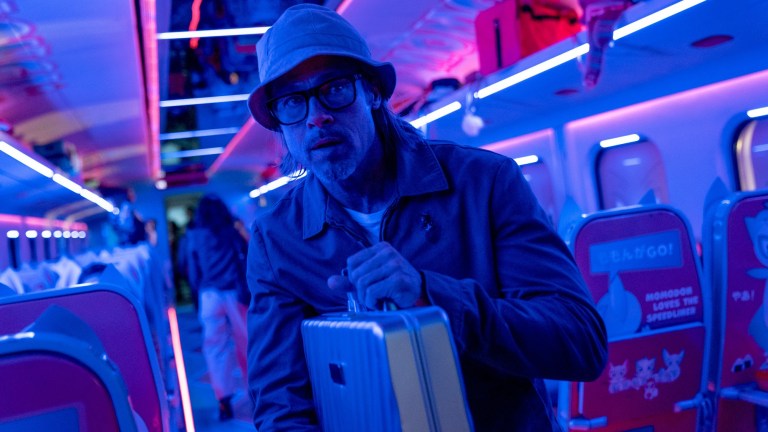 When it comes to action cinema, David Leitch is one of the genre's hottest directors working today. His first official film in the director's chair was Atomic Blonde, but he also served as the uncredited co-director of the first John Wick. Since then, he's directed Deadpool 2 and Fast & Furious Presents: Hobbs & Shaw. His latest film is another off-the-rails actioner. Bullet Train stars Brad Pitt as Ladybug, an assassin hired to do a job while confined on the fastest train in the world—and it's packed with a horde of rivals. It's a non-stop thrill ride of ultraviolence that puts Ladybug on a headlong collision course with his lethal adversaries.
Fortunately, Leitch has an intimate understanding of how action works because he began his cinematic career as a stuntman—specifically for Brad Pitt. Leitch was Pitt's stunt double in Fight Club, Spy Game, Ocean's Eleven, Troy, and Mr. and Mrs. Smith.
"We had such a great collaboration as stunt double and actor," Leitch remembers. "It was great to reconnect as his director." Leitch says directing Pitt was a dream; he was also touched to learn the star had been following his recent directorial work. Consequently, Pitt trusted him as a director, and their collaborative chemistry was instantly rekindled. "Brad came in immediately with such great ideas for his character that I was really excited about," Leitch says. "And together, we got to develop that into Ladybug, who you see on the screen."
While unconventional, Leitch feels the road from stuntman to choreographer to second unit director to director was perfect for him. He views designing action as just part of the bigger narrative, always seeking to service the story and characters first. "I decided to start to lean into directing because I'd had a lot of time practicing these mini-stories within action sequences," he explains.
Bullet Train is based on the Japanese noir novel Maria Beetle by Kōtarō Isaka. According to Leitch, the characters in the book are all remorseless killers, which presented a challenge. "How do I make them relatable, empathetic, and human, even if they're not redeemable?" He shifted the film toward a slightly heightened world that allowed the filmmakers to have more fun and be more irreverent, colorful, and bold. "Ours is more of a pop, graphic novel sensibility with humanity, stakes, and this theme of faith that's running through, like a philosophical question that we're asking that's connecting all these characters."
Bullet Train is funnier than its source material, particularly within the action sequences. "There's a levity to [the action scenes] that doesn't necessarily undermine the stakes but makes you enjoy the moments with these characters. You want to see more, you want to root for them, and just go on this journey. So when they do find their demise, you kind of feel bad."
To do that, Leitch took inspiration from Jackie Chan and Buster Keaton.
"We were looking to lean on some of the greats in physical comedy as inspirations as we build out Ladybug's language and the language for the choreography," he says. Every action choreographer has dissected the greats like Chan and Keaton's work, and for Leitch, it is no different. Every camera angle has a purpose in the director's films—to capture the choreography from the best cinematic angle and punctuate the drama or, in Bullet Train's case, the comedic moment. It requires meticulous preparation. "When you watch a great Jackie Chan fight, he does all versions of choreography," Leitch says. "He's a great action filmmaker."
While Leitch may have started as Pitt's body double, he backs the press claims that Pitt did 90 percent of his own stunts for Bullet Train.
"Brad is an incredible athlete and obviously one of the biggest movie stars working today, and that's because of his work ethic and his talent," Leitch says. According to the director, actors on Pitt's level put in the time to make the character come to life in all possible ways, not only emotionally but also in the physicality. Pitt leaned into the training and rehearsing that was required of him, despite pandemic restrictions inhibiting much of their filmmaking process.
"We did have a little bit of a reduced schedule and some restrictions because we shot in the height of the pandemic," Leitch explains. They only had a few weeks to prepare when the stunt team blocked out all the sequences and then rehearsed them with Pitt and the other actors. It was also part of the reason behind the heightened style. Due to the pandemic, they were not allowed to travel to Tokyo to shoot, so 90 percent of the film was shot on a soundstage on a Sony lot in L.A. The train was like a giant simulator with LED screens outside the windows. The outside environments were all in-camera as opposed to a blue screen, giving the actors a more immersive experience.
"When you were sitting on that set, you felt like you were on a train. And the environments outside were real and compelling," Leitch says. "To stay on a train for two hours and make the fight scenes compelling inside a tube was a big challenge."
Leitch worked closely with the art department to design cars that would allow for fun opportunities in choreography like the quiet car, the bar car, the dining car, the concession car, and the driver pod. What's more, he stacked the deck with some noted Asian action stars well-versed in the martial arts.
Leitch enlisted one of the most esteemed veterans of samurai films, Hiroyuki Sanada, who he worked with previously when he was second unit director for The Wolverine. He had helped Sanada get that part by introducing him to that film's director, James Mangold. Sanada has starred in well over a hundred roles, both in Hollywood and Japanese productions.
"I love Hiroyuki, and I was excited to cast him," Leitch says. "He was my first thought for the Elder. In fact, there was no other person I went to." The filmmaker likens Sanada to a machine when it comes to choreography, capable of remembering 20 moves at a time with impeccable precision. If the other actor or stuntman was off, like a step too forward, Sanada instinctively compensated by stepping a little back. "He's every bit as talented as any stunt fighter in the business. And on top of it, he's an incredible actor."
Leitch also cast one of the top rising action stars, Andrew Koji, from Cinemax series Warrior and Snake Eyes. Koji also started as a stuntman, and has worked with the Royal Shakespeare Company.
"He has such an extensive background in martial arts that choreographing fight scenes with Andrew is actually great," says Leitch. Because of his ability, Koji needed less time to rehearse. "I'd say, 'Dude, I have to shoot this in three hours. Can you do it?' And he'd remember the moves and learn it right there on set." Leitch credits Koji's experience on Warrior and his martial arts background, with allowing him to deliver action that would've taken other actors a couple of weeks to learn. "He would learn it on the spot, and we could beef up his action. So he's great."
"The goal I have in my films is to really take audiences on an emotional roller coaster," says Leitch. For Bullet Train, he aspires to bring out moments of human truth amidst an irreverent dark comedy. He has the same intention within each fight scene. "There's a moment of comedy, and then BAM, there's a moment of stakes. And now I'm like, oh crap, this just got real."
Bullet Train opens in theaters on Aug. 5.