News
Borat 2 Reportedly Filmed and Already Screening for Audiences
An unexpected sequel to Sacha Baron Cohen's most beloved film, Borat, was reportedly filmed in secret and is already receiving industry screenings.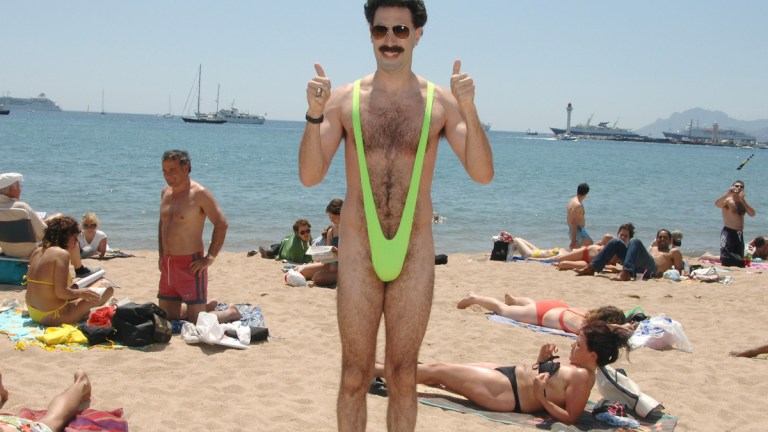 You want to know about something that's very nice? Well, depending on your opinion of 2006's Borat, that's exactly what you might be saying right now with reports that Borat 2 is not only in the works, but it's also in the can. That's at least what a new report from Jeff Sneider at Collider suggests.
While specifics are exceedingly scarce, Sneider reported that social media rumors about Sacha Baron Cohen portraying the character of Borat again on the streets of Los Angeles in August are true, and further the film is already wrapped. Indeed, the website elaborates the film is already screening for "industry types," although reports of the actual content of the film—and just how the humor works when most people should have at least a faint memory that Kazakh TV personality Borat is a shtick the actor Cohen does—are conflicting and ambiguous. Still, the main point remains: Borat is back.
Is this cause for excitement? When the original film, under its full title of Borat: Cultural Learnings of America for Make Benefit Glorious Nation of Kazakhstan debuted in 2006, it was a surprise runaway hit. With Cohen's affected accent, bushy mustache hanging over his lip, and cornucopia of ready-made catchphrases at its center, the film saw Borat penetrate American pop culture in the same way the character traveled through the heartland, implicitly mocking his real-life subjects via faux-interviews. The interviewees often appeared oblivious to the joke. Hell, some of the audiences seemed to miss the point too!
The film opened to $26 million in the U.S. and went on to gross $262 million worldwide, a shocking figure for a comedy in the 2000s, especially one with a meager budget of $18 million. It also elevated Cohen from fringe counterculture celebrity thanks to his Da Ali G Show (where he proof-tested his bizarre characters) to Hollywood star. Shortly thereafter he attempted to repeat the trick by playing chic European gay man Bruno in a movie of the same name and in the same format. But that film proved more caustic and challenging to both critics and, perhaps especially, large swaths of Borat's audience who finally realized the joke was on them during a climax in which Cohen rounded second base with another man in front of a UFC cage fighting audience.
Cohen has since tried his hand in other sorts of comedy and even drama, including in musicals like Tim Burton's underrated Sweeney Todd and Todd Hooper's overrated Les Misérables. He's also set to star in Aaron Sorkin's next film The Trial of the Chicago 7, which is due out next month. But in terms of mainstream comedies, he's struggled to find a beloved film like Borat and instead has been met with a fair share of disappointments like The Dictator.
So returning to the well with a belated comedy sequel is a risky endeavor. In fact, he cameoed in one of the most financially successful attempts in recent memory with 2013's Anchorman 2: The Legend Continues but that movie's, uh, legend, alongside other belated comedy sequels like Zoolander 2 and Dumb and Dumber To, speak to the challenge of capturing lightning in a bottle the second time.