News
Bill & Ted Face the Music Review Roundup
Here's what critics are saying about Bill & Ted Face the Music...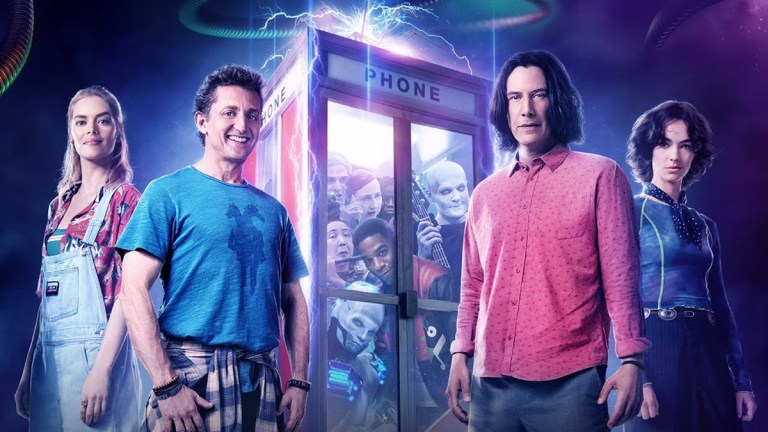 It's been almost 30 years since Bill S. Preston Esq. and Ted Theodore Logan rocked out in Bill & Ted's Bogus Journey, but Alex Winter and Keanu Reeves are back in this summer's Bill & Ted Face the Music as the iconic duo, spurred to action once more when a visitor from the future tells them one of their songs can save the world and bring harmony to the universe.
Was it worth the wait? Here's what critics are saying about the long-awaited comedy threequel, as it's finally released in the U.S. today…
Katie Rife – AV Club
"While the high stakes couldn't be higher, the film simply takes too long to find its focus. It's not the most excellent of outcomes, but not a total bummer, either."
John DeFore – THR
"Imagining the return of the time-traveling Messrs. Preston and Logan, Dean Parisot's Bill & Ted Face the Music is almost exactly as good as its two big-screen predecessors — make of that statement what you will — while cleaning up some, but not all, of the things that might make an old fan of those films cringe today. Despite a dicey opening, the pic should please those looking forward to it, and, with the addition of a new generation (the duo's daughters), attract a new fan or two as well."
Matt Goldberg – Collider
"There are moments when the pacing gets a bit slow and Bill and Ted fighting with their future selves get a little redundant. But there's no mistaking Face the Music for the previous two movies, especially as it reaches its lovely crescendo about the kind of future we not only leave to our children, but what those children give to us in return. Party on, dudes."
Pete Hammond – Deadline
"Ultimately the show belongs to Reeves and Winter, who don't miss a beat in reprising these beloved doofuses. Winter looks like time has stopped for him, even with all that traveling, but Reeves, at one point displaying a bloated, very non-John Wick-like stomach, looks like he swallowed Ozzy Osbourne. Do not, repeat, DO NOT miss the scene at the very end of the final credits. It might be the best in the entire film, as well as a preview of what the next Bill & Ted movie will look like in oh, about 2050. Dean Parisot directs it all with zest and style. It's just stupid fun but well worth the time trip for fans. We missed these guys."
Bonnie Burton – CNET
"The movie has plenty of special moments and pop culture cameos that will make Bill and Ted fans (old and new) happy they tuned in, but the real joy of the movie isn't necessarily the nostalgia. It's the positivity Bill and Ted ooze at every moment. They are indeed delusional optimists, but maybe we could all learn a thing or two about assuming the best outcome rather than instantly making disaster our default."
Owen Gleiberman – Variety
"The film is weightless and super-goofy — a blissed-out air balloon of nostalgia. It zips right along, it makes you smile and chortle, it's a surprisingly sweet-spirited love story (about Bill and Ted trying to live up to their marriages — though the real love story is, of course, the one that takes place between the two of them), and it's a better tribute to the one-world utopian power of classic rock than Yesterday was. On a scale of one to 10, I wouldn't say that Face the Music goes to 11, but it's a most excellent sequel."
Jim Vejvoda – IGN
"Alex Winter and Keanu Reeves still have the same doofy chemistry they had decades ago, not missing a beat from their first scene to immediately recapture what made them such a fun screen pairing. If Winter and Reeves didn't click all these years later then Bill & Ted Face the Music would be dead on arrival but, thankfully, they still have infectious chemistry together."
Brian Tallerico – Roger Ebert
"Bill & Ted Face the Music is essentially all it needed to be. It's a long-awaited sequel that doesn't betray its beloved characters, and it doesn't merely repeat what people loved about them in the first place. Most of all, it is a remarkably likable comedy about two good guys still trying to find their place in the world that's anchored by genuinely sweet beliefs about the importance of friendship, honesty, and, most of all, music. Be excellent to each other, dudes. It still matters."
A.O. Scott – The New York Times
"I don't know if it made me feel young or old, but it was all in all a most non-bogus experience."
Ok! After all that, are you still looking forward to it? Us too, yep. Good good.