News
Bill & Ted Face the Music Sets VOD Release for September
The long-awaited Bill & Ted Face the Music has nixed its wide release theatrical plans, now set as a premium VOD release.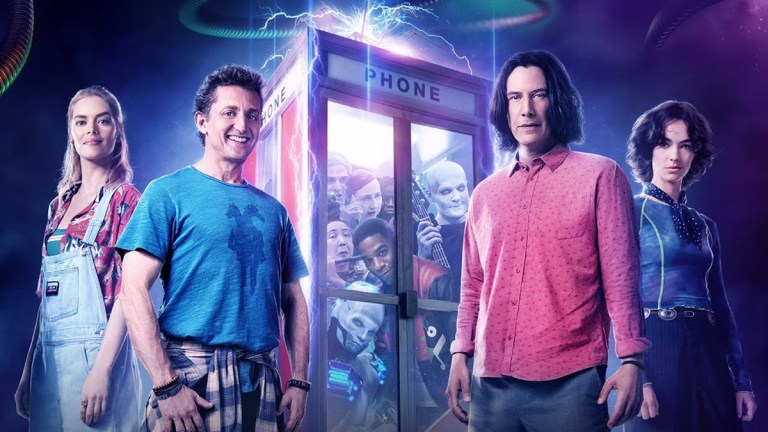 Bill & Ted Face the Music has made yet another proverbial air-guitar chord change to avoid a most bogus journey to theaters amidst surging COVID-19 cases.
Orion Pictures is officially setting the nearly 30-years-awaited Bill & Ted threequel for a premium VOD and streaming release that will be made available on September 1. Additionally, the simultaneous release date will see the film hit theaters internationally via independent distributors, specifically for countries in which theaters have started to reopen. The occasion of the VOD move is being heralded with a brand-new trailer, which you can catch just below.
The new Face the Music trailer is the most revelatory one yet, providing a solid breakdown of the plot, and showcases some of the newcomer cast members such as Kid Cudi, Jillian Bell and Kristen Schaal, the latter of whom has seemingly inherited the duty of the late George Carlin's Rufus of being an exposition-armed handler from the future. Plus, we also catch glimpses of Jayma Mays and Erinn Hayes as original-movie characters (and Bill and Ted's time-rescued princess wives,) Joanna and Elizabeth, respectively, along with Hal Landon Jr., who returns as Ted's military-school-minded father, Chet.
The move to VOD is the culmination of a long-intended theatrical strategy. The film first scheduled a theatrical release for August 21, which held until this past June, which—in reaction to a brief wave of optimism over the pandemic—saw that date actually moved up a week to August 14. While the good news is that the fans will get to see the movie soon enough, the bypassing of theaters—necessary as it may be—will likely deflate much of the hype that had been building up for the film in the last few years, especially after last year's triumphant announcement of the now-nixed August 2020 release date.
Of course, Bill & Ted Face the Music add to a narrative that's become all too familiar in the COVID era, with pretty much all of 2020's post-Q1 releases taking a similar VOD/streaming route, recently exemplified by director Judd Apatow's The King of Staten Island (June 21) and—in a move that will likely cede box office riches—animated franchise outing The SpongeBob Movie: Sponge on the Run, which originally had theatrical plans for a 2019 release before getting hit with a pre-pandemic delay to May 22, 2020, which wouldn't stand up to the health crisis, relegating the film to a yet-to-be-revealed 2021 release date on premium VOD and streaming on CBS All Access.
Regardless, Face the Music will see Alex Winter back as Bill S. Preston, Esq. and superstar Keanu Reeves reprise his early-career breakthrough as Ted "Theodore" Logan, who—some 30 years after the events of 1989's Bill & Ted's Excellent Adventure and 1991's Bill & Ted's Bogus Journey—have gone from air-guitaring teenage wannabe rockers to middle-aged air-guitaring wannabe rockers who have yet to fulfill their time-machine-prophesized destiny of writing a song that will save the world and bring about a utopian world peace. However, this latest hopefully-excellent adventure will be multigenerational, joined by Bill's daughter, Thea Preston (Samara Weaving), and Ted's daughter, Billie Logan (Brigette Lundy-Paine), along with—as the trailer reveals—Bogus Journey's Death, played once again by William Sadler, along with the other aforementioned newcomers.
Bill & Ted Face the Music will, once again, see strange things afoot (possibly at the Circle K,) when it hits VOD and streaming on September 1.