Features
Beast Isn't Just an "Idris Elba vs. Lion" Monster Movie
Exclusive: Idris Elba dishes on his epic fight with a lion in Beast.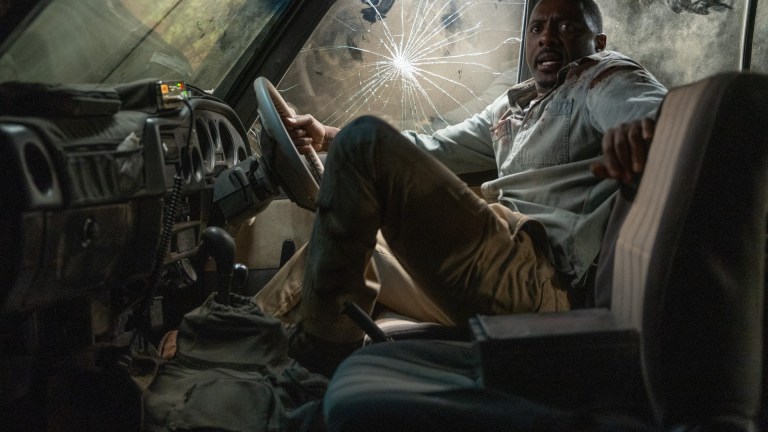 The pitch is pretty strong. It's Idris Elba versus a lion. It's Jaws on land. And it's from a director who has well-proven teeth when it comes to the action and disaster movie genres. Icelander Baltasar Kormákur, who made true story-based adventures Everest and The Deep, as well as actioners including 2 Guns and Contraband, has a further connection to the material. When he was little, he wanted to be "a lion scientist."
"I have always been fascinated by animals, but [particularly] lions. So I was like, 'Okay, this is something I would love to do,'" he tells Den of Geek magazine. Kormákur is talking to us from London, where he's currently in the edit suite putting the finishing touches on the movie. He had one condition when agreeing to the project: "I made it clear that, if I was to do this movie, I would have to shoot it in Africa."
The movie follows Idris Elba as Doctor Nate Samuels, a father of two teenage girls who is taking his daughters on safari to connect with the place where their recently deceased mother grew up. It's a pilgrimage for the family, with the hope that they can bond after their collective loss.
Filming took place in South Africa, from Cape Town to Limpopo, to Northern Cape. "It's the three corners of the country," says Kormákur. "​​I wanted to get versatility in the land. I wanted to show you more. I wanted to get the city look and the more bush, savanna look of it."
Check out the trailer, and you'll see gorgeous vistas, extraordinary panoramas, giraffes, ostriches, elephants… and a rogue lion hell-bent on revenge.
Unsurprisingly, the lion isn't real. Mostly, as Kormákur points out, because a real lion would kill you. But the CGI approach came with a lot more advantages. Because this lion wasn't just any lion.
"It is based loosely on a lion called Scarface that has just passed away," Kormákur explains of his influences. "That and Brad Pitt in Snatch, believe it or not. I was just trying to explain what kind of physicality I was looking for, like ripped and out-of-control. Kind of a sexy lion, you know? We want villains to be sexy, and in my mind, an animal could be very sexy in a kind of exotic way."
According to Kormákur, the lion in the original script was too big and chunky for his liking. "It should be as big as they can get, but it's lean and fast and mean, not like a heavy sausage of a lion. Because I think what scares you and gets to you is something that you connect with reality, and if it's too big it just starts to feel like Jurassic Park or something."
This is not that movie. In fact, Kormákur wanted to tell a family story grounded in reality.
"I loved the way [the story] wasn't over complicated. Because the story is, in some ways, rather straightforward, it allows for the execution to be special. And what I went for, which is unusual in these kinds of movies, is very long takes and trying to put the people in the perspective of the characters as a lion is coming after them. It just feels like you can't get out of it. You're there, and the lion is coming at you."
These characters are, of course, Nate and his daughters, played by Iyana Halley and Leah Jeffries. Kormákur had wanted to work with Idris for some time, and this seemed like the perfect role.
"What I admire about Idris is that he has all the star wattage needed on-screen. He has a huge persona, a lot of sex appeal, and everything that a star really needs, but he also is an incredibly good actor, which doesn't always come with the package with stars, you know?" Kormákur says.
"For this role specifically, in the beginning, it's a broken man, trying to patch his family together. And he does that incredibly well without overdoing it; feeling that even that big hulk of a man is still very vulnerable in the beginning of the movie, and he needs to find the strength and the power when this lion starts attacking them."
Diversity was very important to Kormákur too, who hired local crew where possible, while the only white main cast member is Sharlto Copley, who plays a friend of the girls' mother. "He's authentically South African, and I think he brought a lot to the movie in that way," he says.
"I also liked the fact that it was about a Black family traveling into Africa as tourists. That's something Hollywood wouldn't have done 10 years ago. It would always be a white family going and experiencing that world."
Kormákur lists his cinematic influences as including Children of Men and The Revenant—in fact, it was Revenant director Alejandro G. Iñárritu who advised him to take reference shots of real lions to help inform the look of the lion they called "Beast."
Beast isn't just a film about a "hardcore guy fighting a lion" (though it is that too). It's about family and place, and Kormákur says he hopes that with the movie, audiences can "go on a little safari. You get to see a piece of culture, a piece of land, or a place you haven't been to. It's a cheap ticket to the world."
Beast opens in cinemas on Aug. 19.