News
Batgirl Set Photos Tease Three Major Batman Characters and Michael Keaton's Return
Michael Keaton's Batman may not be without his Robin for much longer...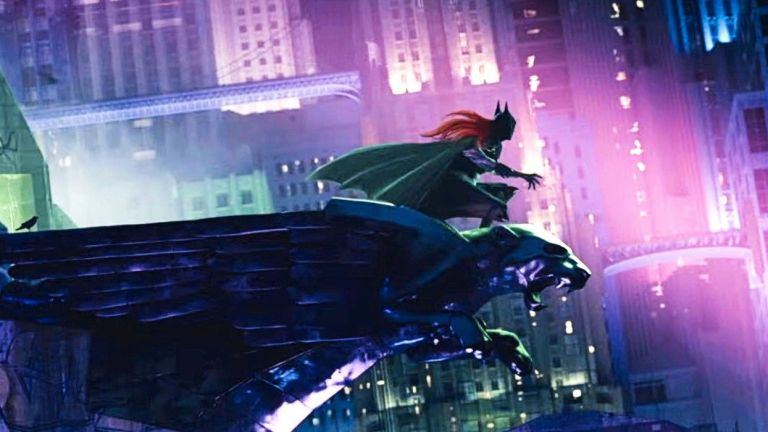 Warner Bros. is going to need a bigger cave, with Batgirl set to expand the big-screen version of Gotham with more members of Batman's crime fighting family. Front and center is Leslie Grace (In the Heights), who is set to finally bring Barbara Gordon, a staple of Batman comics since the late '60s, to the DCEU.
But with the introduction of Babs comes several other new and returning characters. Returning are J.K. Simmons as the DCEU version of Commissioner James Gordon, who we first met in Justice League, and Michael Keaton once again reprising his role as Batman (he'll first appear in The Flash later this year). The other confirmed newcomer is Brendan Fraser as villainous pyromaniac Firefly, a deep cut from the comics who first appeared in Detective Comics in 1952.
Firefly isn't the only surprising new addition to Gotham's cast of characters, though. New photos snapped from Batgirl's Glasgow set reveal that the HBO Max film will at the very least allude to even more heroes and villains. These teasers come by way of new pieces of set dressing that will soon make the Scottish city feel more like Gotham.
The first piece is a Bat-themed mural an in-universe street artist has painted on a brick wall. Notably, it depicts not only Batman (in a suit that seems to nod to the classic Keaton costume with a few modern flourishes, like a more comics-accurate cowl) but Robin, the Boy Wonder in his classic, colorful getup.
Does this mean the film is also set to introduce Dick Grayson in some shape or form? Possibly, but there's a bigger question: WHICH Robin is this? There are at least two possibilities: 1) since this film is set in the DCEU, where Ben Affleck's Bruce is Batman (as far as we know until The Flash fiddles with the multiverse), this mural could actually be referencing the Boy Wonder who died before the events of Batman v Superman: Dawn of Justice, or 2) this is actually confirmation that Keaton's Batman did eventually take a Robin under his wing after Batman Returns.
The latter certainly wouldn't be out of left field. Although Keaton's Batman was largely a loner, with his second outing in particular confronting his loneliness among the other "freaks" of Gotham, there were originally plans to introduce Robin in Tim Burton's Batman sequel. Actor Marlon Wayans was even cast in the role before the character was nixed from the movie by Burton. Could Batgirl retroactively give Keaton the Robin his Batman never had in the early '90s? And what would this Robin be up to now?
In another corner of Gotham, there's also a billboard that may be alluding to one of the Caped Crusader's oldest foes: the mad scientist Huge Strange. A recurring villain since the 1940s, Strange was one of the first supervillains to figure out Batman's true identity, and has often tried to exploit that knowledge for his own gain. It remains to be seen if this poster means that Strange is on his way to the DCEU or if this is just a fun easter egg.
References to Black Canary can also be found in the streets of Gotham. One poster seems to tease an appearance or new album from Dinah's rock band, which is also named Black Canary. Dinah has headlined a band in the comics since 2015. Another poster shows her in a more traditional superhero costume, complete with a mask.
There have long been rumors that Batgirl could bring in other members of the Birds of Prey team, including Black Canary (Jurnee Smollett), Huntress (Mary Elizabeth Winstead), and Renee Montoya (Rosie Perez), but that's more wishful thinking than fact at the moment.
What we do know for sure is that Batgirl is coming to HBO Max and is directed by Adil El Arbi and Bilall Fallah (Bad Boys for Life) from a script by Christina Hodson. The movie is currently slated for a 2022-2023 release on the streaming service.