News
Avengers 4: Chris Evans Confirms He's Done with Captain America
Avengers 4 will serve as the sendoff movie for Chris Evans in his MCU run as Captain America, the actor confirms.
Chris Evans is finished with Captain America.
Evans started his Marvel Cinematic Universe tenure as Steve Rogers/Captain America with a requisite six-film deal with Marvel Studios that kicked off with 2011's Captain America: The First Avenger, a film title that clearly telegraphed the studio's grandiose franchise plans. Seven years later, this past April's Avengers: Infinity War marked the sixth film on the initial contract, which, last year, Evans extended with one film, the 2019-scheduled Avengers: Endgame. That film, as Evans has just reaffirmed, will serve as Steve Rogers's last hurrah.
Evans appears to be sticking with his long-teased idea of quitting Cap. In a tweet celebrating his final day of Avengers 4 reshoots, Evans seems to make his retirement from the MCU official, stating, "Playing this role over the last 8 years has been an honor. To everyone in front of the camera, behind the camera, and in the audience, thank you for the memories! Eternally grateful."
Indeed, while Chris Evans spent the past few years teasing that the horizon of Steve Rogers's ultimate destination was in sight, his comments about his MCU future in an interview with The New York Times earlier this year was the most substantive indication of plans to put down his proverbial shield. Confirming that he has no plans to overstay his welcome as Steve Rogers/Captain America beyond the contract-extending Avengers 4, Evans explains of his MCU tenure, "you want to get off the train before they push you off."
While we never truly say "never" in the entertainment game, it does sound as if Avengers 4 will serve as the absolute final time that Evans will don a costume (be it the nomadic dark blue one, or the familiar stars and stripes), as Marvel's super-powered patriot.
further reading: Avengers: Endgame Trailer Breakdown and Analysis
However, Evans's exit may not necessarily signal the end of the Captain America concept in the MCU, with fellow MCU star Sebastian Stan waiting in the wings. 2016's Captain America: Civil War managed to avoid Rogers's tragic original comic book storyline fate of becoming a martyr in the epilogue of the titular hero-on-hero hullaballoo. Rogers was subsequently replaced in the iconic stars-and-striped costume by his former sidekick-turned super-powered cybernetically-enhanced agent, Bucky Barnes, a.k.a. the Winter Soldier, who is played by Sebastian Stan in the MCU. Thus, Evans's desire to move on from the MCU will likely prove fortuitous for Stan.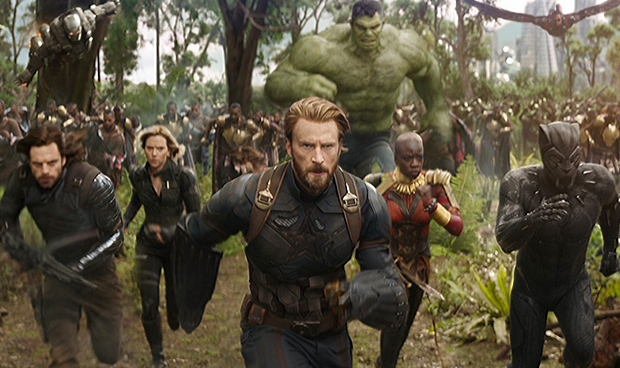 Interestingly, Evans might not be put out to pasture alone. The April release of Avengers: Infinity War was the first of a two-film event that essentially serves as a climactic cinematic event for the MCU as a whole, possibly leading to a moment in which OGs like Robert Downey Jr.'s Tony Stark/Iron Man, Chris Hemsworth's Thor and, of course, Evans's Steve Rogers/Captain America step aside to make room for MCU newcomers like Chadwick Boseman's box-office-obliterating Black Panther and Brie Larson's debuting Captain Marvel.
As Evans explained to The Telegraph last year upon news of his Avengers 4 contract extension:
"They said they had so many other characters to fit in — Guardians of the Galaxy, Black Panther, Captain Marvel, Doctor Strange, Ant Man — and couldn't get them all into one movie. [I agreed] because it made sense. It's going to wrap everything up."
That, of course, leaves us to ponder the method by which Chris Evans's Steve Rogers/Captain America will ultimately take his MCU curtain call in Avengers 4. Will his comic book fate as an assassinated martyr in Marvel's original Civil War storyline catch up to him? Will he make some grandiose cosmic sacrifice to finally stop Josh Brolin's Mad Titan, Thanos? Because it's doubtful that Steve Rogers is the type to say "screw it all," and retire to a tropical island.
We'll know a lot more when Avengers 4 (title to be revealed) hits theaters on May 3, 2019.
Joseph Baxter is a contributor for Den of Geek and Syfy Wire. You can find his work here. Follow him on Twitter @josbaxter.
Read and download the Den of Geek NYCC 2018 Special Edition Magazine right here!