Features
Antz vs. A Bug's Life, 20 Years Later
Pixar and DreamWorks released rival ant movies in the autumn of 1998, but which one holds up best?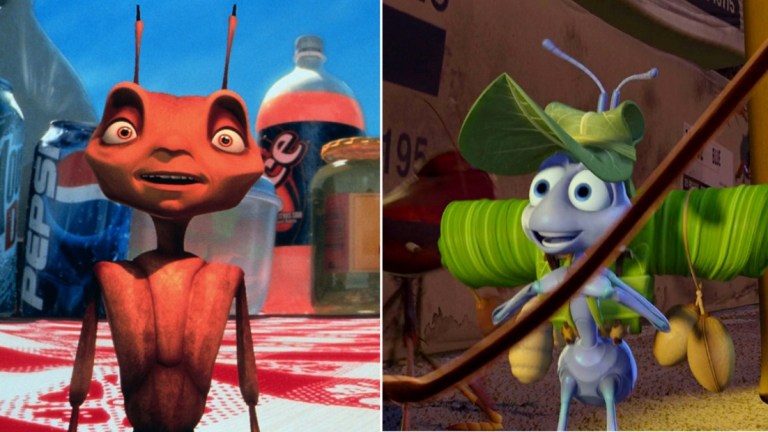 Back in 1995, Disney released Pixar's Toy Story, the first feature-length computer-generated film, and changed animation in Hollywood forever. At the time, nobody had seen anything like it before. But when former Disney head honcho Jeffrey Katzenberg's DreamWorks Animation emerged a few years later, it seemed that the second and third CG-animated films were going to be very similar indeed.
Remarkably, DreamWorks' Antz and Pixar's A Bug's Life were released within six weeks of each other in 1998. Both films have worker ants as heroes, saving their colony and falling for a princess in the process. In the run-up to release, the public feud between Katzenberg and Disney was one of the industry stories of the year.
In practical terms, bugs were the next characters to tackle in CGI for the same reason as toys had been the first step – they were characters with hard exteriors that could be created in a lifelike fashion by the revolutionary, but still nascent new animation style. But story-wise, the inspiration behind the film gets a little muddier.
20 years later, it's fair to say that neither film has really taken pride of place among the most beloved efforts from either studio, but looking back, this was a really big deal at the time. Aside from being a quite extraordinary back-and-forth, it sparked an implicit rivalry between the studios that wore on throughout the following decade.
That said, it's fascinating to compare and contrast the two films as works by relatively new studios – one very deliberately striking out against Disney's monopoly over animated features, and the other working under the roof of the House of Mouse – in the context of this grudge match, as well as on their own merits.
Development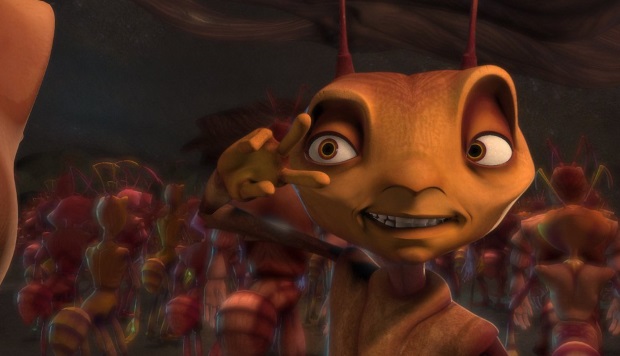 Whichever filmmaker you side with, Lasseter and Katzenberg both say the idea started at Disney. Back in the late 1980s, when the latter was shaking up Disney's animation division, he held a kind of gong show where everyone at the company, from the animators to the janitors, would have an opportunity to pitch feature projects for their boss.
Many of these ideas went on to generate the Disney renaissance of the 1990s, with films such as The Little Mermaid, Beauty & The Beast, and Aladdin, as well as inspiring later entries like Pocahontas and Hercules. According to Katzenberg, one such pitch was for a film called Army Ants, which was the story of a pacifist ant in a militarized colony.
further reading: Disney's Hercules and the Challenge of Casting
Delivered in 1992, the pitch didn't get greenlit, but apparently, it stuck with Katzenberg. Elsewhere, during the lengthy post-production of Toy Story in 1994, Pixar started developing their second feature. Then known as Bugs, the story took inspiration from The Ant And The Grasshopper and Seven Samurai, to tell the story of a motley crew of insects tasked with saving an ant colony from the yoke of greedy grasshoppers.
Katzenberg was curious about what Pixar was doing next and Lasseter and co-director Andrew Stanton gladly shared their detailed plans for Bugs. But around this point, the producer had a massive falling-out with Disney CEO Michael Eisner and left the company. He ultimately sued the company and got a $270 million settlement.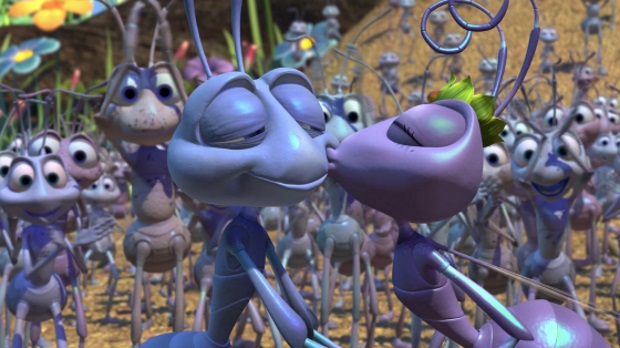 Forming DreamWorks SKG with fellow producers Steven Spielberg and David Geffen, Katzenberg began developing some of his unmade projects for the new animation division, including Army Ants. In May 1996, after Toy Story had proven to be a game-changing hit, DreamWorks put their own computer animation division into action and drafted the California-based company PDI.
Naturally, Lasseter was dismayed that DreamWorks announced Antz as their first CG-animated film in the Hollywood trade papers. Furious, he personally called Katzenberg to question him directly. He felt Pixar's film was being treated as "cannon fodder" in a fight that wasn't of their making.
further reading: 25 Underrated Family Movies
The feud raged on throughout the production process on both films as the Disney higher-ups began sabre rattling in return. Slated for release in 1998, Brenda Chapman's The Prince Of Egypt was supposed to be DreamWorks Animation's first release, with Antz to follow in March 1999. Sometime after this date was announced, Disney positioned Pixar's second outing, now known as A Bug's Life, to come out on the same weekend, in a clear bid to flatten the biblical epic.
In retaliation, Katzenberg unexpectedly moved the release of Antz forward five months, to October 1998. It's reported that he personally offered PDI's animators cash incentives to get the film finished on time, in a mad rush to get it out in cinemas ahead of the Pixar movie. This plan worked, and Antz arrived on screens a month before A Bug's Life, costing $15 million more to make.
How do the films measure up?
Funnily enough, DreamWorks was working a film based on The Tortoise And The Hare around this time, as part of their development deal with Aardman. That film never materialized, but the same basic story was played out in the battle between Antz and A Bug's Life. Pixar's film isn't up there with their best, but it is better for having taken its sweet time.
Still, despite all the noise about the similarities between the two projects, there's a clear divergence in tone in the resulting films. While A Bug's Life is a Pixar movie, Antz is doing its utmost to be a Woody Allen movie. On this film more than almost any other subsequent DreamWorks project, that's a result of casting.
Having coaxed Robin Williams into a game-changing vocal turn as Aladdin's Genie while he was at Disney, Katzenberg was after movie stars to provide the voices of characters from the very beginning. The stunt casting approach has proliferated throughout DreamWorks' filmography, but rarely more egregiously than in this.
further reading: How Robin Williams Elevated the Final Aladdin Movie
The effect of casting megastars like Sylvester Stallone, Sharon Stone, Gene Hackman, and Christopher Walken in supporting roles is to supplant characters with famous people. This is only exacerbated by the way in which their characters are designed as recognizable caricatures of them. In the rest of DreamWorks' canon, only 2004's soggy mob movie parody Shark Tale would plumb the depths of the uncanny valley so deeply.
By contrast, Pixar replicated the Toy Story formula for a successful vocal ensemble by casting one Academy Award winner and a bunch of comedy stars who were better known for their TV work. Kevin Spacey agreed to play the villain, Hopper, after meeting Lasseter at the Oscars in 1996, and mercifully, his character looks nothing like him. The rest of the voice cast was made up of players like Dave Foley, Julia Louis Dreyfus, David Hyde Pierce, Brad Garrett, and, of course, Pixar regular John Ratzenberger.
To this day, the key difference between Pixar and DreamWorks' casting policies is that the former rarely lets the star overpower the character. Even stars as distinctive-sounding as Tom Hanks or Holly Hunter are included because they're right for the character. This approach also allows for lovely touches such as Stanton, rather than a star whose name the grown-ups will recognise, voicing the German-accented caterpillar Heimlich.
All of that aside, Allen remains a fundamentally odd choice of cinematic reference here. Although the script comprised uncredited rewrites by the star, it was co-written by Paul Weitz, Chris Weitz, and Todd Alcott, and apes his style as seen in earlier movies.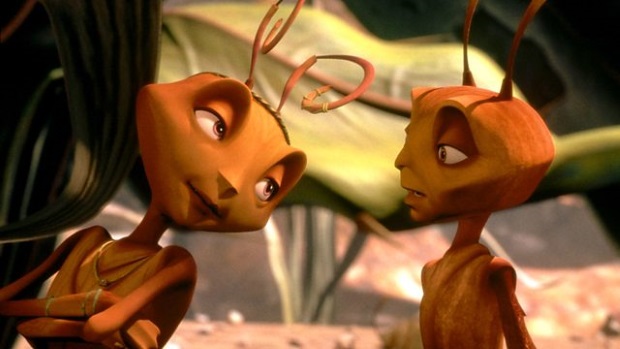 It approximates the plot of Bananas and even directly lifts his line "I was going to include you in my most erotic fantasies" from Everything You Wanted To Know About Sex (But Were Afraid To Ask), irrespective of how gross it is coming from an ant that looks like him. Tethering it back to the emerging DreamWorks house-style, it also has that bit where Stallone shouts "You da ant!", because that's the sort of thing Stallone might shout if he was an ant.
There's nothing wrong with making animated films for older audiences, but Antz's accelerated production schedule also shows in its storytelling. Although it's ambitious in its satire of American foreign policy and class system, in a way that we've rarely seen from the studio's later films, the movie goes through all the motions of the humdrum hero's journey we've seen in countless other family films. It casts that same daft smirking look that all DreamWorks' characters had up to a point in the direction of all the old tropes but walks slap bang into most of them along the way.
"We knew that we were cranking it out because there was just a general sense of rush," Antz co-writer Chris Weitz reminisced. "And also making an animated film is inherently very labor intensive. Everything goes through this kind of brutal process in storyboarding, animatics, back to script and you go through that over and over and over again […] It was sort of a high-pressure, high-intensity environment."
Benefiting from being in development for longer, A Bug's Life is a more rounded story that embeds its cinematic frame of reference with more subtlety. More than just a riff on Seven Samurai and The Magnificent Seven, the story of an innovative worker ant unwittingly bringing a circus troupe to help him fight off greedy grasshoppers evolved into something distinct from its inspiration.
The circus bugs were made more sympathetic as the script went through different drafts, building upon the familiar arc with more of a Three Amigos angle. Story aside, A Bug's Life is much funnier because it has a more varied cast of characters and the jokes come more naturally. The spoof of end-credit outtake reels is a fun button on the film too.
Neither film is remembered the best from their respective studios, but both are pivotal in their respective early stages. Both films do the things that each studio became known for. Pixar's dedication to putting the story first bore up in the face of the dispiriting rivalry, while DreamWorks speedily brought together its first starry ensemble cast for a broad comedy that's content to lob jokes well over kids' heads in order to wink at the adult audience.
Release and aftermath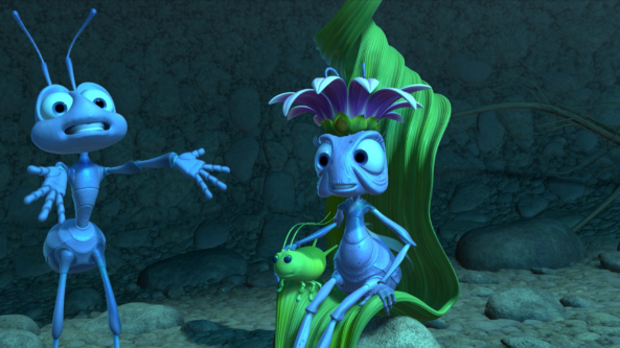 As expected, the Disney movie won the box office battle by a mile, making more than twice Antz's final gross at the worldwide box office, despite competition from both The Prince Of Egypt and Paramount's The Rugrats Movie in November. It can also be argued that A Bug's Life's family appeal has led to it being better remembered over time, but neither film really lost in terms of reception.
In hindsight, it was better for Antz that it went first. It was well received by critics and did quite well at the box office without the Disney marketing machine behind it, but it probably would have been a very different story if critics and audiences had seen A Bug's Life first.
Katzenberg has always firmly denied that he was influenced by what he saw of Bugs, while Lasseter has always taken the alleged betrayal personally. As an outspoken enthusiast for CG animation, he has said in the past that if circumstances were different, he would have given everyone at Pixar the day off work to go and see a DreamWorks movie on opening day, but relations soured as a result of this bust-up.
But while DreamWorks didn't win this particular leg of the race, they would ultimately go on to have something of a modernizing influence on Disney over time. The success of 2001's Shrek, which beat Pixar's Monsters Inc to win the first-ever Academy Award for Best Animated Picture, was much more instructive to DreamWorks Animation's creative direction than their earlier films, while still lampooning Katzenberg's old company.
Between Shrek sequels, there were still instances of parallel thinking by Disney and DreamWorks, though these were rarely quite as overt as the battle of the ant movies. Disney's long-forgotten The Wild is best remembered as an also-ran answer to Madagascar, which was a bigger, more memorable hit earlier in the same year.
Similarly, DreamWorks put out Shark Tale the year after Finding Nemo, and the Aardman-lite Flushed Away came out a little while after Ratatouille. If you're interested in further ant movies, look to Warner Bros' The Ant Bully, Marvel's Ant-Man movies, and the 2006 comedy movie Alien Autopsy.
"Every ant has his day"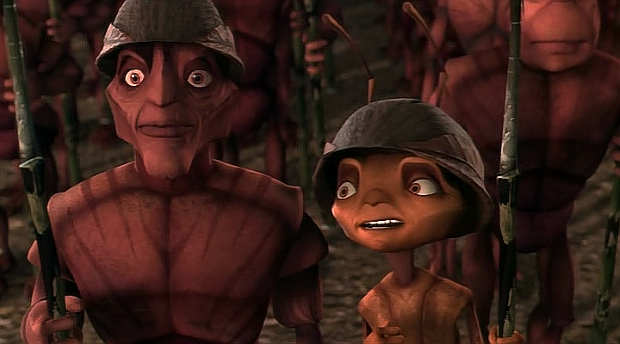 Throughout the 2000s, Disney's animation division had something of a fallow period in creative terms. While DreamWorks was really gearing up, non-Pixar Disney projects like Brother Bear, Home On The Range, and the CG-animated Chicken Little didn't really connect. The balance took time to revert, with the tide turning when Lasseter became the chief creative officer at Disney following their merger with Pixar.
At the time of writing, the great Jennifer Lee will soon take over Lasseter's role and the biggest brand in town has reasserted itself. With Disney very much back on top thanks to a run of cracking CG hits, there can be little question that Katzenberg's upstart studio eventually shook up the House of Mouse by tapping into a popular brand of family comedies that mocked the older, time-honoured fairy tale formula.
Films like Zootopia, Moana, and Ralph Breaks The Internet show how Disney's films have fully assimilated the ability to take the piss for fun and profit, gently ribbing their own canon while also continuing to expand it forever. While A Bug's Life's wide appeal to family audiences means it's the best-remembered of the two, Antz proved more influential in its own way.
It's the prototype from which Katzenberg's studio has released 34 animated movies since, with ambitious storytelling varying from the gorgeous How To Train Your Dragon to the sublimely silly Captain Underpants, and an awful lot of colourful also-rans like Trolls and The Boss Baby in between.
Having made fewer films in the same timeframe, Pixar is held in higher regard, (Shrek's Oscar win is not a feat that DreamWorks has often been able to repeat) but there's no denying that the more commercial model has been more influential over time. Antz is no classic, but from an institutional, behind-the-scenes perspective, it was an important landmark in the early development of CG animation in cinema.