News
Ammonite Trailer Wins Internet's Heart with Kate Winslet and Saoirse Ronan Love Story
The Ammonite trailer hints at an epic period romance between Kate Winslet and Saoirse Ronan.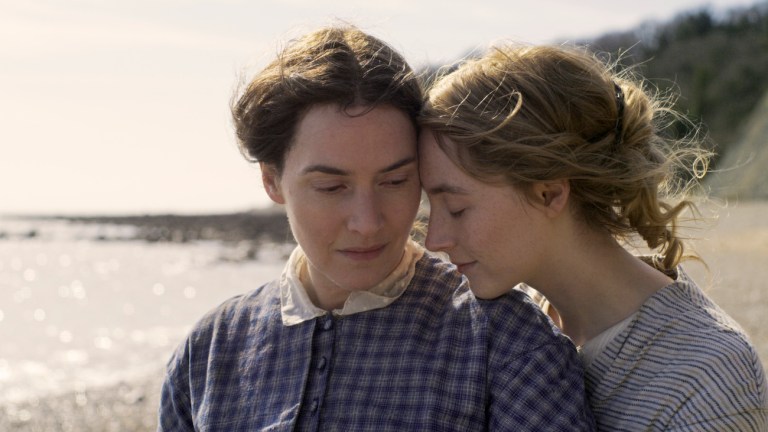 Love stories are as old as the movies themselves. Older in fact. And yet, until fairly recently, love stories between people of the same sex have been depressingly rare—and rarer still in period pieces which often tend to remember history through a highly selective lens. Yet writer-director Francis Lee's Ammonite joins a series of recent films that appear to challenge that, offering a sweeping historical romance in which lovers are women, played here by Kate Winslet and Saoirse Ronan.
The trailer, which in less than a day has become a social media favorite, presages Ammonite's world premiere at next month's Toronto International Film Festival. As Lee's second feature after God's Own Country, the film recounts a passionate relationship between real-life historic figures Mary Anning, who was a pioneering paleontologist, and Charlotte Murchison.
Set in the 1840s, the film finds Anning as a self-taught and acclaimed paleontologist who now works along the Southern English coast of Lyme Regis. There she spends her time unearthing common fossils to sell to rich, oblivious tourists, which supports herself and her widowed mother. But one such tourist named Roderick Murchison (James McArdle), convinces Mary to reluctantly take on the amusement and care of his young wife Charlotte, who is recovering from her own personal tragedy. Between the two, an unlikely love affair will commence that will change the course of each of their lives. Drastically.
The film, which bows at TIFF on Sept. 11 before a theatrical release in November, looks to be a major awards contender given the talent involved. Between them, Winslet and Ronan have already been nominated for 11 Oscars, with Winslet winning one for 2008's The Reader.
Intriguingly the film has some visceral similarity to last year's transcendent, and sorely overlooked, Portrait of a Lady on Fire. That French film, which starred Noemie Merlant and Adele Haenel, was an exquisitely crafted romance between two women who met under ostensibly transactional purposes on a beach in Brittany during the 1700s. One of the finest love stories of the last decade, it truly deserves more attention. The newer movie also bears some faint similarity Todd Haynes' Carol, with the notable age difference between female movie stars. But then there is a vast need for more representation of the LGBTQ stories on screen, both in the past and present. And if the windswept period piece love story can become as much of a staple in this sense as it's been for hetero romances for a century, then let the wind sweep on.
Ammonite opens in theaters on Nov. 13.