Reviews
Ammonite Review: Kate Winslet and Saoirse Ronan Romance Lacks Heat
Kate Winslet and Saoirse Ronan commit to Francis Lee's romantic period piece, Ammonite. But the film and their chemistry are as cold as the English Channel.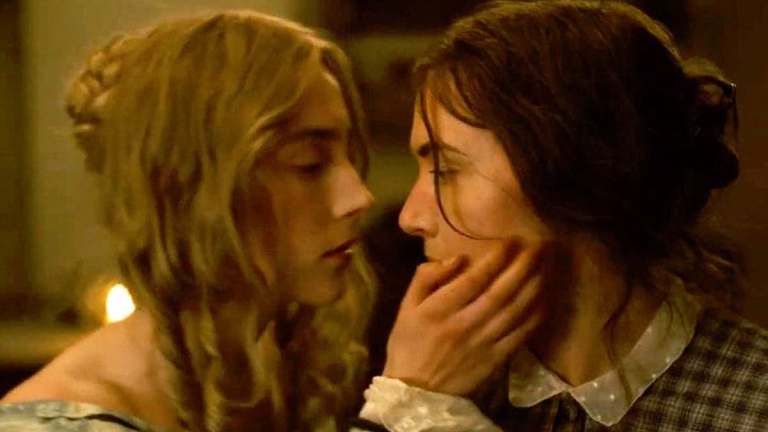 From the beginning, Ammonite wants audiences to know that the work of paleontologist Mary Anning is out of fashion. Mary, played by a particularly stoic Kate Winslet, says this repeatedly to other characters, and displays an almost aggressive wariness toward any tourist who hints at an interest in her career. The film similarly revels in the daily monotony of her life, which appears to consist of digging through rocks no one else gives a second glance, a lonely figure on a gray beach.
Presumably writer-director Francis Lee wishes to underscore the solitude of Anning's work; yet it's not clear if the filmmaker is aware that this is by far the most compelling aspect of the movie. The real-life Mary Anning was a pioneer in the burgeoning field of paleontology in the 19th century: a woman who made significant scientific advancements in our understanding of Jurassic marine life. Below the cliffs of Dorset and along the English Channel, she discovered fossils that identified the ichthyosaur and informed our understanding of the plesiosaur.
Those achievements are mentioned in passing in Ammonite—early life successes that made her a brief celebrity before her gender and location led to her being forgotten. It's a shame though that the movie seems to agree with this self-loathing assessment, treating these elements as mere background. The film's kenner interest lies in showing a withdrawn woman finally finding freedom, and even love, from the unlikely acquaintance of Charlotte Murchison (Saoirse Ronan), the much younger wife of a wealthy patron. And on paper that should be fine… if the movie wasn't just as cold as its landscapes.
The reason for the pair's meeting is actually the result of Charlotte's husband Roderick Murchison (James McArdle), a dithering and overbearing snob who cannot possibly comprehend why his wife has succumbed to melancholia. He's arrived in Dorset to ostensibly learn from the once legendary Mary Anning. In truth, however, he wants to foist his sad bride on Mary (for a fee) while he takes off for the continent.
Mary is skeptical about the arrangement but she needs the money, and maybe it would be good to have an assistant? Not that Charlotte is much help, with the younger woman's health quickly deteriorating. Yet as Mary comes to nurse her unwanted ward, taking on an almost spouse-like role in Charlotte's health, she and Charlotte find an unlikely kinship, and perhaps other spousal duties.
Filmed with hovering intimacy by Lee, the film tracks their burgeoning love story through excessive handheld photography. When used during scenes of Mary, and later Charlotte, on the Dorset shore dragging fossils from the seabed, this can be quite evocative. But on the whole, the approach is overly staid, with Lee's script and drab mise en scène relying heavily on inference.
Thus Ammonite becomes as dreary as how the film chooses to interpret Mary's work. Which is unfortunate since both Winslet and Ronan do unflinching, fearless work here. Searching for a romantic authenticity that the rest of the film lacks, Winslet and Ronan commit to portraits of silent regret and lifetimes of experiences they decided to leave unspoken.
Yet together the chemistry between Winslet and Ronan never sparks. To be sure there are several seemingly mandatory sex scenes with their obligatory nudity, but right down to the way the scenes are written and edited, with tasteful cutaways to burning candles and morning light, the impact feels more packaged for an awards season campaign than the telling of a whirlwind romance.
It is somewhat unfair to compare Ammonite to last year's Portrait of a Lady on Fire—the sumptuous French film by Céline Sciamma about two lovers on the other side of the Channel—simply because they're both lesbian love stories. There is room for countless LGBTQ+ romances in every period setting, just as there's room for all other tales of liaisons and seaside rendezvous. But these films can still be compared purely as love stories. And while Portrait of Lady on Fire is also a quiet, almost silent film for large swaths of its running time, the passion in its exquisite frames is hot to the touch.
By contrast, Winslet and her film have more heat when it's just her and the rocks.
Ammonite opens on Friday, Nov. 13 in select theaters.