Features
Ambulance: Michael Bay's Best Movie in Decades Shouldn't Have Flopped
Michael Bay's Ambulance is the director's best movie in decades. It's also his least successful.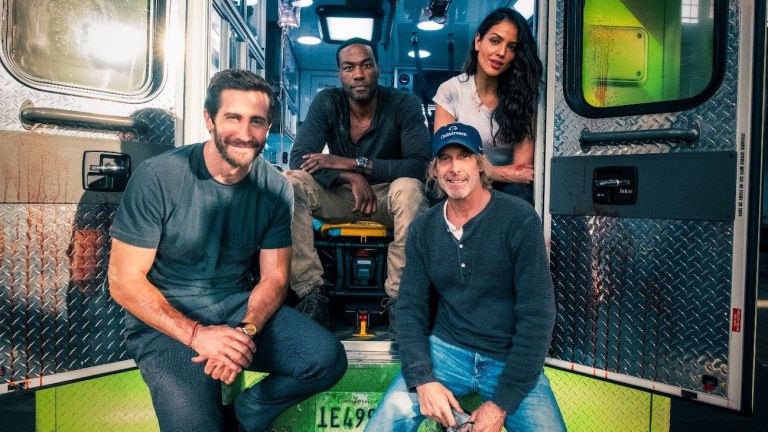 It must be snowing in hell right now, because there's a Michael Bay movie out and it's a critical darling! Yes, that's right, the filmmaker behind such dubious pop culture icons as the first five Transformers movies and Pearl Harbor has now, almost inexplicably, become one of the last men standing at the intersection of populism and auteur theory: a perpetually sunset-hued madman who beats on, boats against the current of modern, identity-less moviemaking.
Seriously, over the weekend one of the Ambulance TV spots (which Universal Pictures has opted to not officially share online) trumpeted, "Critics have always hated Michael Bay's movies, but Ambulance has the best Rotten Tomatoes score of his career."
And it's true! Ambulance has a mixed-to-positive score of 68 percent as of press time, and one cannot help but wonder if that figure would be even higher if the movie came from any director other than Bay—or perhaps was simply presented in the innocuous packaging of another Marvel Studios product.
But then it is hard to imagine such a scenario. For Ambulance is thoroughly Michael Bay with its swooping, looping, and practically whooping camera movements. From the filmmaker's now patented form of "Bayhem" in which no action sequence features a shot lasting a full second in the edit to how Jake Gyllenhaal fidgets like an '80s Wall Streeter about to meet his dealer five minutes after the closing bell rings, this is as purely a classic Bay vehicle as we can imagine. And by that we mean the classics, of sorts, he made before getting bogged down for a decade in a Transformers quagmire. Instead of giant robot overload, Bay now returns to the trashy highs that wafted off nearly every frame of the original Bad Boys of 1995 or the cheesefest symphony that was The Rock (1996).
Perhaps that's why it's so disappointing to learn that Ambulance flopped. Spectacularly so. Despite being made for the economical price tag of $40 million—or perhaps because of the lean and mean aesthetic—Ambulance still underperformed when it grossed only $8.7 million in its first three days. That's the lowest debut of Bay's career and far beneath the weekend's crowning success, Sonic the Hedgehog 2, which earned $72.1 million, and even Morbius in its second weekend where it dropped 74 percent from its $39 million opening.
Ambulance, a movie that looks like it would've been a blockbuster at the height of operatic action movie grandiosity (read: the '90s), can't even clear the top three at the North American box office in 2022. It's moments like this which crystallize why Bay might've wanted to spend a decade in the doldrums of Transformers hackery—or why studios rarely greenlight any mid-budget action movie unless it stars a Living Vampire or a blue anthropomorphic Sega Genesis mascot.
We're not going to light a candle for a tragedy befalling Mr. Bay, however. While there has been some fair reappraisal of his work in the last decade, including memorably by media critic Lindsay Ellis' terrific "online film studies" series based around his work, Bay is still Bay. He's a director who shamelessly dabbles in the transgressive if not outright intentionally problematic, and he's not adverse to releasing something as deadened as the two-and-a-half-hour orgy of product placement that was Transformers: The Last Knight.
While Ambulance eschews much of this, including by restraining his camera's leering gaze for leading ladies via the introduction of the genuinely compelling EMT Cam Thompson (Eiza González), Bay is still not above a trolling sense of humor or a lusty aside.
Nevertheless, the newfound enthusiasm for Bay on social media, and the thinnest respect even many of his harshest critics now begrudge Ambulance, is a testament to the fact that he is an original. And when he wants to, he can release something as gripping and lean as the sight of a hijacked medical vehicle speeding down the L.A. River with a flurry of blue failing to keep pace in its wake. Which makes its failure all the more depressing.
Twenty-five years ago, Ambulance would not have been particularly remarkable to find in a multiplex. It's a high-concept premise in which multiple genres—heist movies! chase movies! an out of control bus ambulance!—are smooshed together and given that glossy movie star sheen, here courtesy of Gyllenhaal and Watchmen and Candyman breakout Yahya Abdul-Mateen II. González is so good as the movie's functional heart—the normie who is taken hostage by the good thief with a heart of gold (Abdul-Mateen) and the bad'un with a dark soul (Gyllenhaal)—that it would be a breakout for her.
Yet it is that very heightened concept that likely did the movie in with modern moviegoers. Your concept can be as high as Gyllenhaal's Danny Sharp after powdering his nose in the bathroom, but when it still feels relatively low to the ground with its primary cast of three people in a rampaging ambulance driving around L.A., it doesn't apparently entice the way an action movie with Batman will. Or Dr. Michael Morbius.
Ambulance's failure tends to suggest there's truth to the emerging conventional cynicism that modern audiences don't want to watch original stories, even when they come with spectacle. Technically Ambulance isn't even original either; it's a remake of a 2005 Danish film directed by Laurtis Munch-Petersen. But in this case, its pre-existing intellectual property is a relatively obscure international film, which has now been taken to 11 by maximum Bayziness. It's not a familiar property and its practical stunts and stunning action choreography are not selling points to a major audience; they're a hindrance when tastes drift increasingly toward the digital and familiar—to franchises with copious amounts of CGI.
It's why more adults without children saw Sonic the Hedgehog 2 this past weekend than Ambulance, and why so many anecdotal complaints seem to suggest that anything about original "street level" characters belongs on streaming. Why pay to see Ambulance when Netflix offers plenty of original action movies at home? Gems like Red Notice and Project Power, which cost nothing more after the initial monthly subscription fee to view, and are just as inexpensive to forget five minutes later.
One of the reasons Ambulance is such a retro blast of fresh air in 2022 is this type of extremely well crafted actioner is a dying breed. And it'll soon be extinct if audiences don't show up. Bay can make $40 million look like $140 million with the amount of coordinated havoc he got away with around the greater Los Angeles-area, but it's getting harder and harder to convince a studio to spend $40 million on a semi-original idea that doesn't feature an Avenger (and therefore needs an extra $100 million to pay for all those blue screen effects). These kinds of "medium-budget" action movies are near impossible to duplicate for "free" content on streaming services. After all, you've seen Netflix try.
So when they flop, it sends a familiar message to studio heads: Stop giving money to films that require this much craft and talent to pull off. It's the same message higher brow content, be it a masterful Steven Spielberg musical or a cutting Ridley Scott historical epic, also sends when it fails.
So if you're perhaps an action movie aficionado who doesn't want the future to only be superhero movies, Netflix originals, and excellent micro-budget indies that are still largely ignored until streaming, maybe consider giving Ambulance a shot?