Features
8 Hollywood directors from the Roger Corman film school
Filmmaker Roger Corman has nurtured some incredible creative talent, including the following directors...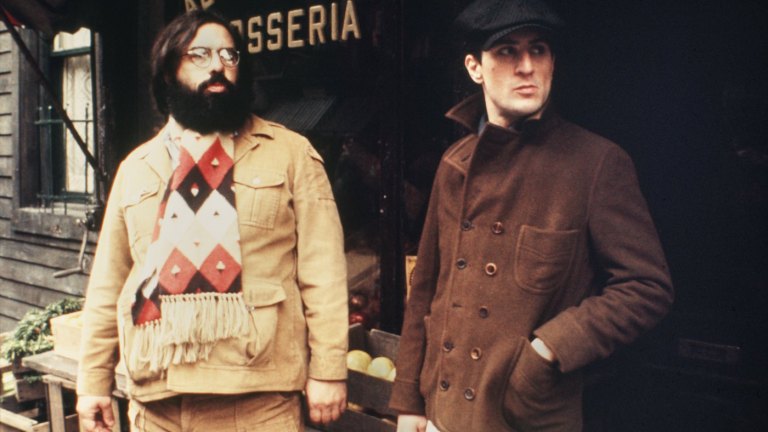 It's arguable that Roger Corman is the most influential and important filmmaker to have emerged in late 20th century America. Years before Hollywood got in on the act with its expensive treatment of B-movie ideas – see Jaws, Star Wars and Alien – Corman was directing and producing similarly high-concept pictures with almost no money.
From his first picture, Monster From The Ocean Floor in 1954, Corman specialised in a brand of filmmaking that was vivacious, creative and often very funny – sometimes for the wrong reasons, but also because of their incisiveness – 1959's A Bucket Of Blood is an extremely sharp satire of pretentious artists as well as a wickedly fun horror movie.
If he'd only stuck to directing, Corman would still be renowned for his cycle of 60s Edgar Allan Poe adaptations, with their saturated colours and swooning performances, whose style and atmosphere appeared to strike a chord with filmmakers over in Italy, such as Mario Bava and later Dario Argento. The Masque Of The Red Death (1964) also featured the cinematography of Nicolas Roeg, who would go on to direct Performance, Walkabout, Don't Look Now and The Man Who Fell To Earth.
Aside from his personal filmmaking achievements, Corman's ability to spot young filmmaking talent in the rough is perhaps his greatest legacy. Although he's remained faithful to his B-movie roots, and is still producing a long-running cycle of hybrid monster movies with names like Sharktopus and Piranhaconda, some of America's greatest filmmakers have emerged beneath Corman's wing. And here are a few of them…
Francis Ford Coppola
Legendary filmmaker Francis Ford Coppola leapt to critics' attention in the 1970s with a string of remarkable films – The Godfather (1972), The Conversation (1974) and The Godfather Part II (1974). Although he flirted with disaster with Apocalypse Now (1979) – a movie that took several years and much of his own money to make – that too was critically lauded, and Coppola ended the decade with some of the most respected films ever made to his name.
It was during the 60s, meanwhile, that Coppola paid his dues. Having directed a short horror film and a couple of softcore porn films after leaving university in thet early part of the decade, Coppola began working for Roger Corman. The young filmmaker's first job wasn't a particularly glamorous one – he was given the task of taking a little-seen Russian sci-fi film called The Sky Is Falling (1959), and preparing an English-language version of it – all on a low budget, of course.
Coppola prepared a new script, shot some new monster scenes on a Hollywood soundstage, and gave the film the brilliantly sensational new title Battle Beyond The Sun. The results so impressed Corman that he produced the proto slasher-horror Dementia 13 – often described as Coppola's first 'legitimate' feature film.
Shot for around $40,000, it was intended as a cheap cash-in on the success of Psycho, and in typical Corman style, was set in Ireland simply because another film he was making at the time – The Young Racers – was located there too. Although critics bemoaned its script, many singled out Coppola's imaginative direction; remarkably, he'd shot the film in just nine days.
Although Coppola soon left genre filmmaking behind in favour of mainstream films such as You're A Big Boy Now (1966), and the Broadway adaptation Finian's Rainbow, Corman had provided a relatively new filmmaking talent with an all-important start. A few years later, Coppola would pay tribute to Corman – albeit in a small way – by giving him a cameo role in The Godfather Part II, one of many such cameos Corman would make in various movies over the decades.
Martin Scorsese
Although Scorsese had been making independent films for several years by the early 70s, the young director, already a fan of Roger Corman's movies, immediately accepted the offer to direct Boxcar Bertha (1972). Like so many Corman productions, Boxcar was a reaction to an existing hit – 1967's Bonnie & Clyde – and the interest in Depression-era movies which followed.
Starring Barbara Hershey and David Carradine, the film was shot for $600,000, and is one of the best-known films to emerge from Corman's production stable. Scorsese later recalled that Corman had said to him, "Roger just told me to read the script, rewrite as much as you want, but remember Marty, you must have some nudity every 15 pages."
Scorsese also acknowledges that, when it came to his next film, the acclaimed Mean Streets, he applied many of the quick-and-dirty filmmaking skills he'd learned on Boxcar Bertha – a technique which added much to the film's gritty, documentary feel.
Thereafter, Scorsese went on to continued acclaim, with the movies Alice Doesn't Live Here Anymore, Taxi Driver and Raging Bull cementing his reputation as one of his generation's finest filmmakers.
Ron Howard
Howard, of course, is well known for his directorial work on movies such as Apollo 13 and A Beautiful Mind (the latter of which won him an Oscar). But when he decided to make the transition from his acting career to directing, it was Roger Corman who gave Howard him his first feature filmmaking gig.
Howard was still playing Richie Cunningham in Happy Days when he directed his first movie, Grand Theft Auto in 1977. Made for a shade over half a million dollars, Howard starred in the comedy road movie himself. Riding in the slipstream of similar comedy road movies such as Smokey And The Bandit, Grand Theft Auto was a minor hit, at least compared to its budget – garnering $2.5 million in the US, it later raked in around $15 million in the rest of the world.
That film's success marked the next stage of Howard's career, which continued to build through the 80s, beginning with the comedy Nightshift (1982) and the hugely successful Splash (1984). His next film, Cocoon, was bigger still, earning $85 million worldwide and two Academy Awards.
Joe Dante
Dante worked for Corman for several years before helming his first feature film, working first as a trailer editor and then feature film editor on movies such as Grand Theft Auto, mentioned above. Dante's first film as director – aside from a 1968 college film named The Movie Orgy, assembled from commercials and film clips – was Hollywood Boulevard, a project which, oddly, had its origins in a bet.
Dante wagered that he could make the cheapest movie in the history of New World Pictures, and Corman agreed, providing him with a $60,000 budget and a shooting window of just 10 days. To keep costs down, Dante recycled footage from various other Corman-produced movies, including Coppola's re-edited Battle Beyond The Sun.
The result was an engagingly messy homage to low-budget exploitation filmmaking, full of B-movie acting regulars, in-jokes, and cameos from various writers and directors, including Dante himself.
Dante's next Corman film continued in the same blackly funny style. Piranha (1978) was, of course, another fishy movie made in the wake of Jaws' success, but Dante's streak of parodic humour – not to mention lots of added gore – made it a cut above the shoal of rip-offs which emerged in the 1970s.
Piranha was a cult hit, earning around $10 million on its lean $770,000 budget. It established Dante's anarchic style as a filmmaker, elements of which would repeatedly appear in his best movies, such as The Howling (1981), Gremlins (1984), Innerspace (1987) and The 'Burbs (1989).
John Sayles
The cult success of Piranha launched not only Joe Dante's mainstream career, but also John Sayles' career, too. Sayles used the money he earned for writing Piranha to fund the making of the low-budget drama, Return Of The Secaucus 7. Thereafter, Sayles continued to contrast genre writing work for Corman – Alligator and Battle Beyond The Stars (both 1980) – with more personal dramas, such as Liana and Baby It's You.
Working constantly as a scriptwriter, occasional uncredited script doctor (Apollo 13 and Mimic) and director ever since, he's one of the hardest working and oft-awarded filmmakers in the business.
Curtis Hanson
Like John Sayles, Curtis Hanson began working for Roger Corman as a screenwriter. His first Corman credit came in 1970, when he co-wrote the script for Daniel Haller's adaptation of HP Lovecraft's The Dunwich Horror. Three years later, Hanson wrote and also directed another Corman-produced picture, the sleazy thriller Sweet Kill.
The film wasn't a hit, so Corman did a common grindhouse trick: he had a couple of extra sex scenes cut into the movie, and re-released it under two different names – A Kiss From Eddie and The Arousers. Although that movie wasn't the introduction to directing Hanson may have wanted, he pressed on through the 80s, helming The Little Dragons in 1980 (re-released in 1984 to cash in on the success of The Karate Kid), Tom Cruise comedy Losin' It, and thrillers The Bedroom Window (1987) and Bad Influence (1990).
Hanson's first major hit was The Hand That Rocks The Cradle in 1992, which he followed with movies such as The River Wild (1994) and the magnificent LA Confidential (1997). Although Hanson would never tackle anything quite as unseemly as Sweet Kill again, his biggest successes always seemed to come from the thriller genre – aside from Eminem hip-hop vehicle 8 Mile, which garnered $242 million in 2002.
Jonathan Demme
Demme's mainstream career reached its zenith with the Oscar-winning Silence Of The Lambs, a stylish, horrifyingly direct adaptation of Thomas Harris's novel. But like so many talented filmmakers, Demme's career had started years earlier, under the wing of Corman's New World Pictures.
Beginning in the early 1970s, Demme produced exploitation flicks with suggestive titles such as Angels As Hard As They Come and The Hot Box. Caged Heat (1974), which he also wrote, marked his debut as director, and is widely regarded as one of the best examples of the oddly popular women-in-prison subgenre.
Barely pausing for breath, Demme made Crazy Mamma the year after (tagline: "They shot her father killed off her man, stole her land. She became the Crazy Mama"), taking over from Shirley Clarke, who'd been fired from the picture. Fighting Mad followed in 1976, which saw Peter Fonda star as a farmer shooting at land developers with a crossbow.
Although his first major studio pictures weren't financial hits (Handle With Care (1977) and Melvin And Howard (1980), they received critical acclaim, thus launching Demme on the path to mainstream success. And yet, as Demme reflected in the documentary Corman's World, he never forgot Demme's lesson about keeping the viewer engaged with kinetic cinematography.
"He wanted me to focus on the whole idea of the eyeball – the human eye," Demme recalled. "That's the primary organ involved in movie going. You've got to keep the eyeball of the viewer stimulated. That's why we move the camera round to keep the eye engaged."
James Cameron
So famous is Cameron for his slick movies such as Avatar and Titanic, it's easy that this famously technical filmmaker got his start in low-budget movies. In fact, it's arguable that he never would have become a success at all had he not been so adept at creating special effects on a low budget.
A 10-minute short film he made in the 70s called Xenogenesis led to work as a model maker at Roger Corman's studios. There, he worked on the miniature effects for Battle Beyond The Stars, and served as production designer and second unit director on the Alien 'homage', Galaxy Of Terror.
Although he was fired from the production of his first directorial outing, Piranha II: The Spawning, a dream he had while on set in Rome fed directly into his next project – The Terminator. With the help of producer Gale Anne Hurd – a former Corman assistant and Cameron's wife for several years – Cameron made The Terminator for a relatively lean $6.4 million.
Both The Terminator and Aliens, while still considerably more expensive than the average Corman movie, nevertheless used many of the money-saving techniques Cameron had perfected years earlier. Cameron's ability to light and design miniature effects scenes came in handy, and it has to be said that, when watching the gory classic Galaxy Of Terror, with its hapless cast exploring a monster-filled alien planet, it's possible to detect distant echoes of the slicker, endlessly quotable Aliens…
See Also:
Timur Bekmambetov, Peter Bogdanovich, Jonathan Kaplan, Jack Hill, Monte Hellman.
Follow Den Of Geek on Twitter right here. And be our Facebook chum here.