News
Yoshinori's Exit from Capcom Rumored to Be Tied to Street Fighter 6
Yoshinori Ono, the man synonymous with the Street Fighter franchise, has stepped down from Capcom. Rumors suggest that he was ousted while working on Street Fighter VI.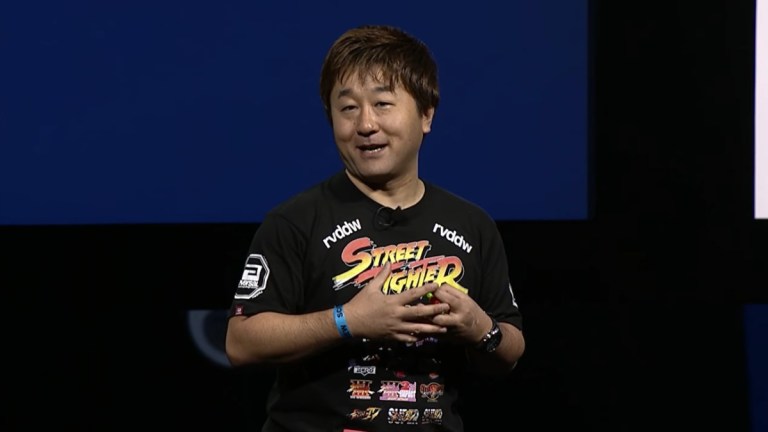 For 12 years, Yoshinori Ono has been the face of the Street Fighter series, much like Ed Boon is to Mortal Kombat and Katuhiro Harada is to Tekken. After a trilogy of Street Fighter III titles came and went in the late-90s with little mainstream success (costly arcade hardware and lack of marketing for home ports didn't help), the once giant of the fighting game genre coasted on its reputation and stopped releasing brand new installments beyond a crossover game or an updated home port. Ono helped change that as the producer and project manager of Street Fighter IV in 2008, bringing the series back to the forefront after nearly a decade.
Since then, he's been an eccentric spokesman for the Street Fighter series. Sadly, his time at Capcom has come to an end. On Sunday, Ono confirmed on Twitter that he was leaving the publisher after almost three decades.
"And now, after serving almost 30 years at Capcom, I am leaving the company in the summer. This means that I will resign my position as the brand manager for Capcom's various titles including Street Fighter," read Ono's farewell to fans. "Capcom staff in the new generation will continue taking care of the Street Fighter brand and leading the World Warriors. And, I do believe that they will continue making Street Fighter extraordinary. I will look forward to seeing the new Street Fighter brand and how it's going to be expanded, as just one of regular games next time around."
Ono has been a part of Capcom in various capacities since 1993, first working on the fighter/wrestling hybrid game Saturday Night Slam Masters. He worked his way up and landed his first producer role on 2003's Chaos Legion. His first producer role on a fighting game was with 2004's Capcom Fighting Evolution, a "self-crossover" game infamous for Capcom going absolutely overboard on reusing old assets to create a new title.
Ono was able to push his superiors to give Street Fighter a chance at a comeback and succeeded with Street Fighter IV and its various updates, Super Street Fighter IV, Super Street Fighter IV: Arcade Edition, and Ultra Street Fighter IV. Unfortunately, outside of Marvel vs. Capcom 3 (which Ono had no role in), most of Capcom's fighting games since Street Fighter IV have run into their own problems. Street Fighter X Tekken and Marvel vs. Capcom: Infinite both underperformed and were met with a tepid reception.
His attempt at bringing back Capcom's other big fighting game from the past, Darkstalkers, also fell flat. Despite trying to build up a grassroots campaign with fan buzz and showcasing a CGI trailer at New York Comic Con, the most the development team could push out was yet another re-release of the Darkstalkers trilogy with hopes that its sales would convince Capcom to finally make a new game. It did not work.
While Street Fighter V has shaped up to be decent enough at this point after years of DLC and updates, its initial release was a mess for a variety of reasons. However, many of the issues were not explicitly on Ono's head. That said, there was something rather fishy about the release of a fifth season of DLC, especially considering the finality of Street Fighter V: Champion Edition and its 40 character roster.
Also suspicious was the big fighting game roundtable held a few weeks ago. Big names from Japanese fighting game companies discussed the genre and announced the news, but Ono was nowhere to be found. Rumors suggested at the time that Ono had been demoted or removed from Capcom completely.
Around this time, video game insider AestheticGamer broke news on what was allegedly going on. Capcom was allegedly working on Street Fighter VI and was intending a 2021 release. Ono was heading its development and was very insistent on basing the game around a tag-team system that was unpopular with both his coworkers and various testers. Rather than take another hit after Street Fighter V's fiasco, Capcom decided to remove Ono from the board, put together a year's worth of Street Fighter V DLC to keep that train going, and stretch out the development of Street Fighter VI.
Farewell, Yoshinori Ono. I'll always remember your weird devotion to Blanka and that time you hit Kenny Omega with a steel chair.