News
Street Fighter 5: Season 5 Characters Revealed, Including Dan Hibiki
Capcom announced over a year of updates and new characters for Street Fighter V: Champion Edition. Here's a look at the fighting game's last hurrah.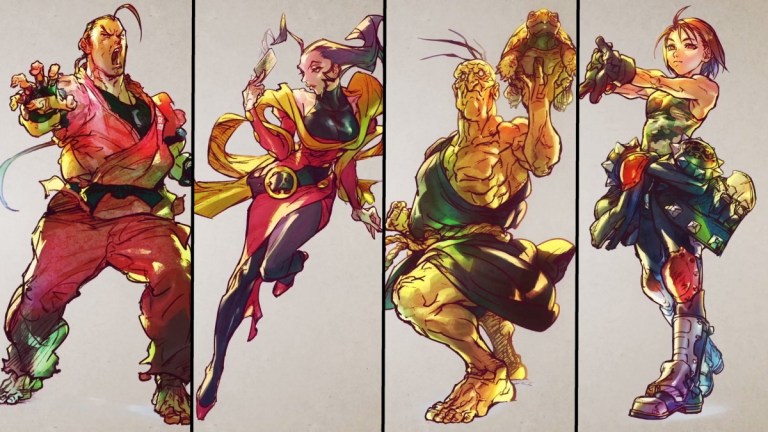 Street Fighter V first arrived in early 2016 and what started as a barely-playable disaster with a scant roster of 16 has been improved to become one of the best fighting games currently on the market. And in June, Capcom held a special live stream to promote what will be its fifth and final season of downloadable content for the game. When all is said and done, Street Fighter V: Champion Edition will have 45 fighters, the most in any Street Fighter game.
Oddly enough, the stream did not include any trailers. Even still, there was plenty of news about the next year-plus of Street Fighter V.
For the quick version, here's the Season 5 Roadmap: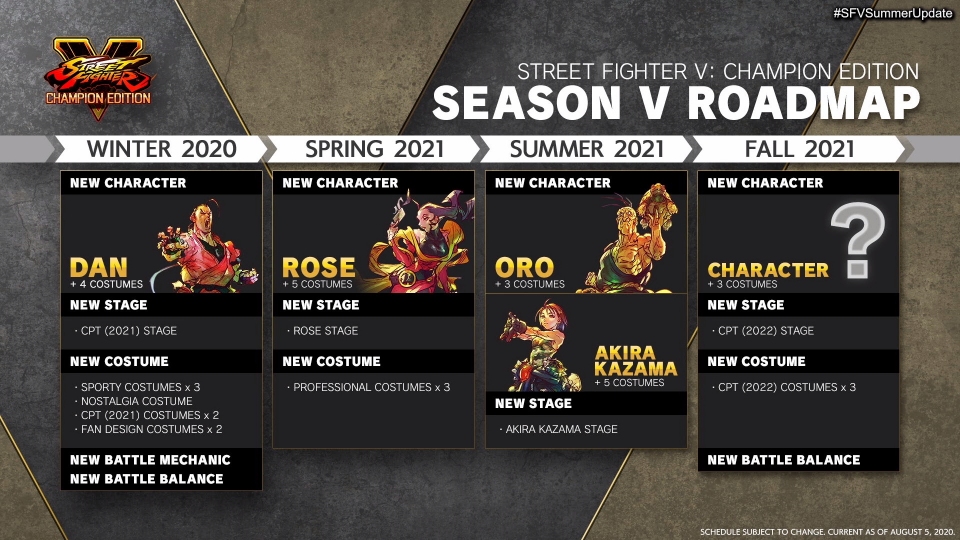 There are five new characters coming in the last batch of DLC, with the last one still a mystery. Let's take a deeper look at the crew.
First up is Dan Hibiki, who is set to come out this winter. Dan's return here should be no surprise as he's easily the most popular Street Fighter character yet to show up in this installment. First introduced in Street Fighter Alpha in 1995, Dan was a joke character who won over many fighter fans in the years that followed. With all the confidence and very little of the skill, Dan is supposed to be the weaker counterpart to Ryu and Ken. What he lacks in strength and range, he makes up with taunting and looking like an idiot.
His appearance here is incredibly welcome, as he sat out Capcom's latest few crossover games outside of a cutscene or two. Since Street Fighter IV, the most notable thing Dan has done is show up as a Spirit in Super Smash Brothers Ultimate. Interestingly, he'll come with an update that will add a new tactic to the game's engine.
Next up in spring 2021 is Rose, another character first introduced in Street Fighter Alpha. Once a mysterious fortune teller with a bone to pick with M. Bison, it was later revealed that she is literally the yin to his yang. Once upon a time, Bison decided that his Psycho Power abilities would be stronger if he was able to turn himself into a full-on Mr. Hyde type and become fully evil. He exorcised all the good from his soul and it manifested in the form of Rose, who hopes to destroy Bison with her Soul Power, even if it means destroying herself in the process.
Rose has had a presence in Street Fighter V for a while as the mentor of new character Menat. She'll drop with a new stage centered around her.
Next summer, it's the wise, old hermit Oro, who first showed up in Street Fighter III: New Generation. An incredibly old and lumpy Brazilian, Oro is a sennin. His power and mastery over martial arts have made him borderline immortal. Canonically, Oro is one of the most powerful characters in Street Fighter, but he isn't even a boss character. Instead, because he's so much stronger to the point of being bored by his challengers, he handicaps his performance by only fighting with one arm. In his opinion, the only one out there worth his time is Ryu, but it will take a few decades before that kid's good enough to face Oro at his full strength.
Next summer, we're getting the biggest surprise of this set: Akira Kazama, who comes from Rival Schools, a pair of games from the '90s that take place in the Street Fighter universe (much like Final Fight and Saturday Night Slam Masters). The games focus on teenagers from various Japanese high schools who go to war with each other and later team up over a plot involving missing persons and brainwashing. Street Fighter's resident ass-kicking schoolgirl Sakura also played her part in that story.
Akira was the team captain of the rugged Gedo High School team with juvenile delinquents Edge and Gan. Edge and Gan's gang leader, Daigo, went missing and the mysterious biker Akira appeared to help them uncover the truth. In the end, Akira pulled a Samus Aran by removing her helmet to reveal herself as Daigo's little sister.
That leaves the final DLC character in fall 2021, bringing Street Fighter V to its glorious end. Who could it possibly be at this point? A new major villain? Gouken? Necro's girlfriend Effie? Mike Haggar? That one dude punching out the other dude from the Street Fighter II intro?
I guess it's only a matter of time before we find out. In the meantime, Capcom Cup 2021 will start up early next year.
Also of note, All Elite Wrestling's Kenny Omega stopped by to do the Rose reveal. AEW and Capcom have teamed up to put out very limited edition t-shirts featuring the likes of the Elite vs. Ryu/Ken/Akuma, Joey Janella vs. Blanka, Cody vs. M. Bison, and Violent Ken/Kage vs. the Lucha Bros. Here's the latest one where Kenny takes on some jobber.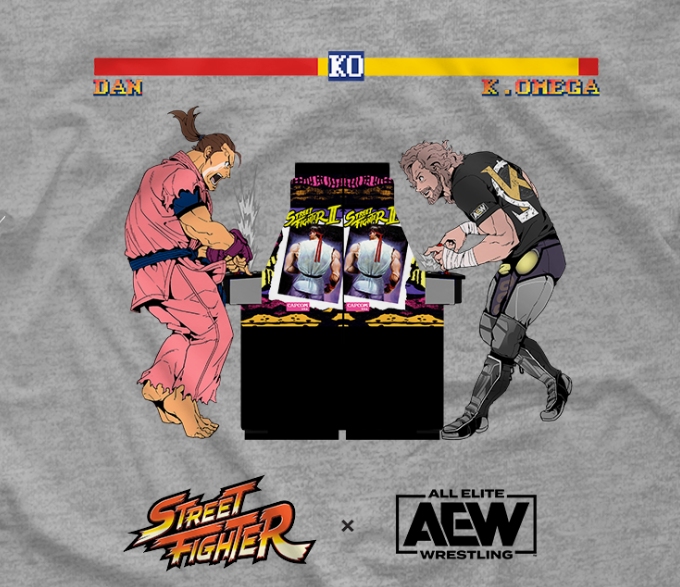 Okay, this one I might just pick up.