Features
Xbox Series X Games Confirmed So Far
The Xbox Series X has a very interesting lineup of games. Check out which titles have been confirmed for the console so far!
The Xbox Series X is Microsoft's next-gen console that will bring all-new graphics, faster load times, and plenty of ways to enjoy all of the games you love digitally through Xbox Game Pass, the Smart Delivery system, and backward compatibility. We've learned quite a bit about the Xbox Series X's impressive specs as well as what the console looks like. In fact, based on what we know so far, it looks like Microsoft's console will be very stiff competition for Sony's PlayStation 5.
But console wars always come down to one thing: the games. The Xbox Series X already has quite a few first-party and third-party titles in its lineup, including flagship title Halo Infinite, which will launch on the same day as the release of the new console. What else do you have to look forward to playing on the Xbox Series X?
Let's start with some of the major upcoming Xbox Series X games that Microsoft has chosen to highlight thus far:
Halo Infinite
The next chapter in the Halo series is not Halo 6 but Halo Infinite, a sequel that is said to bring the beloved first-person shooter franchise back to its roots. The game seems to be set on a Halo ring, it features warthogs and marines, and the Master Chief's more classic look from Halo 2. This is the first time an Xbox console has launched with a Halo game since the original Xbox, so expect Halo Infinite to be a very big event.
Senua's Saga: Hellblade 2
Hellblade: Senua's Sacrifice was a revelation for the psychological thriller genre, its take on mental illness giving a unique spin to action-adventure gameplay. Now, Celtic warrior Senua returns in Senua's Saga: Hellblade II for a new dive into the darkness that's sure to be even more breathtaking than the first, thanks to the Xbox Series X's upgraded 4K graphics.
Cyberpunk 2077
What can be written about Cyberpunk 2077 that hasn't already been said? It's the highly-anticipated sci-fi RPG from developer CD Projeckt Red, the studio behind The Witcher series. It takes everything you love about the cyberpunk sub-genre — hacking, cybernetic implants, twisted augmented realities, and lots of guns — and jams it all into a massive open-world narrative that just happens to feature Keanu Reeves as a character! Best of all, the game is coming to Xbox Series X through the Smart Delivery system, which means that if you buy the Xbox One version, you'll also be able to upgrade to the Xbox Series X version for free!
Assassin's Creed Valhalla
The next chapter in the Assassin's Creed series tells a story of Viking raiders. You play as Eivor, a warrior whose faith in Odin drives him during a fierce conflict against the forces of England. Assassin's Creed Valhalla promises battles on both land and sea as well as iconic series staples like the deadly wrist blade and the revamped RPG elements that made Origins and Odyssey such big hits.
Yakuza: Like a Dragon
The Xbox Series X will launch with a new Yakuza game, this one billed as an "underdog story about fighting for what you believe in." It stars Ichiban Kasuga, a low-level Yakuza thug who has to work his way up the ladder while taking up different jobs around the city of Yokohama in Japan. Expect the series' trademark zaniness and heartwrenching storytelling in this new installment.
Destiny 2
Fans hoping to continue their Guardian adventure on the Xbox Series can rest easy! Bungie's Action MMO is making the jump to next-gen consoles. This shouldn't come as too much of a surprise, considering that Destiny 2 is a free-to-play online game that will likely make an easy transition to new consoles. We don't yet know if the next-gen of the version of the game will feature a visual overhaul or if it'll at least have improved load times, but Bungie promised to share more in the coming weeks.
Gears 5
While the Xbox Series X will launch with a new Halo game, Gears of War fans will also be able to enjoy an upgraded version of Gears 5 at launch. The game will be optimized for the new console, featuring the same graphics you'd enjoy from the Ultra settings on PC. And if you already own the game on Xbox One, you'll get the Xbox Series X version for free using the console's Smart Delivery system.
Rainbow Six Quarantine
The spin-off to the online tactical shooter Rainbow Six Siege adapts that game's Outbreak event into a full-length game. Team up with your squad to deal with strange mutants threatening humanity. This is Rainbow Six like you never expected to see it.
Outriders
Outriders is the new online loot shooter coming from People Can Fly and Square Enix. While comparisons to Destiny, Warframe, and The Division are inevitable, what sets this game apart is the gritty sci-fi world that makes up the title's setting. And this game is being developed by the studio behind Bulletstorm, one of the great, underrated shooters of the last decade. We're definitely excited about this one.
Fortnite
It was only a matter of time before the most popular multiplayer game in the world announced it was coming to next-gen consoles. Yes, you'll be able to floss your way to victory on the Xbox Series X. Best of all, Fortnite will be available on next-gen consoles at launch, so you can get to the building and shooting as soon as your unbox the Series X. Epic also has plans to migrate the game to it's brand-new and incredibly impressive Unreal Engine 5 sometime in 2021.
Bright Memory Infinite
This action-packed first-person shooter takes place in the year 2036 and stars an agent of the Supernatural Science Research Organization who is tasked with investigating a "strange phenomenon" happening all over the world. As you can see, this mystery leads to a lot of bullets flying everywhere and plenty of high-speed chases. Bright Memory Infinite is one of the more impressive titles utilizing next-gen graphics so far.
DiRT 5
Fans of the off-road racing franchise will find more to love in the series' first next-gen installment, DiRT 5. The impressive 4K graphics and ray-tracing capabilities of the Xbox Series X makes this the must-have next-gen racing game.
Scorn
Scorn was first announced in 2014 for PC, but Ebb Software went radio silent on this H.R. Giger-inspired horror game not long after. But now it's back and coming to the Xbox Series in all its gruesome glory. Weird structures made of bones and meat will undoubtedly make Scorn of the most visceral experiences on the new console. Horror fans should look forward to this one.
Chorus
Chorus, which comes from Deep Silver, is one of the most interesting action games coming to the Xbox Series X. You play as "ex-cultist Nara, an ace pilot with a haunted past, and Forsaken, a sentient AI starfighter and her closest ally, with a mysterious backstory of his own to unravel." Together, the ship and pilot must vanquish the Circle, a cult that threatens to take over the galaxy. Stunning visuals, the promise of a dark storyline, and action-packed dog fights in space make this one of our most highly-anticipated next-gen releases so far.
Madden NFL 21
No surprise here: Madden is coming to Xbox Series X. Expect the football simulator you already love but with enhanced graphics and perhaps a gameplay improvement or two. Plus, Madden NFL 21 might be the only way you'll be able to enjoy the sport in 2020.
Vampire: The Masquerade – Bloodlines 2
This bloody and violent sequel to the cult classic RPG full of vampires takes us to a version of Seattle plagued with creatures of the night. Vampire: The Masquerade – Bloodlines 2 thrusts you into a conflict between several factions who are vying for control of the city. No matter who wins, the poor humans lose.
Call of the Sea
This ocean-themed puzzle-adventure game is set in the 1930s on a mysterious island in the South Pacific. You play as Norah, a woman in search of her husband. The trail leads to this strange tropical setting that seems to take full advantage of the next-gen consoles advanced lighting effects.
The Ascent
If Cyberpunk 2077 isn't enough cyberpunk for you, there's also The Ascent, a solo and co-op action RPG that takes place in a metropolis where the collapse of a mega-corporation has left its people in disarray and stuck in the middle of a power vacuum. You'll fight rival gangs and evil corporations with your team in this isometric sci-fi game.
The Medium
For a second there, we thought this new horror game from Layers of Fear developer Bloober Team was a new Silent Hill game. Even the moody score sounds like it belongs to the classic Japanese survival horror series. That's no accident. The Medium, which stars a woman named Marianne who can interact with both the real world and spirit world, takes a lot of inspiration from Konami's horror series and even has famed Silent Hill composer Akira Yamaoka collaborating on the soundtrack. We're in!
Scarlet Nexus
In Bandai Namco's Scarlet Nexus, you play as Yuito Sumeragi, "a new recruit to the OSF aiming to become an elite psionic like the one who saved him as a child." Yuito will explore the city of New Himuka, which is on the verge of a future where technology is about to fuse with psychic powers. Expect plenty of anime-inspired action.
Second Extinction
Turok and Dino Crisis fans are probably already obsessed with Second Extinction, which pits you and two of your friends in 3v1 battle against mutant dinosaurs. What the hell else do you need to know? If you miss the dinosaur shooters of old, now is your time!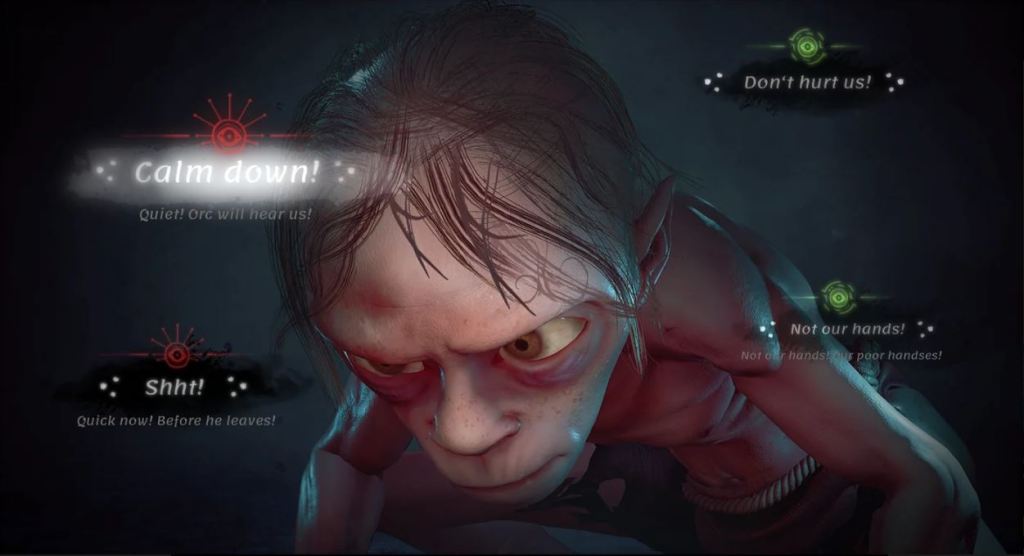 The Lord of the Rings: Gollum
A new Lord of the Rings adventure game is on the way from Daedalic Entertainment. It's an adventure game about Gollum before the events of the books. What was the miserable, ring-obsessed creature up to before he started chasing after Frodo and Sam on their way to Mordor? This game is going to tell you.
Far Cry 6
Far Cry 6 casts players into the role of a revolutionist on the fictional island of Yara. It's the player's job to help lead the battle against a violent dictator named Anton Castillo (notably played by Breaking Bad's Giancarlo Esposito).In many ways, Far Cry 6 looks like it will stick fairly close to the formula that the franchise has established in recent years. Whether or not that's a bad thing depends on your perspective, but we're curious to discover whether this series has any surprises up its sleeve.
Grand Theft Auto 5
It shouldn't come as any surprise that Grand Theft Auto 5 will make the leap to the next generation. GTA Online has proven to be one of Rockstar's biggest successes ever, and we can think of several hundred million reasons why the company would want to keep it alive. While we still believe we'll play GTA 6 one day, it's clear that Grand Theft Auto 5 isn't going anywhere anytime soon.
Hitman 3
The recently revived Hitman series has proven to be one of the greatest joys in modern gaming. Hitman 3 will look to advance the series recent success by offering more open-ended levels filled with creative objectives that emphasize replays and multiple paths to victory. If the brilliant mission design of Hitman 2 is any indication, then Hitman 3 may just prove to be the best entry in franchise history.
Resident Evil Village
Resident Evil Village (also commonly referred to as Resident Evil 8) looks to advance the story of the game-changing Resident Evil 7 by once again putting players in the shoes of Ethan Winters. This time, though, things are a little different as Ethan must navigate a mysterious village inhabited by some of the series most intimidating foes yet. We're curious to see what the next chapter of Ethan's adventures brings, but we're really interested in uncovering how Resident Evil Village furthers the series recently re-imagined mythology.
Xbox Series X Smart Delivery Games
Microsoft's Smart Delivery program allows you to purchase a single copy of a game on Xbox One or Xbox Series X and play it on either console. These are the confirmed Smart Delivery Games revealed thus far, but Microsoft has said that more games will be added to the program (and that developers can choose to independently utilize a similar system):
Halo Infinite
Cyberpunk 2077
Assassin's Creed Valhalla
Destiny 2
DiRT 5
Scarlet Nexus
Chorus
Vampire: The Masquerade – Bloodlines 2
Yakuza: Like a Dragon
The Ascent
Call of the Sea
Gears 5
Second Extinction
Metal: Hellslinger
All Xbox Series X Games Confirmed So Far
Finally, here's a complete list of known Xbox Series X titles. Not all of these games have release dates available, but all of them are currently set to appear on Xbox Series X at some point.
12 Minutes
Aragami 2
As Dusk Falls
Avowed
Assassin's Creed Valhalla
Balan Wonderworld
Battlefield 6
Bright Memory Infinite
Bloodbowl 3
Borderlands 3
Call of the Sea
Chivalry 2
Chorus
Control
Cris Tales
Cyberpunk 2077
Cygni: All Guns Blazing
Demon Turf
Destiny 2
DiRT 5
Doom Eternal
Dying Light 2
Earthlock 2
Echo Generation
Everwild
Exo One
Exomecha
Fable
Far Cry 6
FIFA 21
Fortnite
Gears 5
Gears Tactics
Gotham Knights
Gothic Remake
Grand Theft Auto 5
Haven
Halo Infinite
Hitman 3
Hello Neighbor 2
Hyper Scape
Immortals: Fenyx Rising
In Sound Mind
Lake
Madden NFL 21
Mad Streets
Marvel's Avengers
Metal Hellsinger
MicroMan
Moonray
NBA 2K21
Nth^0 Infinity Reborn
Observer (System Redux)
Outriders
Overcooked: All You Can Eat
Party Crasher Simulator
Phantasy Star Online 2
Planet Coaster
Pragmata
Psychonauts 2
Psyhotel
Rainbow Six Quarantine
Rainbow Six Siege
Recompile
Resident Evil: Village
Sable
Scarlet Nexus
Sea of Thieves
S.T.A.L.K.E.R. 2
State of Decay 3
Senua's Saga: Hellblade 2
Scorn
Shredders
Song of Iron
Soulborn
Suicide Squad: Kill the Justice League
Tetris Effect: Connected
Tell Me Why
The Artful Escape
The Ascent
The Big Con
The Elder Scrolls Online
The Falconeer
The Gunk
The Invincible
The Lord of the Rings: Gollum
The Medium
The Outer Worlds
The Second Extinction
Tunic
Ultimate Fishing Simulator 2
Unexplored 2 – The Wayfarer's Legacy
Unknown 9: Awakening
Vampire the Masquerade – Bloodlines 2
Vampire the Masquerade – Swansong
Warframe Digital Extremes
Watch Dogs Legion Ubisoft
Werewolf: The Apocalypse – Earthblood
WRC 9
Yakuza: Like a Dragon