News
WB MultiVersus Trailer Embraces Ultra Instinct Shaggy Meme
WB's upcoming MultiVerse fighting game turns Scooby-Doo's Shaggy into a believable competitor by embracing a popular meme.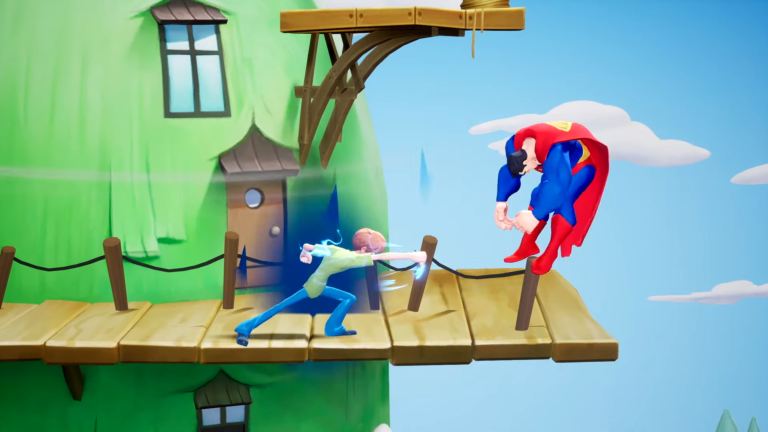 The official reveal of MultiVersus (the previously rumored fighting game starring various Warner Bros. characters) has already been met with excitement, confusion, and a lot of feelings about the fact that this game seems to be embracing the idea that Shaggy from Scooby-Doo is basically a Dragon Ball character.
If for some reason you didn't get a chance to see 2011's Scooby-Doo! Legend of the Phantosaur, you should know that there is a scene in that movie that features Shaggy single-handedly taking out a gang of bikers. Not long after that movie was released, a YouTuber decided to set that shocking scene to some incredible Dragon Ball fight music. It appears that the original video has since been taken down, but here's a reupload that will show you just how amazing it truly is.
Not long after that video was released, fans started sharing various pieces of art and other media all designed to celebrate a character that quickly became known as "Ultra Instinct Shaggy." As you've probably pieced together, the basic idea behind the gag is that Shaggy is secretly one of the strongest characters in the world and capable of performing a Dragon Ball-style transformation that unlocks his true power.
The joke seemingly hit its peak when fans assembled a petition called "Make Shaggy A DLC In Mortal Kombat 11." The petition was fairly popular, but it obviously didn't result in Shaggy being added to the fighting game. At the time, it felt like WB and their partners were never going to acknowledge (or utilize) the meme.
That is until Warner Bros. released this intro for Mortal Kombat Legends: Battle of the Realms that showed what appeared to be an Ultra Instinct version of Shaggy taking out Mortal Kombat's Scorpion:
That video was celebrated for so openly embracing the Ultra Instinct Shaggy meme and giving fans at least a small peek at what would happen when one of the internet's heroes faced off against a legendary video game warrior. Again, though, most people assumed that was about as far as this joke could possibly go.
That is until the first trailer for MultiVersus showcased a version of Shaggy that many fans instantly realized is essentially the canonical version of Ultra Instinct Shaggy:
While some pre-reveal rumors suggested that the MulitVersus version of Shaggy would be directly based on the Ultra Instinct Shaggy character created and embraced by the good people of the internet, developer Player First Games didn't confirm that was the case. However, this description of Shaggy from the MultiVersus website seemingly confirms beyond any doubt that this game will indeed find a way to treat Shaggy like one of the most unstoppable forces in the Warner Bros. canon.
Even without that character description, the MultiVersus trailer makes it pretty clear that Shaggy is not going to be a joke character in this game and seems to be capable of going toe-to-toe with some of the most incredible forces that WB currently owns the rights to. In fact, it seems that Shaggy will not only be able to defeat Superman in this game but will apparently be able to do it with style.
In a previous report about the (then rumored) MultiVersus fighting game, I talked about how the project seemed to be utterly ridiculous to the point that I started to wonder whether or not anyone is actually treating this as a serious project rather than a chance to throw a random collection of WB characters into a Smash Bros.-style fighting game.
Well, the reveal of Ultra Instinct Shaggy seems to suggest that nobody is taking this game too seriously, which might actually be the way to go. There is a lot of potential ridiculousness to embrace when it comes to this project, and I'm very excited to see how absurd this free-to-play fighting game will be when it is eventually released sometime in 2022.