News
Watch Dr DisRespect Return Stream on YouTube Here
Dr DisRespect is making his comeback on YouTube. You can watch his first live stream since his Twitch ban right here!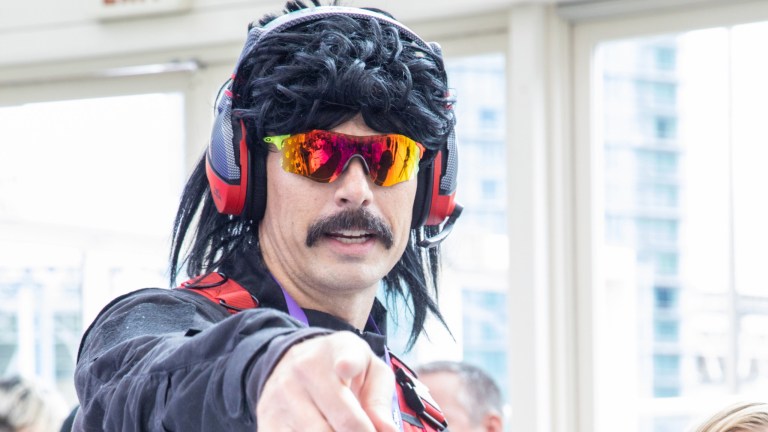 Popular video game streamer Guy Beahm, better known by his streaming persona Dr DisRespect, is making his long-awaited return more than a month after he was banned from Twitch. The streamer first teased his return in an Instagram story of a fake newscast reporting that Dr DisRespect could be back "as early as today." Beahm later stoked the fire further by releasing a new music video titled "Red Skies," where he sings, "You can't replace me," among other cryptic messages to his adoring fans. The video was tagged "comeback," per streaming industry insider Zach Bussey.
If you've been missing the Doc and want to watch him live for the first time since he was banned from Twitch on June 28, you can do so below:
Prior to Beahm going live on YouTube, both esports industry insider Rod Breslau, who has been reporting on the story of Beahm's banning since June, and eagle-eyed DisRespect watchdog Twitter handle "Detective Disespect" discovered that Beahm recently added a "Join" button to his YouTube channel, where viewers can sign up for "membership perks" for $4.99 a month.
While Detective Disrespect suggested that the new "Join" button means that Beahm has been accepted into YouTube's Partners Program, Breslau refuted this, saying that, "As far as I understand if there is a stream on YouTube or other platforms, it is all on his own, nothing has changed from before and it will not be a stream in partnership with YouTube."
Breslau later elaborated, explaining that "Sources at Facebook Gaming and YouTube tell me DrDisrespect has not and will not be offered a partnership with either company at this time, but is free to go live just as any other creator would."
Beahm confirmed to PC Gamer in July that he was planning his return to live streaming on another platform. The outlet said that Beahm was "considering streaming independently on his championsclub.gg website [the official site of his fan club and merch store], in addition to other big options like YouTube and Facebook."
At the time of writing, neither Beahm nor YouTube have made an official announcement about a potential partnership. One thing that is for certain is that Beahm's fans have been waiting anxiously for the streamer's return as well as answers regarding his mysterious disappearance from Twitch.
The ban came just months after Beahm signed a multi-year exclusivity deal with Twitch, locking him into the platform at a time when other popular streamers like Ninja and Shroud had been poached by Microsoft for its own Mixer streaming service, which was recently shut down. Beahm confirmed to The Washington Post that Twitch had voided his contract. The streamer had stood to earn $10 million per year from the deal, according to Kotaku.
Dr DisRespect's potential return on YouTube comes just a day after Ninja (real name: Richard Tyler Blevins) made his comeback on Twitch, making Twitch Affiliate during his very first stream, which had almost 100,000 viewers in the first 15 minutes of the broadcast, according to The Verge. Could Beahm, who boasted over 4 million followers on Twitch before his ban, do similar numbers today?
We'll soon find out.