Features
Why The Quarry's Ted Raimi Loves Being "The Horror Guy"
Ted Raimi talks his role in The Quarry, the evolution of the horror genre, and when he decided to swear off "crappy movies."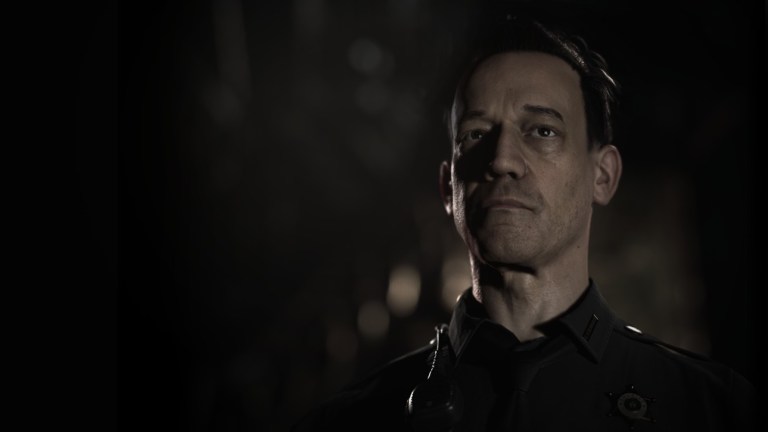 With a resume that reads like a horror geek's ultimate movie marathon, Ted Raimi has been making unforgettable contributions to the genre for decades. From his brother Sam Raimi's beloved Evil Dead films to classics like Candyman and The Grudge, he's just about seen and done it all when it comes to horror. But when he signed on to join the cast of The Quarry, Supermassive Games' latest entry in their signature line of choose-your-doom horror games, he stepped into a project that felt entirely new.
"It's like nothing I've ever done before," Raimi tells Den of Geek. "On other games I've done before, developers will create characters based on images of you, and then you come in later and just voice the thing. But for The Quarry, my castmates and I were on set, interacting with each other in real-time. All of the nuance in our performances shine through in the game and make it much more cinematic and frightening."
Raimi is a perfect fit for the game for the same reason that he's a perfect fit for so many great horror films. He knows the genre in and out, and he's been almost exclusively acting in scary movies his entire career. But what drew Raimi to this particular role was his faith in writer/director Will Byles and the rest of the creative team at Supermassive Games.
"I'm a huge fan of Until Dawn," says Raimi. "It's a frenetic, crazy game. It kind of winks at the audience that it isn't being completely serious, but it's still crazy as hell. That's a very, very hard thing to do; to have a third-eye view of the story while still engaging the audience with a first-eye point of view. Will Byles pulled that off really well. Because I had played that game, I was really excited to join The Quarry."
Like Until Dawn, The Quarry follows an ensemble cast of characters as they fight to survive deadly stalkers and various other threats. The fates of nine camp counselors are in the player's hands, and the story branches off into wildly different narrative paths depending on decisions made during pivotal moments. It's a familiar formula for fans of Supermassive's work, with fun additions like a customizable movie mode (in which you don't take direct control of the characters but can tweak their behavioral tendencies to affect the plot as it plays out on its own). Your choices could ultimately ensure that most of the game's characters survive, that most of them die, or just about any other outcome that falls between those two extremes plays out instead.
Joining Raimi onscreen is an ensemble cast of surging young actors and screen vets alike. David Arquette, Ethan Suplee, and Lance Henriksen lend their experience to the production, with fresh faces like Skyler Gisondo, Brenda Song, and Ariel Winter rounding out the main group of hapless teens. Actually, Raimi thoroughly enjoyed acting opposite his younger counterparts.
"Miles Robbins is a really interesting actor, and you can just tell that Justice Smith is passionate about what he does," he says in admiration of his co-stars. "There's this new generation of young actors, but the interesting thing is, in my day, actors mostly stayed within the genres that they started in. That was just kind of how it went. If you did a couple of romance movies, you were the romance guy or girl. Now, actors tend to do everything. They can do horror, romance, thriller, and sci-fi. But back in my day, it wasn't like that. I've become a 'horror guy,' which I love, because I love the genre. But I'm sort of the last of a breed. I don't know if all of these young actors, who are all amazing, will stick with horror, but I guess we'll find out."
The advantage of being steeped in horror moviemaking for so long is that you know good material when you read it, and Raimi knew early on that the script was something he could sink his teeth into. His character, Travis, may be a police officer in a horror scenario, but Raimi immediately noticed that his dialogue wasn't as stilted as he expected it might be.
"Having been in cop shows before as killers and sexual deviants, I was waiting for corny lines like 'Book 'em!' and 'Keep your mouth shut until the trial!'" Raimi explains. "But none of that was in this script. This character has a life outside of being a cop, which is what good writing recognizes. After reading a few lines, I knew the story would be something different. I was right, but I can't tell you why because I would be giving something away. But I can tell you that my character maximizes the horror of many of the scenes that I'm in."
For Raimi, the quality of the writing gave him faith that the game would be a worthy addition to his resume.
"I had this reckoning about ten years ago where I just said, 'I don't want to do any more crappy movies,'" he recalls with a laugh." I only want to do great projects at this point in my career. So when The Quarry came around, it totally fit. I got really lucky. It's an A-list cast, A-list director, A-list developer…I'm incredibly proud of this game. I'm telling everyone about this game because I think it's kickass."
Raimi's contribution to Evil Dead 2 as the possessed Henrietta is to this day one of the most deranged moments in horror movie history and is as nightmare-inducing today as it ever was. He knows what it takes to make audiences squirm and keep the night light on, and for his money, The Quarry delivers the goods.
"It's a game that is truly dreadful," says Raimi with a half-smile. "And I mean that in the oldest sense of the word. It brings you dread. It's dreadful as opposed to just scary. Jump scares are awesome, and The Quarry has that. But once you're done playing, I think the game will stay with you for a long time. When I read the script I thought, 'Damn…this is disturbing.'"
The Quarry is available now for PlayStation 4, PlayStation 5, Xbox One, Xbox Series X/S, and Windows PC.