News
The Medium Trailer Reveals Dual-Screen Gameplay
The Medium's fascinating dual-screen gameplay and terrifying visuals suggest this could be the best horror game of 2020.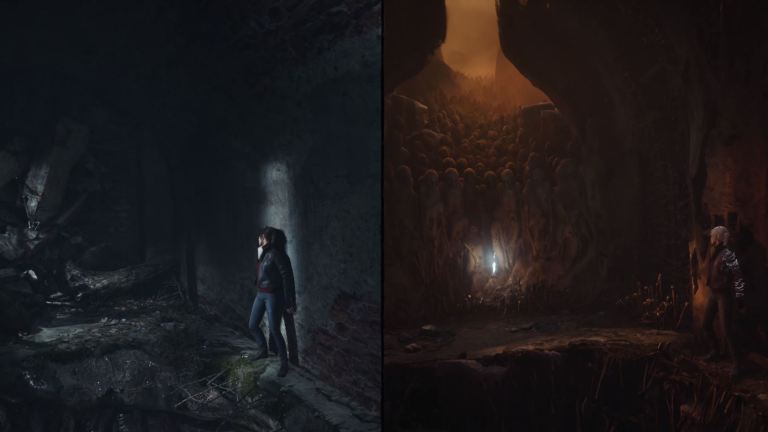 We finally got a better look at previously teased Xbox horror title The Medium, and what we've seen so far certainly has us intrigued.
As we've talked about before, The Medium sees you play as a medium named Marianne who exists in two distinct worlds: a human world (wave everybody, that's us) and a spirit world. She'll need to navigate and investigate both of these worlds in order to solve the mystery of a young girl who was murdered in an abandoned hotel.
Plot-wise, it seems pretty clear that The Medium developer Bloober Team (the studio behind Layers of Fear, Blair Witch, and Observer) are choosing to refrain from revealing too much ahead of the game's release date. That's ok, though, because it's pretty clear at this early stage that The Medium's unique gameplay will be its biggest initial draw.
Much of The Medium's gameplay will seemingly consist of the player viewing Marianne as she exists in both the human and spirit worlds. What's amazing is that you'll be able to view both versions of Marianne simultaneously via a split-screen view.
Solving The Medium's mystery will require you to successfully guide Marianne through both of these worlds using just one controller. While the basic layout of both worlds will seemingly be somewhat similar, each features unique obstacles and visuals which may impact the other in some way. For instance, there may be a time when performing an action in the human world will unlock a new possibility in the spirit world. Elsewhere, a vision in the spirit world may reveal an important detail not immediately apparent in the spirit world.
We've seen similar concepts in other titles that utilize shared, but different, worlds, but the idea of interacting with both of those worlds simultaneously is certainly fascinating. That concept brings to mind the gameplay of Brothers: A Tale of Two Sons, but the added twist of multiple dimensions is sure to inspire fresh complications and new possibilities.
We'd also be remiss if we didn't remind you that The Medium is being scored by Silent Hill composer Akira Yamaoka and that its developers have confirmed that the game is heavily inspired by Silent Hill from a visual perspective. Put it all together, and you've got arguably the most promising horror game on the horizon. That being said, you really have to see this one for yourself:
The Medium is still scheduled to be released sometime during the 2020 Holiday season for PC and Xbox Series X. There is no word regarding an exact release date at this time.