Features
Star Wars Games We Want to Play Now That the EA Era Is Over
From an epic RPG to a fighting game done right, these are the Star Wars games we want to see now that EA's era of exclusivity comes to an end.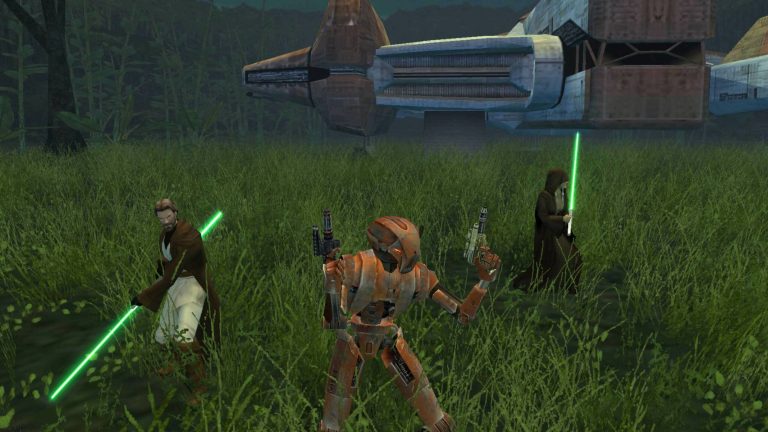 While the recent news that Ubisoft is making a Star Wars game doesn't necessarily spell the absolute end of EA's controversial time with the series, it does mean the start of a new and potentially glorious era in which major Star Wars games will once again be made by more than one studio.
Not long after we learned EA will no longer be the (mostly) exclusive home of Star Wars games, fans everywhere started dreaming of the projects that are now possible as a terrible ten-year deal comes to an end. Well, the truth of the matter is that access to the Star Wars franchise will likely still be limited to a select number of major studios rather than doled out to any developer with a good idea.
As long as we're dreaming, though, then these are the Star Wars games from studios not associated with EA that we'd love to play.
A Star Wars RPG From Obsidian
Somewhere near the top of the list of most wanted Star Wars games has to be a modern Star Wars RPG. While there are several studios that could do that concept justice (Baldur's Gate 3 developer Larian springs to mind), there's no mystery why many feel Obsidian should be the first studio called upon for the honor of furthering the legacy of some of the best Star Wars games ever made.
With Star Wars Knights of the Old Republic II: The Sith Lords, Obsidian gifted the gaming world with one of the deepest, most mature, and most ambitious Star Wars stories ever told. Circumstances may have prevented them from finishing their work on that game, which is really all the more reason to let them properly finish what they started.
Even if the Knights of the Old Republic name is off the table, Outer Worlds proved that Obsidian knows how to make games very much in the spirit of such series under slightly different names.
A Star Wars Adventure Game From Double Fine
While the revived Lucasfilm Games brand is currently most closely associated with Star Wars and Indiana Jones, the original LucasArts team was arguably best known for their revolutionary adventure titles that defined a genre and an era of PC gaming.
There are few modern studios more qualified to honor the spirit of that legacy than Double Fine. Led by Tim Schafer (the designer of many of those great LucasArts adventure games), Double Fine is in a unique position to make that Star Wars adventure game that the original LucasArts team surprisingly never got around to.
The adventure genre has changed a lot since the early '90s, but those advancements make the prospect of a modern Star Wars adventure game all the more exciting.
A Star Wars Racing Game From Playground Games
Granted, the history of Star Wars racing games isn't long or renowned, but it does include a memorable N64 racing game that many say is tied with Darth Maul as the best thing to come from The Phantom Menace.
While Playground Games isn't necessarily known for that arcade style of racing games, they are the studio behind the exceptional Forza Horizon games which advanced the modern racing genre in fascinating ways that emphasized the environment around the racecourse.
The inherent beauty of a Star Wars game is the thrill of being in the world of the films, which makes it all the more exciting to think about what Playground Games could do with this opportunity.
A Dark Forces Game From id Software
1995's Star Wars: Dark Forces, which would evolve into the Jedi Knight series, is sometimes overlooked for its technical innovations, but there's no denying that the game was inspired by the many Doom mods created by fans who dreamed of an FPS game in the Star Wars universe.
Now, id Software could bring the legacy of Dark Forces full circle by having the team responsible for the incredible modern Doom games resurrect this series and give it the respect it deserves.
Again, even if the name and mythology have to be altered, the idea of id telling the story of a new rogue stormtrooper designed in the style of 2016's modified Doom Guy is one that should fill both Star Wars and action game fans with unfiltered glee.
A Star Wars: Republic Commando Sequel From Red Storms Entertainment/Ubisoft Montreal
2005's Star Wars: Republic Commando was generally well-received at launch, but the game's legacy has only grown in recent years as fans discover a newfound respect for a truly unique Star Wars title that dared to be different in both gameplay and story.
While it's been a little while since developer Red Storms Entertainment has made a proper Rainbow Six game, they're a studio defined by the kind of truly exceptional tactical games that clearly helped inspire Republic Commando. They could even collaborate with Ubisoft Montreal whose work on Rainbow Six Siege at least suggests they could help create a multiplayer mode to complement this hypothetical sequel's campaign.
The potential of the Republic Commando series is so clear that even those who are just discovering the game now will find an experience that has aged so much better than even some of the more noteworthy games of its era.
A Star Wars Strategy Game From Firaxis
It's not that there haven't been good Star Wars strategy games (Star Wars: Empire at War has aged very well), but rather that there are not nearly enough great strategy games that take full advantage of this universe.
Whether they build a strategy title in the style of XCOM or one closer to the great Civilization series, Firaxis is one of the few modern developers who have the resources and capabilities to deliver the kind of Star Wars strategy experience that we just haven't gotten enough of.
Special mention here must go to Blackbird Interactive whose work on the Homeworld series makes them equally interesting candidates for this genre opportunity.
A Star Wars Fighting Game From NetherRealm Studios
There's only been one noteworthy Star Wars fighting game, and we're not going to pretend that the merits of Star Wars: Masters of Teräs Käsi somehow justifies further exploration of this concept.
Yet, it's hard not to wonder whether NetherRealm could work the magic they've displayed in recent Mortal Kombat games and the Injustice series by crafting a compelling narrative bolstered by cinematic flair and fundamentally enjoyable fighting game mechanics.
Developer Arc System Works could also knock this project out of the park, but NetherRealm's style just feels like a better fit for the Star Wars universe.
A Scoundrel Adventure From Naughty Dog
Arguably the cruelest twist of fate in the recent history of Star Wars games occurred when Amy Hennig's Project Ragtag was canceled. What could have been an exciting adventure from the perspective of a scoundrel in the Star Wars universe instead joined the ever-growing ranks of gaming's "What Ifs?"
Perhaps it's a bit on the nose, but Naughty Dog certainly has the ability to pick up where the Ragtag team left off. With the future of the Uncharted series uncertain, a Star Wars action-adventure title that tells the story of the most powerless individuals in the Star Wars universe could certainly fulfill the promise that excited so many about the Ragtag project.
Realistically, the potential platform exclusivity of this partnership would likely throw some cold water on this project's prospects, but that doesn't mean it's not exciting to think about.
A Retro Star Wars Action Platformer From Devolver Digital
The difficulty and undeniable style of the Super Star Wars games for SNES made them a hit at a time when licensed games were still perceived to be little more than cash grabs.
With help from their army of small developers with big talent, we'd love to see Devolver Digital acquire the right to make another great 2D Star Wars game. Whether it's designed as an homage intended to recreate the modern Star Wars films or it offers an entirely original story, there are just things that a great 2D Star Wars games could do that other projects simply can't.
If forced to choose a single developer, we'd love to see what Katana ZERO developer Askiisoft could do with this concept. In any case, Devolver Digital seems to be waiting on a phone call:
A Star Wars Horror Game From Tango Gameworks
The Star Wars series has rarely dove into the horror genre, but novels such as Joe Schreiber's Death Troopers show that something wonderful can happen when you explore the darker parts of that universe.
While we'd of course love to see what the original Dead Space team could do with a Star Wars horror game, Visceral Games' closure makes Tango Gameworks one of the more interesting major options out there.
With the Evil Within series, they've shown a unique ability to fashion the kind of Triple-A horror games that are able to pay homage to the great horror games of the past without relying too heavily on the genre's more established ideas. This is nowhere near the top of the list of most wanted Star Wars projects, but it is the kind of idea that shows how much potential there is in expanding the availability of the Star Wars license if only enough voices are given the ability to have their say.