News
Nintendo Logo Almost Changed, According to Reggie Fils-Aime
It turns out that Reggie Fils-Aime may have saved us from an awful Nintendo rebrand.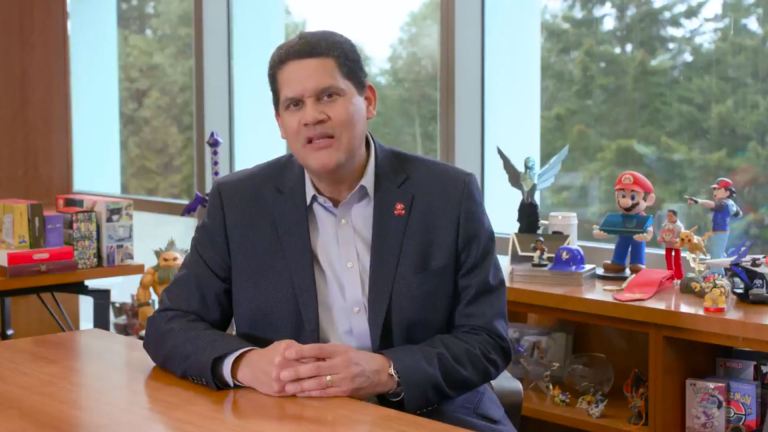 Reggie Fils-Aime, who formerly served as the president and CEO for Nintendo of America, has revealed an interesting inside secret about his time at the much-loved video game company. As it turns out, he may have saved us from a subpar rebrand of the Nintendo logo.
Fils-Aime, who stepped down from his role at Nintendo in April 2019, has recently appeared as a guest on the Present Value Podcast. And as VG247 was first to report to the wider internet, Fils-Aime opened up during the chat about some logo-based discussions that he had to shut down at Nintendo.
"When I joined Nintendo, there was a sense of almost shame that Nintendo appealed to young consumers," Fils-Aime recalls, "and the marketing team at Nintendo of America started doing things with the logo – that classic Nintendo logo in an oval – they would put it into graffiti style, or they'd do different things to try and age up the logo, and I put a stop to that because that is not our brand."
Fils-Aime remembers stepping in because these proposed logo redesigns went against "what the brand stood for." He didn't want Nintendo to utilize "some false way" of trying to appeal to older people. Instead, Fils-Aime led the charge on rebuilding Nintendo's image in a positive way without throwing out the original appeal (and the original logo).
As he puts it: "Systemically, we went through and cleaned up the presentation of the brand, but we also created messaging coupled with content that really broadened the reach, broadened the appeal, and set the stage for all of the great products we would launch like Wii, like Wii Fit, and eventually the Nintendo Switch." This, undeniably, was a far more effective way of improving Nintendo than just throwing out a graffiti-style logo.
We now live in an age where the Nintendo Switch has had "phenomenal" sales and served as a platform for some truly great games. And, at least partially, we've got Reggie Fils-Aime to thank for making this happen. Thank God they didn't change that logo!