Features
Marvel's Midnight Suns Cast: Every Hero and Villain Confirmed So Far
The cast of Marvel's Midnight Suns grows with every new announcement. Here are all of the heroes and villains in the game that we know about so far.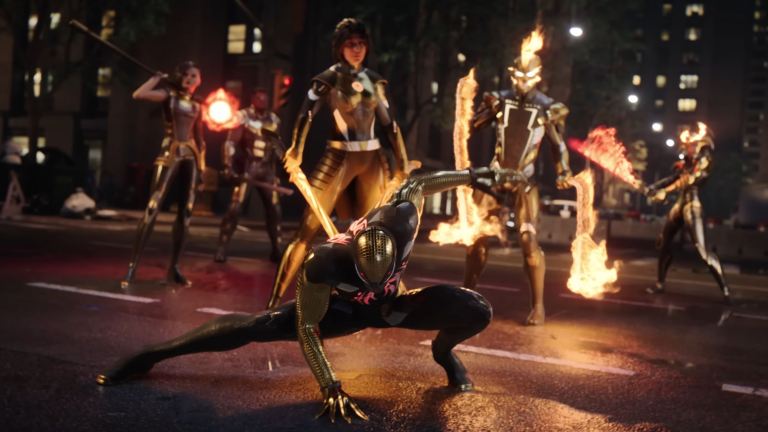 Marvel video games have a massive library's worth of characters to draw from, thanks to the publication's long history and Marvel's love of the multiverse shenanigans and old-fashioned team-ups. Firaxis Games' upcoming Marvel strategy title, Marvel's Midnight Suns, already featured a huge cast of characters when it was announced, and the game's cast of heroes and villains has only grown since then. 
During Summer Game Fest 2022, Firaxis revealed a new trailer for Midnight Suns (which was even backed by Metallica's "Master of Puppets"). The video doesn't reveal much about the upcoming title's story or gameplay (though this new video preview offers quite a bit of Midnight Suns gameplay), but it did provide plenty of "superheroes fighting demons" action. Even better, the video showed the game's main antagonist, Lilith, corrupting Venom and turning him into a half-demon, half-Symbiote monster. Mind you, it seems he's not the only one suffering from that affliction. The trailer demonstrates that even though the game's roster of controllable heroes is larger than we initially thought, Lilith is able to bolster her own forces and make virtually anyone (be they Marvel hero or villain) fight for her. 
Who's on the side of good and who's fighting for evil in Marvel's Midnight Suns? Here's everything we know so far about the game's cast.
Marvel's Midnight Suns: Every Hero Confirmed So Far
The Marvel multiverse thrives on its heroes, and while many of those heroes are solo acts, others are often part of a team. Marvel's Midnight Suns draws from both pools to offer a different kind of hero group: the titular Midnight Suns. The makeshift group consists of heroes who have experience fighting the supernatural, such as Blade and Doctor Strange, as well as characters who are out of their element fighting demons, including Iron Man and Captain America. At the head of the team is The Hunter: a new character made for the game that players can customize. All told, here is every confirmed hero that we've seen in the game so far.
The Hunter
Wolverine
Blade
Ghost Rider
Spider-Man
Doctor Strange
Nico Minoru
Magik
Captain Marvel
Captain America
Iron Man
The Caretaker
Marvel's Midnight Suns: Every Villain Confirmed So Far
What good is a hero without a villain? Marvel's Midnight Suns has one heck of a primary antagonist up its sleeve: Lilith, the Mother of Demons. True to her name, she can give birth to powerful demons and corrupt people into half-demon monstrosities. With the ability to create an army in an instant, Lilith is a force to be reckoned with. And of course, HYDRA decided to wake her up, because why not? While HYDRA isn't exactly on Lilith's side, the evil organization and all their affiliated villains aren't on the Midnight Suns' side, either. All told, here is everyone players can expect to fight in the game: 
Lilith
Crossbones
HYDRA Bob
The Forces of HYDRA
Interestingly, there are also a few characters shown in the Midnight Suns' trailer whose affiliations are…questionable. That preview shows Lilith corrupting Venom and turning him into a half-demon creature called Fallen Venom, and the video ends with some other Fallen, one of whom is Scarlet Witch, posing for the camera. And yet, the game's website was recently updated with a blog post that features images of Scarlet Witch in Midnight Suns gear fighting alongside Iron Man and Doctor Strange. So what gives? These conflicting facts throw her allegiance, as well as the allegiances of all the other Fallen from the trailer, into question. Will players have to fight Scarlet Witch after she becomes Fallen to recruit her, or is she one of many characters who players can either control or recruit in a branching narrative? More importantly, will the same apply to the other Fallen, including Venom? All we can say for sure is that the following characters have mercurial loyalties in Marvel's Midnight Suns:
Scarlet Witch
Sabretooth
Venom
The Hulk
Marvel's Midnight Suns: Every Voice Actor Confirmed So Far
Every good character needs a voice. While most Marvel heroes and villains originate from the pages of comics, many have found newfound fame when they are translated into a different medium that necessitates a voice actor. For instance, thanks to Marvel's Spider-Man, many now associate Yuri Lowenthal with the character since his voice fit Spider-Man so well. Marvel's Midnight Suns will continue to carry on that tradition and provide its all-star cast of heroes and villains with a strong roster of voice actors. Here's everyone who's been confirmed so far:
Lyrica Okano – Nico Minoru
Michael Jai White – Blade
Yuri Lowenthal – Spider-Man
Be sure to check back in as we learn about more heroes and villains that will be featured in Midnight Suns!